I'm excited to welcome Eric Enge as one of our speakers at our next SEJ Summit, happening at the Chelsea NYC Hotel on September 16th. Eric always has interesting insights and studies on search and social with his company, Stone Temple Consulting.
In this interview, I asked him few questions about the shift in digital marketing, his background in engineering, and where he thinks content marketing is going next.
If you'd like to learn more from Eric and our other amazing speakers, including Peter Shankman and Larry Kim, we still have some complimentary tickets available for our New York City marketing event. Anyone can request a free invite to attend SEJ Summit conference, but big brand and enterprise marketers will get priority.
Tickets can also be purchased on Eventbrite.
The SEJ Summit series is possible courtesy of our partner, Searchmetrics. Their "search experience optimization" software makes digital marketing better, faster, and more profitable.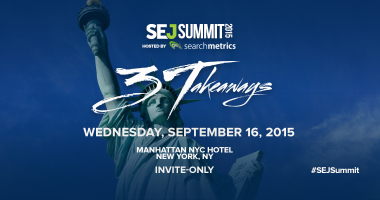 1. Your presentation at SEJ Summit is titled "Content Marketing Success By Design", and is going to cover how to develop a game plan for your content marketing strategy. What do you think is the biggest step marketers skip when developing a content marketing plan?
I think the biggest thing that people miss is that they simply go out and start doing lots of stuff. This might be publishing content on their site, or it may be that they start guest posting in various places. The problem with this is that it may be really good stuff to do, but they have not done the upfront analysis to determine what they need to do to accomplish their goals.
The key here is to do a lot of thoughtful competitive analysis, and see what it is that is driving results for the competition. Once you have that information, you can step back and make a much more informed decision about what you want to do. After all, most people don't want to have a plan which has at its core a goal of continually losing to their competition.
Even if you don't have the budget that they do, understanding what it is that they are doing is key to defining one or more niches where you can beat them. Building that plan is time-consuming, no doubt, but don't ever skip that step.
2. Your background is in computer engineering, how do you think your training has shifted how you look at the digital marketing world?
I am an engineer by degree, but I actually think of myself as a scientist. So when I look at the world of digital marketing, I try to bring science to the areas that I can. We do a lot of testing and experimentation at Stone Temple Consulting, because what it teaches us has an amazing impact on the value we can offer to clients.
Having said that, as an entrepreneur, you also have to capture another key concept, that of making decisions when they need to be made. You will never have perfect information with which to make a decision, but making them in a timely manner is one of the most important components of entrepreneurial success.
3. You founded your company almost 19 years ago now. What is the biggest shift you have noticed in digital marketing in that time?
That's pretty easy, as I watched the birth of the web (more or less) and then watched it go through a process of growing up. For example, in the world of SEO, it started as being focused on manipulation. To many, that was just what you did. Stick a 100 repetitions of a keyword in a white font on a white background so no user would see it, but search engines would, and you were off to the races.
Now everyone talks about being holistic or "fully integrated". In fact, the world of marketing is becoming more and more like it was in the 70s and 80s, where brand, reputation, and visibility are coming back to being front and center. Frankly, that's a good thing!
4. If you could go back and talk to yourself when you were just founding your company, what would you say?
I have a couple of possible answers for that one for you. One is "pay more attention to the stock market, because it's about emotional swings and people needing a place to invest their money." Honestly, I could have made a killing in the late 90s.
But, from a more practical perspective, I wish I had jumped more fully into social media sooner. I could have done more with that much sooner than I did. But you know what they say, hindsight is 20 – 20!
5. Content marketing is the cool kid at the party right now, but how long do you think it will remain that way? Is there anything that might take its place?
The big issue with content marketing IS that it's the cool kid on the block. So many people are jumping in that the web is getting flooded with content. But markets have ways to correct these things, and this will definitely impact content marketing as well.
That is, most of the people that are doing content marketing aren't doing enough to create truly valuable, unique content. If you are one of 50 people that report on a new story in a given week, your chances of standing out are slim, unless you have earned your way to having the best pulpit available to share your story.
So the big change that will happen to content marketing is that a lot of people will get washed out of that game, simply because they are not doing enough. There will be those that really kick butt because they invest in it in a big way, and focus on creating great content that stands out. That will be REALLY good for them.
As for content marketing getting replaced, I think it's best to step back and remember the true benefit that it brings – that of creating relationships and connections with customers, and that's a concept that will not go away. However, there are other ways to do that. Some companies will find success by creating relationships and connections without utilizing content marketing at all.
6. Bonus question: Like me, you travel a ton – what is your favorite travel destination?
I would have to say that my favorite place I've ever been to is Hong Kong. It's a crazy place, and tons of fun to visit. However, I have not been there in a long time. For places I go more often, it's always great to get back to the San Francisco/San Jose Bay area. I have many friends and contacts out there, my brother lives out there, and there are so many great places to visit.
San Francisco is one of my favorites too. I'd love to visit Asia though. Thank you Eric, for your time and insight!
Don't forget, you can request your complimentary ticket for our SEJ Summit New York City marketing conference, taking place September 16th at the Manhattan NYC Hotel in Chelsea, New York City.
You can also come see us in Atlanta later this year.
Featured Image: Stokkete/Shutterstock.com