On Thursday, June 23rd, SEJ Summit visited Chicago for the second year in a row. This one-day conference featured a fast-paced agenda with a total of eight presentations by some of the brightest minds in the digital marketing field. Aimed at SEOs who work for larger brands, each presentation featured three takeaways and actionable advice you can put to work.
After lunch, all the speakers joined emcee Kelsey Jones for at 30 minute AMA session (which we streamed lived on Facebook).
Gary Illyes of Google: Google & AMP – A Better Mobile Experience
Gary Illyes, Webmaster Trends Analyst for Google, was the first presenter of the day at our Chicago conference. He talked about what AMP is, why publishers should use it, and what the future of AMP looks like.
He also shared the benefits publishers have seen using AMP. Sites are seeing an average load time of less than one second, which is a whopping four times faster than average. Gary says slow load times are terrible for UX, and AMP aimes to improve the mobile experience drastically by helping sites load much, much faster.
He also dived into what the future of AMP might look like. Currently, AMP is not a ranking factor, but Gary stopped short of saying it wouldn't be. During the Q&A session with Carolyn Shelby, Gary also mentioned he expects to see AMP expand to other verticles, including possibly product pages for sites like Amazon.
You can read an in-depth recap of Gary's presentation in my post here.
Carolyn Shelby of Tronc: Tune Up Your SEO
Next up was Carolyn Shelby, whose presentation focused on how to speed up your site by learning to say 'no'. With so many departments with different needs, you can easily end up with a slow site as everyone tries to track everything. Carolyn says you need to focus on true needs and always take site speed into consideration.
Carolyn joked that being the person who always says 'no' has the added benefit of getting her out of a lot of meetings – which is something most of us would love! She had a great presentation, full of energy and laughs. Here are a few of her top points:
Get rid of code that no longer serves a purpose.
Look at your plugins. Are you using them? If not, get rid of them. (Besides slowing you down, it can also be a huge security issue.)
You don't need every social channel plugin. For example, if you sell headstones, you don't really need to be worried about Etsy. Be smart.
Only deliver what is necessary for the user experience.
Do not be afraid to say no!
You can view all of Carolyn's slides below:
Big Brands on Reddit: Brent Csutoras
Why should brands worry about Reddit? With so many different platforms out there, what are the benefits of using Reddit over newer platforms like Snapchat or Periscope? Brent says Reddit matters because the platform continues to grow year over year.
In addition, the median age is 35 years old and the average household median income is nearly $70,000. This is a highly valuable audience marketers can leverage, if you approach them correctly.
Three tips for success on Reddit:
Reach Reddit Users: Many marketers assume their audience isn't on Reddit, but the average age is 35, the median income is nearly $68,000, and 78% have a college education.
Stay Engaged: Even after the campaign is over go back and answer questions.
Design Campaigns for Reddit: Connects users to your brand by using self-post and engaging during and after the campaign. Don't just post and leave.
You can view Brent's slides below.
Surviving The Search Plateau: Jordan Koene
Next up was Jordan Koene of Searchmetrics. His talk focused on what he calls the search plateau, which are long times of stagnation in your numbers after a great increase. According to Jordan, healthy growth should look like a mountain range that slopes up and to the right. If you have hit a plateau, you really need to dig deep into your data to figure out where your issues are.
Here are three ways to break through your search plateau.
Ignite Your Content
Don't just create content and let it die. To stay relevant, make sure you keep your content updated – and remember to continuously make changes. Jordan gave an example of the CDC website about the Zika virus, which they keep updating (nearly daily) with new information.
In addition, don't be afraid to delete dead content – think about the cost of keeping and hosting that outdated or useless content.
Expand Your Reach
To expand your reach, you need to get creative and think about what consumers want or need. A great example Jordan gave here was a clever "how to build a fort" section on Wayfair's couch category page. Since most people visiting the category page are early in the buying cycle, this type of content is a great way to engage your audience and expand the top of your funnel.
Jordan says we should focus on building content that focuses on "search moments", which allow users to learn more about your product without hard selling.
Recycle Good SEO Habits
As always, you need to remember good SEO habits. Make sure you check the basics, such as making sure your sitemap is updated. Other areas to focus on include technical elements such as mobile, site speeds, and implementing useful linking to increase easy navigation
View Jordan's slides below.
Erin Everhart of Home Depot: The Psychology of Marketing
According to Erin, we all have an attention span problem. I can't say I disagree.
As marketers, we are no longer just competing with another brand that sells the same product, we are competing with Snapchat and the news, games, and dozens of apps. There is no longer a straight path to purchase where we see, click, and buy. Instead, we do tons of research – and then we go to buy.
According to Erin, we need to stop focusing on demographics like age and gender, and instead focus on intent.
Erin also talked about how powerful emotions can be when they are used in marketing. This is because the part of your brain that processes emotions works faster than the cognitive part of our brain. As marketers, we need to really think about how our content makes people feel.
A few other areas Erin says play into the emotional aspect:
Research shows happy content gets shared more on social media.
Use competition – "Your neighbors are doing better than you."
Talk more about your benefits than your features.
Create content people actually want to read – not what you think they want to read.
Surprise your customers with something valuable – create a feeling of reciprocity.
View Erin's slides below.
Amy Vernon of The Daily Dot : Lessons from the Newsroom
After years in the newspaper industry, Amy recently moved to The Daily Dot. In her presentation, she went over how the lessons she learned during her decades in the newsroom have informed her apporach to search.
Be Curious
In the start, Amy made a fantastic point – what is search, if not to satisfy curiosity? Whether you are looking to solve a debate at a bar or get pizza delivered to your hotel, search is all about being curious.
This means we need to create content that mimics how people talk, not just how people search. This is particularly important on social media. Are you likely to speak in the same tone on Twitter than you would at, say a conference?
Give People What they Want AND What They Need
Amy relates a story of when she worked for a newspaper and they laid off several well-regarded reporters on the same day they removed the fishing report. What did people call about? The fish report – becasue that is what people wanted. But they needed (even if they didn't know it) well researched, in-depth reporting.
So, sometimes what we think people want and what they need are not the same thing.
To figure out the difference between wants and needs, think about what a would make your customers curious about your brand.
Respect your Audience
Amy stresses that it is important that you don't brush off all the haters. Make sure you respond, but don't get defensive. The Daily Dot has done well responding to "haters" by asking questions to find out more about the complaints, and, surprisingly, with using goofy Facebook stickers. While sometimes you will encounter people you just can't satisfy, you can often turn haters into strong fans.
While sometimes you will encounter people you just can't satisfy, you can often turn haters into strong fans.
Ryan Jones: The Future is Now
Neural networks, like RankBrain, are about discerning patterns. According to Ryan, it doesn't actually matter how RankBrain woeks, it matters what information it gets fed.
What does RankBrain do?
You type in you query, it understands what you mean. For example, it understands that cars and automobiles are the same thing, and it understands when you say "without" you are negating a portion of your query.
Not a Typical Ranking Factor
Ryan disagreed that RankBrain is a ranking factor, at least in the sense that we are used to. Ryan insists Google never said it was a ranking factor, they said it was the "3rd most important signal contributing to results".
Ryan highly recommended this article by Eric Enge at Stone Temple Consulting to learn more about RankBrain.
Akin Tosyail of Grainger: Integrating SEO & Content Marketing
I focus on content marketing, so I was looking forward to Akin's presentation. He gave a fantastic presetation which included examples of how his team intetgrated SEO and content marketing and what the results were. Here are a few of his main points.
Show How SEO can Listen to Customers
Site owners need to pay attention to what people are looking for and aren't finding on their sites, instead of just paying attention to which executive ranks the highest and make the most noise. The first step is with a site audit.
Quantify & Prioritize Content Using Data
To figure out what content matters, look at search volume, competitiveness, current rank, and level of effort required. This will help you figure out what type of content needs to be created or updated and what order you should do it it. He also recommends doing lunch and learns to help familiarize content writers with SEO.(I would argue the learning should go both ways – SEOs also need to understand the purpose of content marketing so you don't end up with a bunch of content just for SEO value.)
Ask for a Seat a The Content Calerending Table
This was one of his last recommendations, but one of the most important in my opinion – and also something we have started doing here at SEJ. Invite your SEOs to the content ideation table. This way you can discuss where the gaps are in your content.
The Networking Reception
Following all the presentations, we moved up to the roof top bar for a networking and fantastic view of Lake Michigan and the Chicago skyline. We will post more photos in a few days, but here is a sneak peek of the view. Stunning!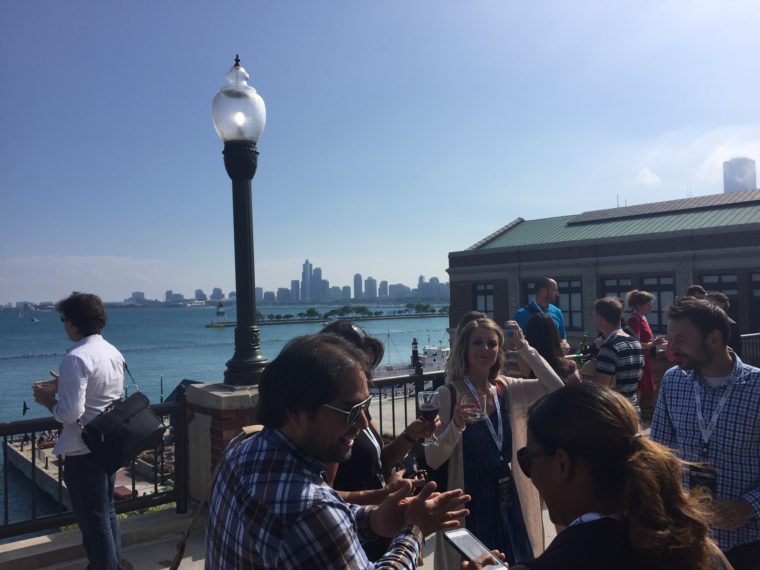 Missed Us in Chicago? Join Us in NYC on November 2nd!
SEJ Summit Chicago was a fantastic day. The presentations were filled with really useful advice that was a lot more in-depth than the typical "Just create good content and they will come!" type of advice. If you missed out on our Chicago event, you still have one more chance to attend SEJ Summit in 2016. On November 2nd, we will be at The Times Center in NYC for our final Summit of the year.
Confirmed speakers for this event include Maile Ohye and John Brown of Google, and Joanna Lord, CFO of Classpass.
Get all the details here and register early for the best price!
Image Credits:
Featured Image Created by Paulo Bobita
In-Post Images Taken by Author on 6/23/2016