FireFox has a nifty option allowing its users to create their own public addon collections as well as subscribe to collections created by someone else. I've been covering plenty of FireFox addons throughout my blogging, so I figured SEJ should have SEO addon collection of its own.
So let's unite to create the most useful SEO addon collection ever! Please comment to this post sharing the addons you are personally using on a regular basis and I'll be adding them to the collection I have already created. Also please support our collective addon collection (pardon my sounding clumsy) by voting and subscribing to it!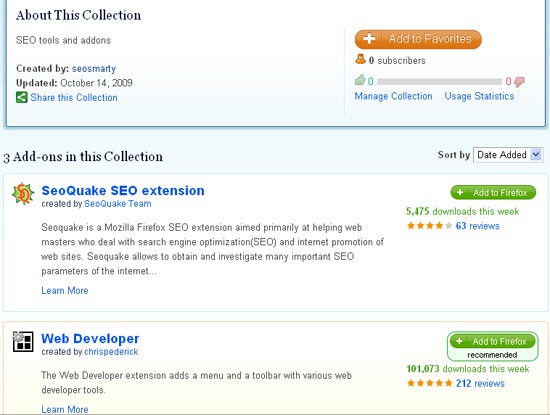 Also, you might want to join the game by creating and sharing your own collections! For that you will need an Addon Collector installed (as well as an account at addons.mozilla.org). After downloading the addon and re-starting your FireFox, feel free to follow these steps:
Click on the Tools menu on your Firefox toolbar and select "Add-ons."
From the Subscriptions pane, log in with your Mozilla add-ons account information.
Now you should be able to see the addon collections you are subscribed to as well as install and publish any addon within each one.

Also, you can now share your own addons by publishing them to your addon collections.

Update: Our SEO addon collection now contains the following addons (please suggest more!):