Search Engine Journal is made up of a team that works every day with our authors to make their posts the best they can be. We span 5 time zones, some of us have yet to meet in person, and most of our work is behind the scenes. I'd like to shine some light on this backstage process via interviews with my team members. The first up is Danielle Antosz, our Copy Editor extraordinaire.
You're SEJ's copy editor. How did you begin your career with editing and copywriting?
This one is actually pretty funny. As a writer, I started my career as a child by writing a series of books called "The Heart Family" – they were really well received by industry critics (meaning, my parents!).
I began my career as a copywriter around 2008 writing for those now defunct content mills – the ones that paid like $1.20 for 200 words. That was terrible, but I slowly started getting hired for better paying gigs, and eventually got hired for an in-house copywriting and editing job.
This was awesome for a while, but I knew the traditional 9-5 office life wasn't going to work for me. So, a few years ago I started picking up freelance gigs and that eventually took off.
How did you start working with SEJ?
I still remember the words Jenise used in the job description! She wanted a "rock star" copyeditor. The description was direct and pretty edgy, and it seemed like an awesome team. I think she sent me the worst piece of copy she could find to edit – I cut and pasted and rearranged so much! I was a little worried I had hacked too much of the copy – but she loved it. We then talked on the phone, and I had a good feeling I was going to fit right in.
You're the 'final frontier' when it comes to writers getting their posts finally approved to be scheduled. What are the top 3 things writers miss in their posts?
I'll start by saying if everyone wrote perfectly, I'd be out of a job! But there are definitely a few things I notice over and over again:
Overuse of the word "that" – often used as a filler word.
Wordiness in general, which lessens the effectiveness of an argument.
Not providing enough links to solid references to support an argument.
What are your favorite blogging/writing resources (websites, books, blogs)?
Oh, my newest favorite is The Worst Muse on Twitter. Cracks me up.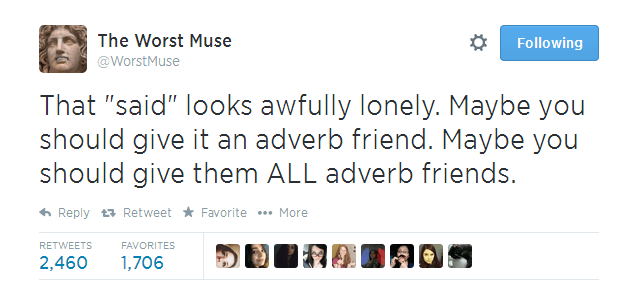 As far as references go, I am a huge fan of Grammar Girl. She gives quick, easy answers to questions like "What is the difference between affect and effect." Or "There, Their, and They're".
Like myself, you are an Oxford comma enthusiast. Give your best argument for why the Oxford comma should always be used.
The only argument you need is clarity. Using an Oxford comma allows the reader to read without being jolted by something they don't understand. This causes the reader to stop, reread the sentence and often lose their train of thought.
For example: "She took photographs of her parents, the nun and the priest"
The reader goes through this inner monologue: "Are her parents a nun and priest? That's kind of weird. I didn't know nuns were supposed to have kids. Or priests, for that matter. Or did she take a picture of her parents, the nun, and also the priest? Ahh…that makes sense. Wait, what was I reading?"
What do you like best about working with the Search Engine Journal team (which is 100% telecommute)?
The best thing about working with the SEJ team is just that – the team. Jenise has done a really fantastic job of choosing awesome people and fostering a community feel. It can be really difficult to build a solid telecommute team – most of us have never met. But, I still feel like we all communicate really well and our weekly meetings feel kinda like a group of old friends getting together.
Outside of SEJ, what do you like to do for fun?
I love to travel! There is nothing quite like the excitement of looking forward to a big trip and getting on the plane. My next trip is also my first non-Western destination – Bali. I can't wait!
Bonus Question: What was your favorite childhood website or video game?
My dad worked in computer science, so I think I had access to computers earlier than many other kids my age. Back then, I didn't really go on the internet…there wasn't much to go to! Instead we had games on those big floppy disks. During that time, my favorite game was definitely Oregon Trail. Actually, I recently found the app version that lets you play it on your phone…but I keep dying of dysentery. Some things just don't change!