Most of us know (and use) Google's synonym operator [~term]
What it basically does is instructs Google to include more synonyms in the search results and use the bold font for them (Google uses synonyms for generating search results anyway but this operator makes it focus on the synonyms).
I mentioned the operator many times to emphasize how useful it might turn for keyword research – the operator comes particularly handy when used before some most generic terms.
Besides, you can exclude the base term fro the results and thus focus it on synonyms only; for example [~help -help] search will include: tips, FAQ, tutorial, etc: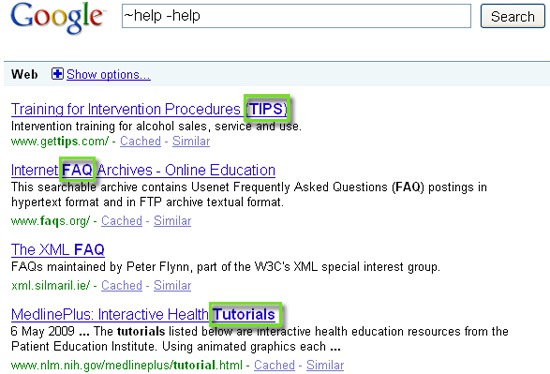 There's the way to always see those synonyms while you search Google with Google Semantics FireFox addon. What it basically does is:
Grabs your search term,
Adds ~ before it and searches Google;
Extracts the synonyms Google used in bold;
Displays the list before your initial search results.
You thus instantly see the list of synonyms right before your search results and can browse further (click any of the synonyms and you'll be taken to new search results page).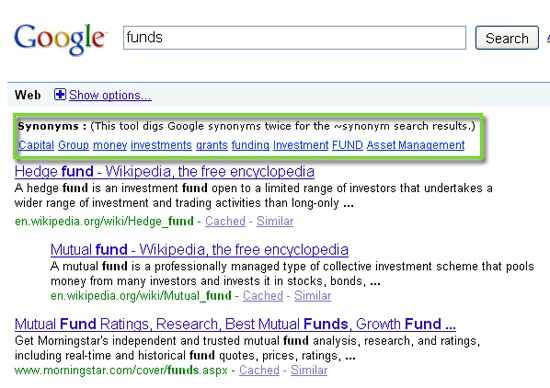 Naturally, the tool works best for generic (one-word) search queries because apparently the tool only inserts operator before the first word in the search query phrase:

The tool can be easily turned on/off from the navigation menus: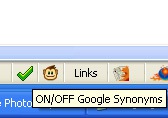 More tools to research (Google) synonyms: Keyword Research : Research Synonyms of Any Terms