For anyone looking to understand or reach professional search engine marketers (SEMs) online, Leadtail's latest report, Social Media Insights: How Search Marketers Engage on Twitter provides a wealth of valuable information. Based on data collected from over 500 North American search marketers, the report gives us insight into what and whom SEMs are tweeting about. The report includes data about:
Popular hashtags used by SEMs
Which apps and platforms drive Twitter sharing among SEMs
Popular sources of shared content
Most retweeted and mentioned publishers and individuals
This information is marketing gold for anyone involved in the search marketing industry including publishers looking to create shareable content, individuals looking to form partnerships or connections with influencers, and advertisers looking to catch their attention. It also gives SEMs access to important information about what their colleagues are doing on Twitter: which hashtags they're using, who they're following, and which publications they're reading.
Most Shared Sources
For publishers looking to get their content shared by these influencers, it's important to understand the types of content SEMs typically share. Perhaps not surprisingly, search marketers overwhelmingly prefer to share industry media: from sources like Search Engine Journal, Search Engine Watch, Marketing Land, and Mashable. Only around 29% of SEMs shared content from mainstream media outlets like Forbes, The New York Times, The Wall Street Journal, and Inc.com.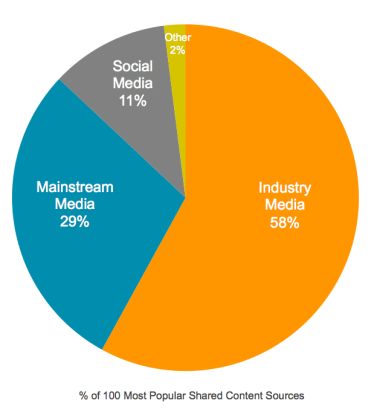 In terms of social sources, search marketers are most likely to share content from YouTube, SlideShare, Instagram, and LinkedIn. This is important information for those hoping to have their social content shared by these influencers. You need to produce high-quality visual content, which is more likely to be noticed and shared in these circles.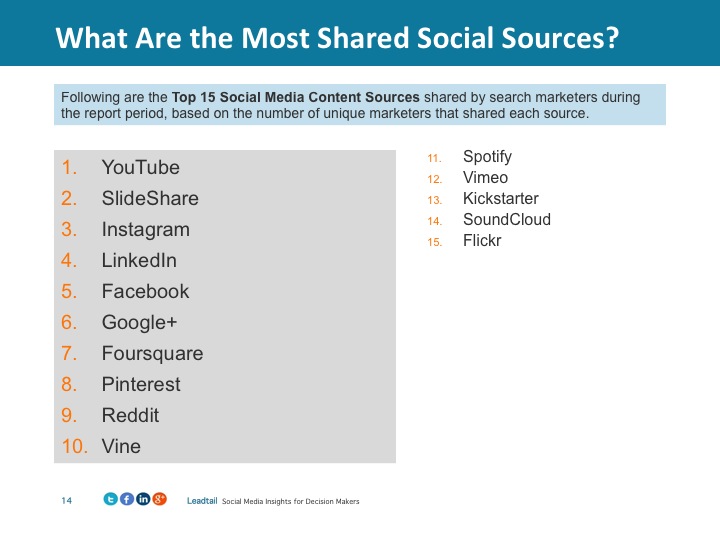 Most Retweeted Publishers
This data provides insight into which publishers and vendors are doing the best job of reaching SEMs through providing authoritative and compelling industry-related content. The most retweeted publishers were:
@sengineland
@ppchero
@BingAds
@mashable
@Marketingland
@adwords
@unbounce
@sewatch
@KISSmetrics
@sejournal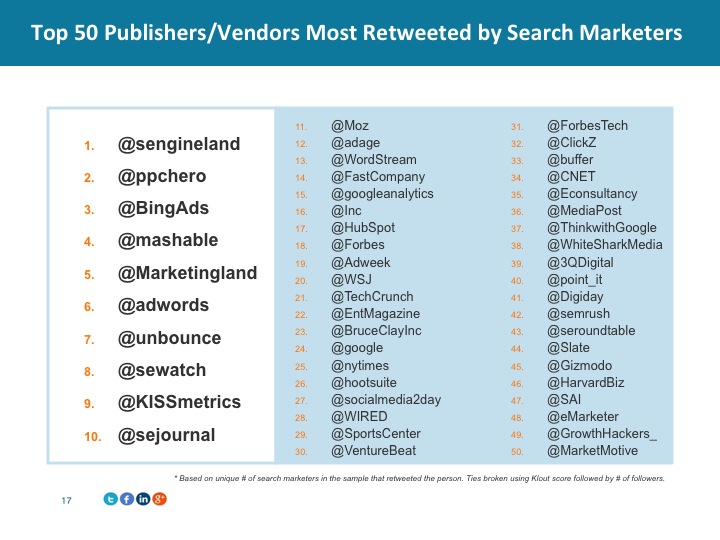 Top People Mentioned by Search Marketers
Looking at which users are mentioned most by search marketers gives us insight into the most influential individuals in the industry; those who inspire and inform search marketers. The top people mentioned were:
@larrykim
@Matt_Umbro
@bgtheory
@Mel66
@rustybrick
@jmgagnon
@LukeAlley
@John_A_Lee
@GinnyMarvin
@randfish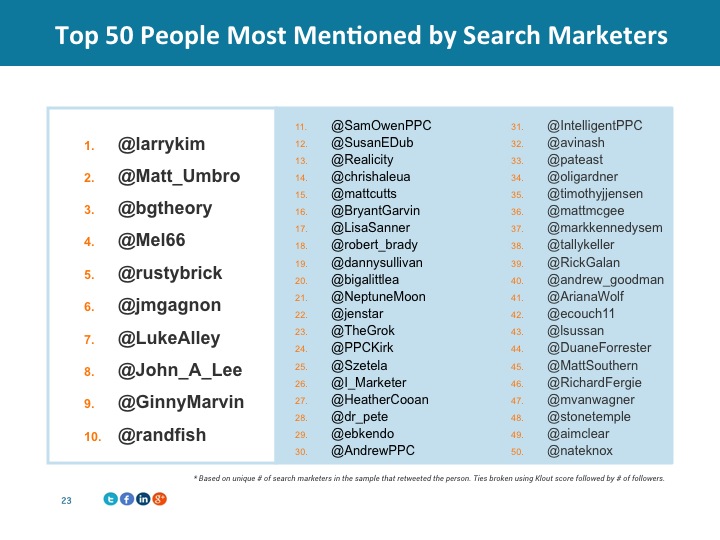 Many of these users also made it onto the list of 'most retweeted individuals' by search marketers, including @larrykim, @Matt_Umbro, @Mel66, @John_A_Lee and @randfish.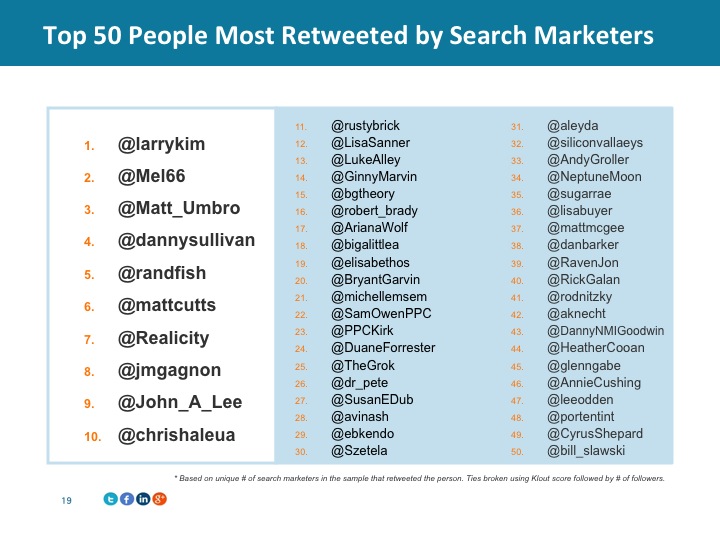 What Apps and Platforms are SEMs Using?
Perhaps the most surprising finding in this report is how SEMs are accessing Twitter. Despite the widespread use of mobile when it comes to social media, SEMs are still showing a preference for desktop tools.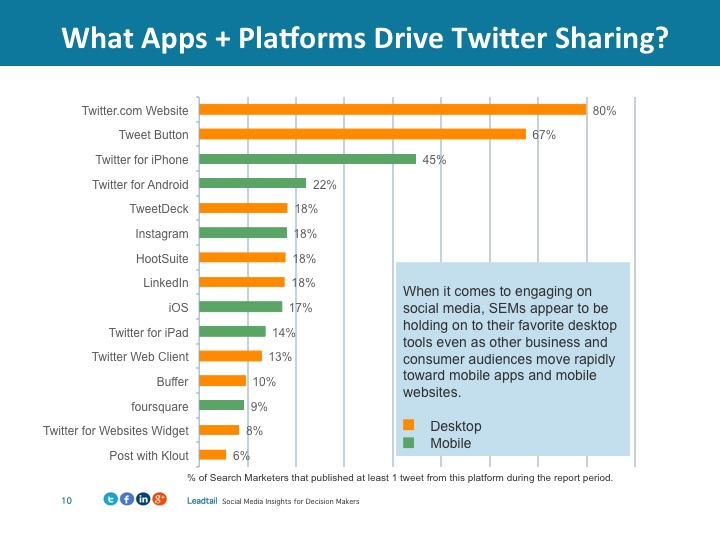 Final Thoughts
As the report points out, this data gives us insight into the daily conversations of search engine marketers. For anyone looking to engage with these influencers – through advertising, building relationships or through content creation – this data lays the groundwork for making informed decisions. Decisions like:
Which influencers to follow and connect with
Which social platforms worth focusing on in order to reach or compete with SEMs
Which publications you should be contributing to or aiming your PR efforts at
Which industry-specific topics and themes your content should be covering
Is this data important for you? How will you use the info contained in this report? Let us know in the comments below.
All graphics taken from report. SEJ and author have no affiliation with LeadTail or the included companies, besides our own.
Featured image credit:PiXXart / Shutterstock.com