Ever wanted to know what people in your local area are publishing to YouTube? Now you can with this third party tool designed to find YouTube vids by location.
Of course, seeing what your neighbors are posting is just one of the ways the tool can be used. It's creators say it was developed for news organizations as a demonstration of how Google APIs can be used to help find citizen journalism on YouTube. The tool uses both Google and YouTube APIs to generate location based search results, which are by default ranked by upload time. The code is open source so others can built upon it, perhaps adding to the ranking algorithm over time.
The makers of the tool suggest to first use it by searching for a wide geographic area, like "Toronto". If that gives too many irrelevant results that you can try filtering by timestamp, narrowing the radius, or adding more keyword to the search bar such as "Toronto, Financial District". The keywords tool can also be used to search for types of videos within a location, such as "snowstorm in Toronto".
Here's an example of what a filtered search looks like on the tool: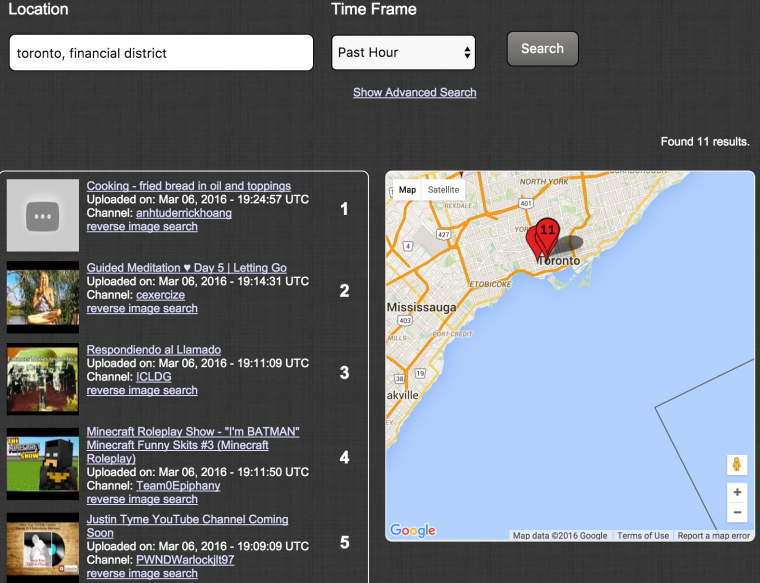 The tool takes the names of search locations and geo-codes text entries into latitude and longitude coordinates. As such, it's only able to pull videos that have been embedded with geotagged coordinates, which make up a small percentage of all videos. For more information about how the tool works behind the hood, see the About page.
Featured Image Credit: rvlsoft / Shutterstock.com