Before I get into what a Sales SEO Strategy is and how it is best used, let's talk about holidays and sales.
With Black Friday and Cyber Monday past and the holiday season here, it is the perfect time to think about post-sales. What are you going to do with all the landing pages you created for 2016's Black Friday and the holiday sales? Are you going to let these pages die or just be removed? What about all the effort and momentum you built over the past few months for these pages? Is it all going to waste?
The answer is no. It's not going to be a waste — not with a Sales SEO Strategy. This year, I saw a 20% average increase in organic traffic and a 40% increase in organic revenue year over year for Black Friday alone among my clients. This growth is not something you want to lose. So instead of turning off the SEO car till next year's Black Friday preparations, just stop, put it in park, and let the engine go idle.
Sales SEO Strategy
Sales SEO Strategy is an e-commerce SEO approach for site pages that are purely date or season reliant, like Black Friday or New Year. Its core purpose is to build and maintain SEO efforts and ranking signal year-to-year without creating redirection chains and starting from zero each year.
So, what is needed to start this SEO strategy? A non-year specific landing page. This page can be a content page or a category page. Either way, it must be a level one page to all your related sales pages. Any current pages (if applicable) that are date-specific need to be redirected to this main landing page.
For instance, http://www.halfords.com/advice/cycling/brands/black-friday-2016 must be 301 redirected to http://www.halfords.com/advice/cycling/brands/black-friday.
Sales SEO Strategy Outline
By using this e-commerce SEO strategy, you will be working on your main page and subpages in a year cycle. This cycle addresses the sale itself; its preparation, and the idle time between closure and announcement.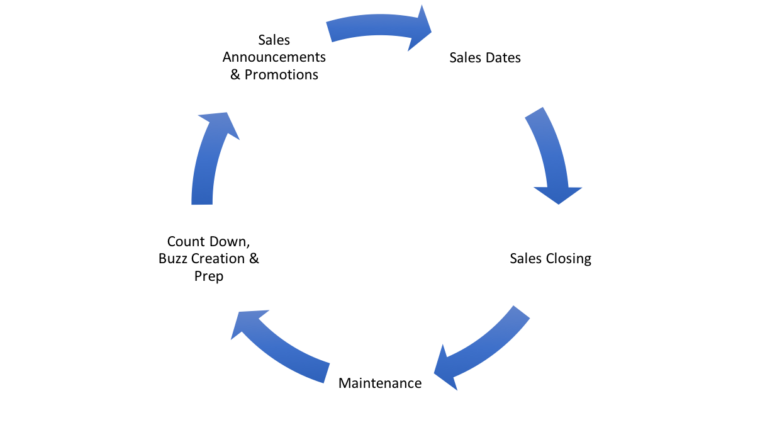 As a marketer or anyone in promotions, you will greatly understand what to do for Sales Announcements & Promotions and Sales Dates steps of this cycle. These steps are where you would plan, prepare, and promote the discounts and sales, where you would monitor and track the ROI.
For example, let's say you run an annual new year's sale on the first weekend of the year. You would start prepping for this sale in late October/November, start promoting it in December, and have the sale on January 6th to 8th in 2017.
But let's go through the whole cycle for Black Friday, since this is one of the largest sales days of the year.
Sales Announcements & Promotions
When holding any form of sales, be it a large one like Black Friday or a smaller one like two days of free shipping, it needs to be promoted and announced to your audience and customers before the sale's date(s). The larger the sale, the earlier the announcement should be. This year, before the big Black Friday sales days, retailers prepared by announcing their sales with advertisements and social posts. Large companies like Dollar Tree, National Geographic, Lego, and Amazon published their holiday catalogs and ran ads as early as September 2016.
Sales Day
This is the sales day(s) that months of preparation and marketing have all lead to. Sit back and enjoy it. But don't be complacent. Keep your eye on your site and make sure nothing breaks so people can go through the full sales process. Post a few things on social media and send out an email or two.
This year, Black Friday was on November 28th. Online retailers all over North America and the world held sales: week-long, weekend-long, day-only flash sales, or any combination. All with the intention to drive traffic and sales.
Sales Closing
With the day/sales over (depending on when the sale ends: Monday, Sunday, Friday, etc.), it is time to review the stats of sales and the year-over-year performance. Where possible, it is also a good idea to review your own performance compared to your industry benchmark and compared to the overall public stats.
For example:
2016's Black Friday saw that 55% of the traffic was from mobile devices, counting for 40% of the sales, according to Adobe. Adobe's projection for this Black Friday was an increase of 11.4% in total sales compared to 2015 (approximately 3.05 billion at end of day sales). On Saturday, it was reported that online sales reached $3.34 billion with a year-over-year growth of 21.6%.
In the UK, John Lewis (department store) saw that electronics were the biggest draw with an 11% increase in sales year over year. Fashion saw a 4.6% increase at John Lewis, and at Waitrose (supermarket), sales jumped 4.5% for beer, wine, and spirits.
Landing Page
If your landing page is not general, like that of http://www.walmart.ca/en/black-friday/, now is the time to create a new one — one that can be used for next year and all the years to come.
This page, like others, needs to have all the standard SEO content elements: keywords, meta tags, on-page content, images with ALT tags, and unique URL.
All historic pages for this sale should be redirected to the new page.
Any old on-site links (or off-site links you can change) should point to the new page where possible.
This page should have social media open graph and Twitter card markups (since this page will be shared via social media).
The page should also have all the necessary technical SEO elements like canonicalization, rel=prev/next (if a pagination is used to list sales products on this page), etc.
This page should be the only "Black Friday" page listed within the sitemap, with none of the previous years' URLs.
Maintenance
With seven to eight months, until you start to define the details of the sale next year, there is little to do, right? Don't turn off the car yet –there is more you can do to keep the page up to date, keep search crawlers engaged, and ranking signals strong for next year.
Month 1
Close the sale that just ended and find out what your ROI is. Make sure you indicate that the sale has ended and will be back next year, and add an email sign-up for "VIP sneak peaks" for next year's sale to build email lists.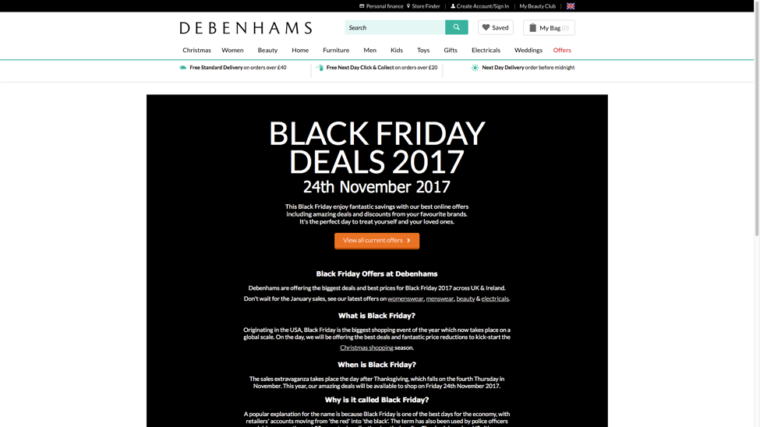 Month 2 – 4
Use remarketing to turn your sales shoppers into loyal customers.
Month 5 – 6
Change the page's content. Change the images, add dates, optimize the page content, etc.
Month 7
Relax. You don't need to do anything.
Month 8
Start building backlinks to this page.
Count Down, Buzz Creation & Prep
We are now in the time of year when you start looking at what you will do for your sale. Will it be 40% off store-wide or item sales like $500 off a 4k TV? What is your target audience and how do you want to talk to them? Where will you promote your sale?
Month 9 – 10
Internally define your promotion, select your date(s), and add it to your page. Continue to build backlinks to the page and let people who land there know what sale is coming. This is also a good place to gather emails for people who want a reminder or early sales alerts (if you have not done so already) so you don't lose sales for people coming to your pages/site before the sale.
Work on your backend to ensure your site can handle the extra traffic. You don't want your site to crash because you have too many visitors or sales at any given time. Review your site's performance, bandwidth, and RAM as well as your error logs to ensure there are no (or little) errors. Additionally, remember to stress test your site (for more on-site testing visit Blaze Meter's blog on Why Performance Testing Matters – Looking Back at Past Black Friday Failures and Load Testing Lessons to Learn from Black Friday 2016).
Month 10 – 11
Announce and promote! AND double-check your site's performance and retest.
Promote and hold your sale.
Sales SEO Strategy Tips
When working on a Sales SEO Strategy, some sales aids are very beneficial for both traffic generations and sales conversions.
By using the current year and dates within the header, content, and promotions of the sale, you ensure customers know this sale is current.
Using banners that read "time is running out," "two days only" or has a countdown creates some urgency on your page or in your ads during the sales day and promotions.
Build a "shopping" or "gift" guide. On large sales days like Black Friday, many people go window shopping without knowing what they want. Offering a guide on your site and on YouTube can help your customer find something they want no matter where they are (online or just in your store).
On the day(s), a great last-minute sale push often used is to offer coupons to people who share your sales page or homepage to friends.
Sales SEO Strategy, like any SEO work, is long-term. Though your sale is only for a few short moments, the preparation for it is all about slow and steady efforts that build year to year. Stop being part of the industry bell curve and build to become an industry benchmark for not just Black Friday, but for all other holidays as well.
Image Credits
Featured Image: justyre/pixabay.com
In-post Photo: Created by Bethny Card/December 2016
Screenshot by Bethny Card. Taken December 2016