Once upon a time, Google Search was all about those gloriously simple, easy-to-optimize-for 10 blue links.
Then came a brand-new user interface.
Google has evolved to address more and more different search results types and display designed to better address searcher needs — rich snippets.
It's no longer enough to rank for 10 blue links.
So what exactly are rich snippets, why are they important in SEO, and how can you optimize for them? In this guide, you'll learn about the different types of rich snippets and how to use structured data to help Google understand when your page may be the best option for a rich snippet.
Let's get started!
What Are Rich Snippets?
Rich snippets are Google Search results enhanced with additional data or functionality. These rich results add visual interest, more information, and greater utility for searchers.
Using your SEO strategy to target rich snippets can help increase your overall organic CTR (click-through rates).
Do Rich Snippets Help SEO?
While it's generally accepted that going after rich snippets by using the correct structured data markup will improve some aspects of your SEO, Google's John Mueller has mentioned that it is not a direct ranking factor:
"With regard to using structured data in general for ranking, I think that's kind of tricky.

So, on the one hand we do use structured data to better understand the entities on a page and to find out where that page is more relevant.

…But it doesn't mean that we would show it to more users or that it would rank better."
As Roger Montti explains in that post, "It's important to note that while structured data does not currently exist as a ranking factor, it does help communicate on-page content factors like the entities that are the subject of the page."
In addition, Martin Splitt recently explained that just because they don't use structured data now does not mean that they won't use it in the future.
The Different Types of Rich Snippets
While there is a great variety of rich snippets available to optimize for, many of them apply to certain types of websites.
We're going to examine some of the most common types of rich snippets, then we'll look at how to optimize for them.
Product Markup.
Music.
Reviews.
Events.
Recipes.
Product Markup
Markup shows up for specific products – and it includes attributes such as price, availability, and review ratings.

Music
This markup shows information on music, such as albums, their release dates, and much more.

Reviews
The reviews markup will display the star ratings below a snippet in the search results. You can have up to a 5 out of 5 rating, where 5 is the highest, and 1 is the lowest.

Events
Events markup is necessary in order to provide information on specific events along with their location, the time of the event, their dates, and more depending on what you want to show about that event.

Recipes
When you use recipes markup, this allows you to include the structured data on your recipe website. And, this only applies to recipes.

Rich Snippets vs Rich Results vs Featured Snippets
Some use the terms "rich results" and "rich snippets" interchangeably. However, rich snippets are just one type of rich result.
You can explore all of the various types of rich results in Google's Search Gallery.
Rich results types such as Product, Podcast, Software App (currently in beta), and Sitelinks add more information and/or functionality to an existing search snippet (result).
Other types of rich results add an entirely new feature to the SERP, as is the case with Recipe or Movie carousels, Job Posting boxes, How To carousels, and more.
Check out this article on featured snippets for a deep dive into all available types of featured snippets in Google Search.
Because of this significant variation of featured snippets and how they vary by industry, you may find it challenging to use that as part of your optimization strategy.
How Do Rich Snippets Work?
Structured data is a type of coding that highlights specific types of data on your page, making it easier for Google to understand the context of that data.
Say, for example, you were to create a frequently asked questions (FAQ) page that revolves around learning piano effectively.
You would use the Schema.org FAQpage structured data type in order to do so.
Structured data allows Google to fully understand and display the actual data. It adds context and displays attributes that Google loves.
This allows you to take a more proactive approach and ensure that you are giving Google that data in a way that you control, rather than waiting for the AI's understanding of what it thinks you want.
Because it's not a direct ranking factor, however, structured data markup is not going to automatically propel your site to the top of the SERPs.
It will help the page win more clicks because this does result in better, more useful information being displayed to Google users on the SERP.
For local SEO, you can expect to see some significant benefits from using structured data markup. Ecommerce fields or anyone with specific products can benefit from using structured data in this manner.
How Do You Optimize for a Rich Snippet?
First, you need to build your structured data markup. Then, you need to test it.
Finally, you can release your data to the wild in the form of a final deployment.
Building Your Data
Optimizing for the coveted rich snippet includes several best practices, the first of which uses Schema.org structured data.
Structured data allows you to optimize for your snippet in such a way that includes all of the basic information that that snippet needs, based on the data type that's already in the Schema.org vocabulary.
What is the Schema.org vocabulary?
First of all, the vocabulary includes a complete dictionary of data types. These data types are all predefined, depending on your topic and industry.
There is even attorney Schema.org structured data available in the vocabulary, if you were so inclined.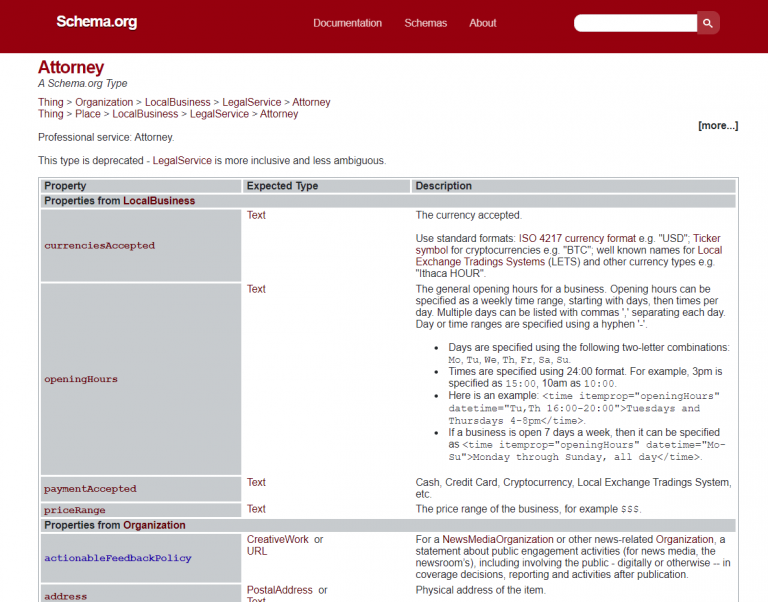 Google supports Schema.org structured data, which are mapped to individual entities based on what Google already has in its database. By using Schema.org structured data, you optimize for these entities.
All major search engines support them, so you don't have to worry about tailoring Schema.org to certain search engines.
Performing research into Schema.org will help you find the right data type match for the entities and topics you are optimizing for.
Once you have your correct data type, all you have to do is code the markup.
You can use either standard HTML structured data, or JSON-LD structured data.
Google's web developer documentation has more information you can use in order to identify what you need to do depending on your optimization points.
Test Your Data
Next, it's important to test your data with Google's Rich Results Testing Tool. This has replaced the deprecated Structured Data Testing Tool.
The testing process is generally pretty simple:
Step 1: Copy your code.
Step 2: Paste your code or URL into the right fields.
Step 3: Click on Test Code.
Be sure to go through and repair any errors uncovered by the tool.
Deploy Your Data
After you have completed your tests and you find that everything works well, you can deploy the new data accordingly.
Measuring Rich Snippets Performance
There are several ways in which you can measure the performance of your rich snippets.
One is via Semrush, which walks you through the process step-by-step.
The other is through Ahrefs, who offer a guide that shows you how you can use the SERP features filter in order to track specific performance gains (and losses) for certain types of SERP snippets.
You can also implement tag tracking via Google Tag Manager. GTM tags can be used to mark pages with specific structured data, and you can use the insights gleaned from these reports to discover how you're actually performing using your own measuring tools.
Clearly, Rich Snippets are a Great Way to Improve Your Online Visibility
Some industries may not lend themselves well to certain types of marketing in this medium, so it's important to do a thorough analysis of your industry that identifies opportunities where there are rich snippets to be achieved.
By identifying your strategy from the start and working on implementing your data correctly, it's possible to increase your online visibility through rich snippets as an additional strategic advantage.
After all, the best strategy is a strategy that tackles multiple fronts, rather than focusing on single results.
More Resources:
---
Image Credits:
All screenshots taken by author, June 2021