We've seen the future of search engines and they will not be powered by solely words.
According to AP wires, computing researchers at Perdue and Princeton have developed new search engines that can mine catalogs of three-dimensional objects, like airplane parts or architectural features. The concept issimple, sketch a doodle of what your are thinking about, and the search engines can produce comparable objects.
"The idea of information and knowledge, and retrieval of knowledge, has been something I've been intrigued with for a long time. This gives it a more solidified meaning," said Karthik Ramani told the AP. Ramani is a Purdue University professor who created a search engine for finding computer-designed industrial parts.
Such a search engine can serve huge industrial and manufacturing companies so engineers don't waste time creating some widget or sprocket that's already on the market.
The Associated Press reports:
With the Purdue search engine, designers could sketch the part they need and instantly see dozens in inventory that might fit the bill.

If an item seems close, but not quite right, designers can see a "skeleton" of the part and manipulate it on their computer screens – make it longer or shorter or curved, for example – and then query the database again.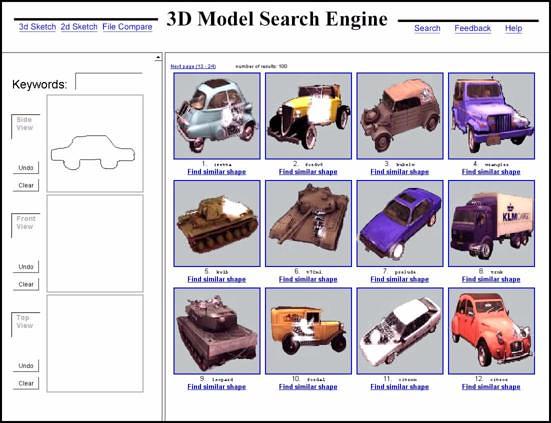 Princeton University professor Thomas Funkhouser and enginerrs have put a 3-D search engine that lets searchers sketch an object using a computer mouse, add a textual description, then search for similar models in design databases.
The Princeton 3D Model Search Engine is available live and can be tested if your browser is java enabled. Use the left doole screens to draw three 2D views of your intended image, then the results will include 3D objects which best match your drawings.
I drew a nose, the left profile, front view and right profile. In my own opinion, the nose pictures were fairly good, besides the uneveness of the lines due to drawing with a laptop mousepad – perhaps using a corel or MSPaint type program with this would result in better matches. Princeton's first 5 results were a military tank, two sinks, a toilet, and a three legged table. OK, maybe the nose is an organic item and not what this search engine is intended for. For this I will try drawing a television.
Well, I thought my TV picture was prety good, even added the rabbit ears on the top of it to differentiate from a computer monitor. My results: four military tanks, a coffee cup, two bookshelves and a fireplace. Either my art skills are absolutely horrible or Princeton's 3D search has a far way to go.
Princeton's Funkhouser believes 3-D searching will get smarter and this is only the start of development. Research on the Princeton 3D Search Engine can be found here and may give you more of a detailed example of how it all works.
For the foreseeable future, 3-D searching is probably going to be an industry related project, serving engineers and manufacturers. There may be some future uses however for the general public, keep your eye on 3D search.