When you think about that fact that one-third of all Americans visit Reddit each month, with demographics like $70,000 median income, the average user being around 35 years of age, and more than 90% making purchases online, it is a shame that most people don't know about Reddit's self-serve ad system.
That said, although a lot of brands have had success with advertising on Reddit, their self-serve side lacked some much needed features, specifically the ability for more than one advertiser to bid for the ad space in a given Subreddit or set of Subreddits, causing many advertisers to find the majority of Reddit's inventory sold out and unavailable.
Last month, Reddit quietly rolled out a new auction-based ad system, which not only introduced the ability for advertisers to bid against each other for ad space on Reddit, but also introduced a number of other improvements, such as:
Reducing the minimum spend for a campaign from $20 to only $5, which will allow advertisers the better chance to try out multiple Subreddits when working with lower budgets.
Reducing the minimum CPM spend from $1.50 to $.20, which is huge considering many of the Subreddits just did not warrant the higher $1.50 as a base.
Eliminating the even higher CPM costs to target by Country ($2.00 CPM) or City ($5.00 CPM).
When you target a Subreddit, your ads are shown to users in that Subreddit, users who have recently visited that Subreddit, and all users who are subscribed to that Subreddit. I am not sure if that is the way it worked in previous version, but it is confirmed to be the way it is working now.
Although the system is still new and some people have shared some issues with the reported numbers, it is still a huge improvement from the previous self-serve ad system, so definitely give it a try.
On a side note, I highly recommend reading this Reddit Ad case study, as it has tons of great learning points in there that will help you create and run better ads overall.

In other Reddit news, if you never heard of the Gold Partner Program, you are definitely not alone. It is speculated that the lack of people using it, the lack of updates, etc, is why Reddit has announced that it will be discontinued as of March 17, 2016.
Here is a quote from Reddit Admin Powerlanguage:
As part of our efforts to consolidate Reddit Gold we have made the decision to discontinue the Gold Partners program, effective March 17th 2016. You will be able to retrieving existing codes up until that date. Note: this is just the date at which we will no longer be providing codes, codes will work up until the expiry set by the specific partner.
The Reddit Gold Partner program, was a collection of companies that partnered with Reddit to offer exclusive discounts to Reddit's Gold users.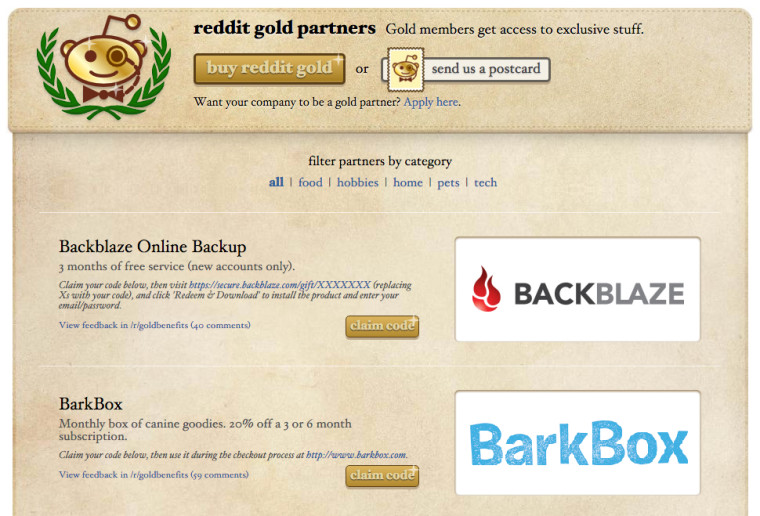 Out of curiosity, are you a Reddit Gold member? If so, comment below and let me know, as well as if you ever used any of the partners or new ad system.
Image Credits
Featured Image: Screenshot by Brent Csutoras. Taken March 2016.
All screenshots by Brent Csutoras. Taken March 2016.