Google updated their Structured Data Testing Tool on May 1st 2018. This caused the structured data for thousands of recipe sites to become invalid. The reason the recipe site schema data is failing to validate is because four new Schema.org properties Google was suddenly recommending. It is recommended that Recipe Schema Structured Data be updated in order to be better compatible with Google Voice Assistant.
Failure to use these properties may trigger a warning. Four properties that were previously optional are now labeled as recommended by Google.
Is the Recipe Structured Data Update Official?
There is now an official confirmation of this change from Google.
We updated our recipe developer documentation to help users find your recipes and experience them with Google Search and the Google Assistant on Google Home. This will enable more potential traffic to your site. To ensure that users can access your recipe in more ways, we need more information about your recipe.

We also added more guidance for recipeInstructions. You can specify each step of the recipe with the HowToStep property, and sections of steps with the HowToSection property.

We now require the recipeIngredient and recipeInstructions properties if you want to support the Google Assistant on Google Home
The change was noticed by recipe site SEO Casey Markee, who tweeted about it Tuesday May 1, 2018: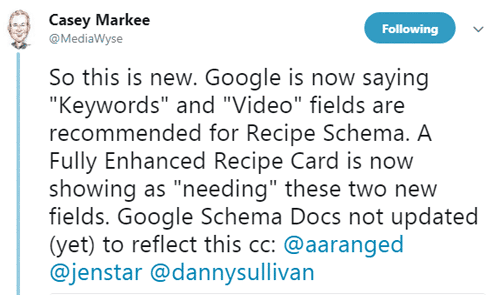 What Changed with Recipe Structured Data
Google Structured Data Testing Tool is now warning recipe sites that four properties that didn't matter before are now recommended. These are the four properties Google is recommending recipe sites to use:
recipeCategory
recipeCuisine
video
keywords
Schema.org Recipe Structured Data offers 110 ten properties that a recipe site can choose from to use for their structured data. Most of them are optional. These four schema properties used to be optional.
Those four structured data properties are still optional. What has changed is that Google's structured data markup tool is now recommending that all four be used.
Previously it didn't matter whether you used those properties or not.
How Many Recipe Sites does this Affect?
This update seems to affect all recipe sites that do not make use of the four aforementioned Schema.org properties. The warning is triggered for any recipe site that does not use any of the four structured data properties comprised of recipeCategory, recipeCuisine, video and keywords properties.
What if a Page Does not Publish a Video?
A recipe page that does not publish a video will still trigger a warning recommending that a video property be used in the structured data.
A video makes sense in the context of voice search. But it seems irrelevant to recommend a video property for a page that does not feature a video.
Recipe Blog SEO Expert Casey Markee stated:
"Any site that is running a recipe plugin and injecting recipe schema is now triggering these warnings.
I just checked 7 recipe sites at random. All of them have the same missing schema errors.

With this change, Google is now "strongly suggesting" that sites now use all these 4 new "suggested" markup fields:

– recipeCategory
– recipeCuisine
– video
– keywords

Google wasn't serving these as "warnings" before today."
Will this Affect Rankings?
This is unlikely to not affect rankings. However, many web publishers are keen to comply with Google's requirements. Because some recipe sites rely on WordPress Plugins to keep on top of Schema.org structured data markup, the burden will likely shift to plugin providers to update their software.
However, a WordPress plugin publisher can't update their plugin to conform to Google if Google has not published documentation for guidance.
Recipe site SEO, Casey Markee stated:
"Hopefully, Google actually updates their recipe documentation soon so we can find out why they decided to add these in now.

Once they update the documentation, then you'll see the major recipe plugins go ahead and ADD these fields to the plugin."
Google Recommending the Keyword Property
The keyword meta tag was one of the first meta tags to be abused in SEO. Because of that, the keyword meta tag was never an important ranking signal and has been ignored.
So it comes as a surprise that Google is actually recommending the use of the keyword structured data property.
Casey Markee observed:
"The addition of a "keywords" field… that is RIPE for abuse. I'm not a fan of that at all."
It will be interesting to see how this develops in the coming days. No doubt thousands of recipe sites are eagerly awaiting for documentation from Google.
Image by Shutterstock, modified by Author
Screenshots by Author