Last Wednesday, the SEJ Marketing Thinktank was joined by Danielle Antosz, Senior Editor of SEJ, for a webinar about webinars to discuss how to hold a webinar and how to properly maximize them to build your brand.
The 45-minute session was moderated by our own Loren Baker, the founder of SEJ, and included a Q&A session where attendees were able to learn from Danielle's webinar expertise.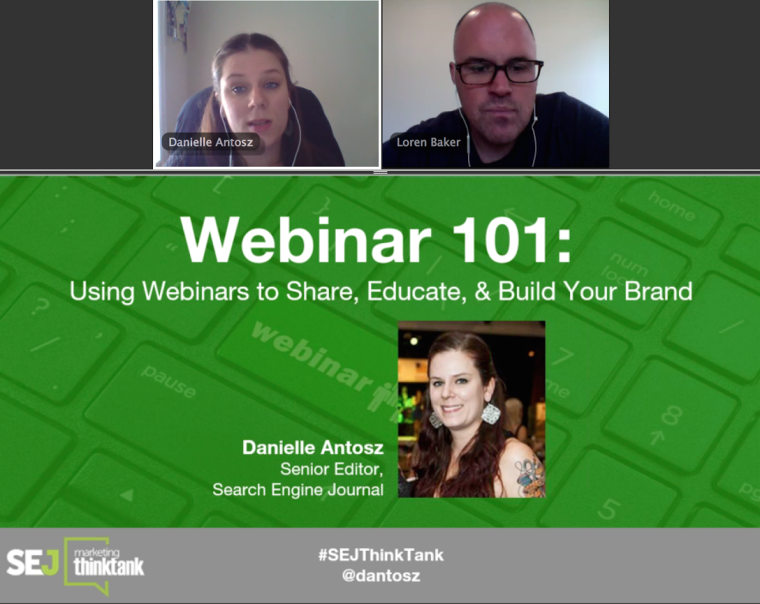 Danielle's presentation included a basic background of web-based seminars, more popularly known as 'webinars', and how they are being used by many digital marketing experts to create high-value content for their brands. One of the biggest benefits is the ability to both present and discuss information.
Highlights of her presentation include:
The benefits of hosting webinars
How to use webinars to create tons of content
Dos and Don'ts of webinar production
Tips on driving webinar registrations
Thank you to all who joined us for Danielle's webinar! If you weren't able to make it, or if you want to re-watch Danielle's presentation, here is a full recap video, and a link to Danielle's slides.
Watch a Full Video Recap
View Danielle's Slides on Slideshare

Join Us For Our Next Webinar!
SaaS Marketing: Expert Paid Media Tips Backed By $150M In Ad Spend
Join us and learn a unique methodology for growth that has driven massive revenue at a lower cost for hundreds of SaaS brands. We'll dive into case studies backed by real data from over $150 million in SaaS ad spend per year.