Google defines "breadcrumbs" as navigation that indicates the page's position in the site hierarchy.
When you hear the term "breadcrumbs," Hansel and Gretel might come to mind. In the old fairy tale, the main characters leave behind a trail of breadcrumbs to avoid getting lost in the forest.
Similarly, breadcrumbs are helpful for users as they drill down into your site hierarchy.
A website can display a "breadcrumb" trail of internal site navigation so that a user can easily find their way back through the website's structure.
So, we know that breadcrumbs are helpful for users and that Google always tells us to focus on the user experience. Does that mean breadcrumbs are a ranking factor?
[Deep Dive:] The Complete Guide To Google Ranking Factors
The Claim: Breadcrumbs As A Ranking Factor
In 2009 Google announced that search results would begin displaying site hierarchies.
This was an effort to show users the location (thus providing context) of a page on the website.
Below is an example of what Google search results looked like in 2009 before and after this monumental change.

Given that Google is tight-lipped on what exactly ranking factors are (for a good reason), the search community relies on what is accessible to better understand how search works.
This includes a medley of what we can see in the search engine result pages, patents, official documentation, and what Google representatives say.
Google changed how search results were displayed and wrote, "By analyzing site breadcrumbs, we've been able to improve the search snippet for a small percentage of search results, and we hope to expand in the future."
Search marketers listened and asked the question: Are breadcrumbs a ranking factor?
The Evidence: Breadcrumbs As A Ranking Factor
Search engines try to make sense of your website by analyzing how the text is organized into main topics and subtopics.
Breadcrumbs reinforce the hierarchical arrangement of pages on a website and how those pages are related.
Google developer docs explain that using breadcrumb markup in a webpage's body helps categorize the information from the page in search results.
Because a webpage ranks for more than just one keyword, users often will arrive at a page from multiple different types of search queries.
Each of these unique search queries returns the same webpage. But, thanks to breadcrumb markup, the content can be categorized within the search query context.
In January 2009, Google filed a U.S. Patent Application titled Visualizing Site Structure and Enabling Site Navigation for a Search Result or Linked Page.
The patent may suggest that Google could include breadcrumbs in search results even if a website doesn't use them.
However, the patent also explains how this could make it easier for Google to understand a website's structure and include that information in search results.
The patent has since been listed as "abandoned." Could that be a clue that Google has abandoned using breadcrumbs in this fashion?
[Recommended Read:] Google Ranking Factors: Fact or Fiction
Breadcrumbs Pass Pagerank
In reply to a question on Twitter about breadcrumbs, Gary Illyes, Google webmaster trend analyst, said, "We like them. We treat them as normal links in, e.g., PageRank computation."
PageRank (PR) is a link analysis algorithm used by Google to rank webpages in their search engine results.
While it doesn't have as much impact as it used to, Google still uses PageRank, among many other factors, to rank results.
Google Search Console Warning
There is a Warning in GSC featured guides under breadcrumbs for manual actions against websites that misuse structured data guidelines.
Most manual actions address attempts to manipulate Google's search index.
If breadcrumb markup were not part of Google's search index, it would not likely be at risk of manual actions for spammers abusing it.
Not only is Google serious about not wanting people to manipulate breadcrumbs, but they are also invested in website owners implementing breadcrumbs properly.
Check out Google Search Console's tweet below, from September 2019.
GSC updated its interface to show users where there were errors in search enhancements, including breadcrumbs.
That same weekend GSC started emailing accounts with breadcrumb structured data errors on their sites – and they're still doing this three years later.
If breadcrumbs were not important to Google, why would they spend time and resources to educate website owners on proper implementation and send notices when there were errors?
[Discover:] More Google Ranking Factor Insights
Our Verdict: Breadcrumbs Are Kind Of A Ranking Factor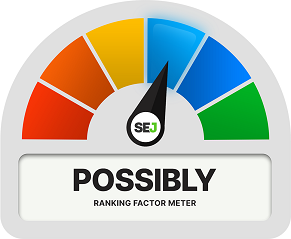 Breadcrumbs are inadvertently a ranking factor.
A ranking factor is a set of criteria that search engines use to evaluate web pages and put them in the order you see in search results.
Does Google use breadcrumbs to evaluate web pages?
Yes, Google documentation supports the theory that breadcrumbs are used to evaluate webpages.
And a representative confirmed that breadcrumbs are considered normal links in Google's link analysis algorithm, PageRank.
The weight given to those links is unknown.
Does that mean that adding breadcrumb markup will propel your page to the top of search results or that you're doomed to never reach page one by not having them?
Of course not; the Google algorithm is far too complex for that.
---
Featured Image: Paulo Bobita/Search Engine Journal