I know that recipes are totally off-topic and abnormal for SEJ. But I put this post together for 3 reasons:
SEO's and Internet marketers can get lost in data and often realize late in the day that there is no dinner.
Several people in the SEO industry are known for their fantastic cooking skills and have a lot to offer us.
Some of us can't cook and could use some fairly easy recipes to make a decent meal. This is one heck of a stressful job and we all need to find a way to eat healthy meals.
So I asked some folks to send me some fairly easy-to-make recipes for all your SEO's and Internet geeks out there.
It's not a "pretty" dish, but it sure as hell tastes awesome. 🙂 And it usually takes me lass than a half hour to make it.
Ingredients: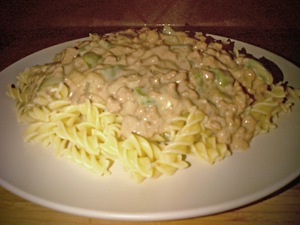 1 lb ground beef (leaner the better)
1 can cream of mushroom soup
1 can beef broth
1 medium onion diced
1 green pepper diced
3 tbs. butter
2 heaping tbs. sour cream
Seasoning mix
Pasta of your choice
To make seasoning mix:
Combine 2 tbs. flour, 1 tsp. salt, 1 tsp. garlic powder, 1/3 tsp dill weed, 1/8 teaspoon white pepper into a small bowl and mix. Set aside.
Directions:
Brown ground beef, onions and green peppers in a large skillet. Drain grease.
Add in butter, stir for a few minutes until butter is fully melted.
Add in seasoning mix, sprinkling gently and stirring it into the meat until all of it is in there and brown a few more minutes.
Begin bringing the water for the pasta to a boil.
Return your attention to the skillet of beef and add in 1 can cream of mushroom and 1 can beef broth. Stir until mixed, reduce heat to low, stirring frequently.
Meanwhile, begin cooking the pasta. Tonight, I used fusilli.
Once there is five minutes left to the pasta, add sour cream to the beef mixture and stir in well.
Drain pasta, put stroganoff mixture over it and serve.
MOINK Balls – Aaron Chronister – @TheMadHat
MOO + OINK = MOINK. The two most popular proteins in the BBQ world – beef and pork. Great for Super Bowl parties!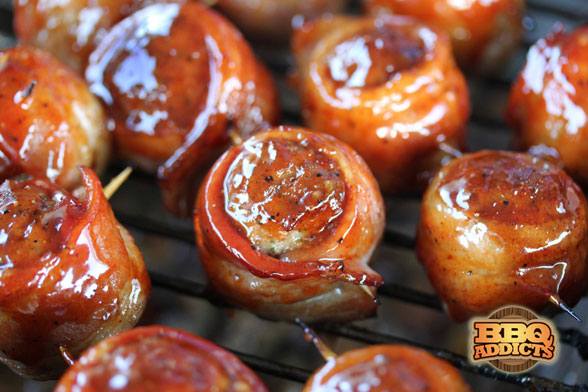 12 precooked Italian style meatballs
6 strips bacon, cut in half
1 Tbsp brown sugar
1/8 Tsp cayenne pepper
1/2 cup barbecue sauce
1/2 grape jelly
Directions
Step 1: Wrap each meatball with a half strip of bacon and secure it with a toothpick
Step 2: Combine the brown sugar and cayenne pepper and sprinkle over the bacon-wrapped meatballs
Step 3: Smoke over indirect heat at 250 degrees for about 1 hour until the bacon is done to your liking
Step 4: While the MOINK balls are cooking, combine the barbecue sauce and grape jelly in a saucepan and heat until blended
Step 5: Five minutes before removing the balls from the smoker, baste them with glaze. Serve immediately.
Yield: 6 Servings
Sausage and Peppers a la Netmeg – Meg Geddes – @Netmeg
1 ½ lbs sweet or hot (or mix of) Italian sausage
½ cup dry white wine
2 tablespoons olive oil, divided
2 large onions, sliced into half rings
2 cloves garlic, minced
3 green peppers cut into ½ inch strips
3 more peppers (red, orange, yellow however you want to combine) also in ¼ inch strips
1 teaspoon oregano
1 teaspoon thyme
¼ cup chopped fresh basil, or 2 teaspoons dried basil
2 tablespoons minced parsley, fresh or dried
1 can (28 oz) Italian plum tomatoes, drained and coarsely chopped
Directions:
In large nonstick skillet, cook sausages in wine over medium heat until liquid evaporates,
Add 1 tablespoon olive oil; continue to cook, turning frequently, until sausages are evenly browned.
Set aside on platter to keep warm.
Heat remaining olive oil in skillet and saute' onions and garlic over medium heat until softened (about 5 minutes).
Add pepper strips and saute' for another 3 minutes.
Add herbs and tomatoes, cook another 5 minutes, and return sausages to mix. Heat thoroughly to serve.
** substitute chicken or turkey sausage if you don't want the pork
Ingredients
2 Fresh Jalapeño's, diced
1 Cup Sharp Cheddar
8oz container of sour cream
1 Egg
1 can (15 oz) cream corn
1 can (15 oz) whole kernel corn
1 box Jiffy corn bread mix
1/2 cup unsalted butter
Directions
Preheat oven to 350 degrees
Mix all ingredients together in a medium bowl
Pour into an 8×12 baking dish
Cook for 1 hour, stir at 40 minutes
Cool for 20 minutes before serving
Ingredients
4 cups shredded chicken (about how much you get off one rotisserie chicken)
1 package of cream cheese
1 package of cream soup (whichever you like best)
Directions
Mix these ingredients together. Salt and pepper to taste and spread into a 9×13 casserole. Top with either crushed Ritz crackers drizzled with butter, or for a heartier meal…make up a box of Stovetop and spread that on top. Pop in the oven at 350 for 20-25 minutes. (Or, put it in the fridge fully prepared and pop in the oven when you get home.)
Great with a salad or steamfresh veggie pack. My entire family goes nuts over this one.
Ingredients
salmon filets
2 bacon strips per salmon filet
Dijon mustard
salt and pepper
Directions
Cut the bacon strips in half so they are the length of the salmon filets. Spread 2 teaspoons of dijon on each filet. Sprinkle the filets with salt and pepper. Lay two strips of bacon on top of the mustard, covering the salmon.
Place the salmon on a cookie sheet and broil on high for 7 minutes.
This can be served on top of a salad or with veggies on the side. Green beans, brussels sprouts and swiss chard go well with salmon.
Side Note – Pamela is super healthy chef and has a website with a lot of articles. Here are some good ones: Paleo Steak
Ingredients
½ cup panko bread crumbs
¼ tsp garlic powder
¼ tsp onion powder
½ tsp Old Bay seasoning
¼ tsp ground black pepper
2 T mayo
¼ cup parmesan cheese
½ tsp lemon juice or white balsamic vinegar or champagne vinegar (optional, just for a little acid zing)
1 lb tilapia filets (4)
Directions
Turn on broiler
Line a small pan with foil, season tilapia with salt, pepper and Old Bay seasoning
Mix other ingredients in a small bowl and have ready
Broil for two minutes, flip, broil 2 more minutes
Remove from oven and coat with topping, broil 2-3 minutes until topping is toasted. You can test fish with fork, will flake easily when done
This is a great recipe to experiment and tweak. You can eliminate the parmesan and add salt and some Dijon mustard top the topping mix, you could add a splash of Siracha or some red pepper flakes, you could swap out panko for an equal amount of anything dry like regular bread crumbs, fresh bread crumbs, crushed cereal like Rice Chex, etc.
but I was presenting this a fairly healthy dinner).
Spanish Omelette – Peter Handley – @ismepete
Core Ingredients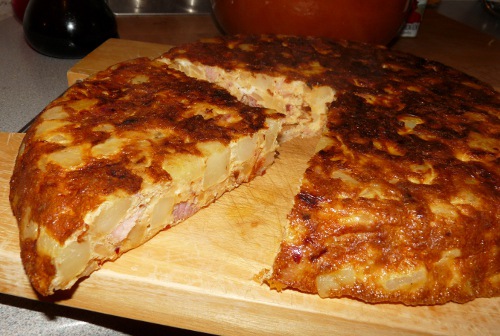 6 Large Eggs
2 Medium Sized Onions
2 Large Potatoes (or 4 medium ones)
Optional Ingredients to Jazz up the Omelette
I'd suggest picking 2 or 3 of these potential ingredients per Omelette, as you want to make sure you can taste everything you put in. For each, I'd add around 100-125g, or between 3 ½ to 4 ½ oz.
However, if you are entertaining, why not try making 2 or 3 different types, and offer your family or guests the choice:
Meats – Chorizo, Other types of flavoured sausage, Bacon/Ham (I tend to prefer quite large chunks rather than the rashers), Chicken, Beef
Vegetables – Peppers, Tomato, Broccoli, Peas, Leeks
Assorted other Flavours – Cheese (I really like strong smoky cheeses so that they really stand out, or something that goes nice and stringy in texture), Herbs (I like Chives best personally), Chilli, Mushrooms, Garlic, Any other tasty leftovers
I find it hard to pick between my favourite 2 variations. The first Omelette involves Chorizo and chunks of smoky bacon, and my second favourite is a Chicken and Smoked Cheese one. So, if I'm
entertaining for a few folks, I usually make both!
Directions
Boil the kettle and chop the potatoes. I usually chop these up into little cubes
Boil the potatoes in a saucepan for about 8 minutes
Whilst the potatoes are cooking away, I chop everything else up. You want to dice the onion into about the same sized chunks as the potato, and any of the optional ingredients I would also chop up until all the components are about the same size.
Get a mixing bowl and crack the eggs in. Give them a light whisk to break the egg yolks, but you don't need to beat this for a long time, you just need to get an even consistency. Add salt and pepper to taste, and this is also when I'd usually chuck in some chilli flakes for some added bite.
Get a decent sized frying pan, and heat up a small amount of olive oil (a tablespoon will be plenty). Fry your onions for a few minutes, and if you are adding any raw meats as an optional extra, I'd chuck those in now too to ensure that they are properly cooked.
Drain the water away from the potatoes
Add the potatoes to the frying pan, along with any of the final remaining optional ingredients that haven't gone in yet (except cheese and herbs – I'd add them in a bit later)
Fry for a few minutes so that some of the edges are getting crispy and start firing up the grill (which we'll need in a minute).
Empty the contents of the frying pan into the mixing bowl with the eggs and give everything a good mix up. Wipe out the frying pan so that any crispy bits left behind are removed, and put this back on the heat with another small splash of olive oil.
If you are adding herbs in, I would mix these into the mix now. If you are adding cheese, you can do this now in chunks, so that there are some nice cheesy lumps through the tortilla, or you can grate it ready to sprinkle on the top of the mix before it gets finished under the grill.
Both work excellently.