Whenever someone follows me on Twitter, I will check out their profile to see who they are and if they are legit or a spammer. For the most part, if someone is active in the community and is involved in Internet Marketing in one way or another, I will follow them. However in order to keep my account clean and filled with only active and relevant members, I will use the following process.
Twitter.com/handle
Always start with the easiest things first. Go to twitter.com and look at their basic information.
Full Profile: Check to make sure they have the basic information, including a avatar, brief bio and a link to their website/blog.
Follower/Following Ratio: This is always a fast way to see how influential and active a person is on twitter. If the person has 3-4 times as many following than followers, they are probably not very influential.
Number of Tweets: If you notice that someone has 5,000 followers and only 80 tweets, that person is probably a spammer.
Type of Tweets: You also want to look at the most recent tweets to see what that person tweets about. Many spam accounts will add RSS feeds to their twitter account, so that it stays up to date all of time. If you notice the same type of tweets without any personal communication between other tweeters, it is most likely an account set on auto-pilot.

Klout & Twitter Grader Scores
The Klout Score is the measurement of your overall online influence. The scores range from 0 to 100 with higher scores representing a wider and stronger sphere of influence. This service will give you very detailed information on the users influencers, @ mention count, total RTs, mutual follows and more.
Hubspot's Twitter Grader service allow you to enter a twitter handle and receive a score out of 100% on how powerful or important a twitter user is. To me the overall score is a bit arbitrary, however it is a good starting point to see how influential the twitter user is.

Quick Follower Analysis
Refollow is a great Twitter analysis service that can perform many functions and filter options. I typically enjoy how you can put in a twitter handle and see who that person is following or who is following them, along with their twitter data, just by hovering over their avatar.

Friend or Follow
I used to use a service called MyCleanr that would show you everyone that you were following that wasn't following you. It would also show you people that have not been active on Twitter. However it is no longer active.
Friend or Follow is a similar service I found that will let you do a similar analysis on an account. I particularly like to see which accounts I follow have not been active for a while. If someone has not tweeted in 6 months or more, I will usually stop following them since they have abandoned their account.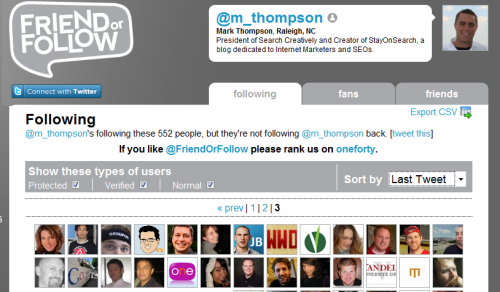 Using various tools such as these, we can find a 360 degree view of Twitter users. What are some of your processes?