This is a sponsored post written by Pro Rank Tracker. The opinions expressed in this article are the sponsor's own.
Google is constantly changing their algorithms to deliver more relevant search results for every user.
Recently, Google announced another change to ensure that search results are even more local and more relevant.
As part of the recent update, Google has changed their method of labeling country services. So instead of country service being indicated by domain, it will automatically respond to your location.
This means that people who live in France, for example, will get the country service for France (such as .fr). But when they travel outside the country, like to New Zealand, for example, they will automatically be served the country service for New Zealand (such as .nz or .co.nz). And once they return home to France, the country service will automatically switch back to the relevant location.
This update is intended to ensure that searchers are provided with results that are the most relevant based on their location. It is designed to improve people's search experience.
This change will automatically provide users with information that Google deems to be the most useful based on their search query and other aspects, such as location.
Other Changes & Updates Impacting Local Search
In addition to this recent update, Google has made several changes over the years that impact local search ranking.
The Google Venice update, for example, was one of the first changes to really influence how local search works. This update made it critical for businesses to dedicate a landing page for each of the locations they service and optimize the page with the right keyword combination.
Here's an example of an area-specific webpage from New Life Painting, Inc. that's been optimized with location-based phrases. They've combined keywords such as "painters" and "interior painting" with the location name (i.e., Pismo Beach).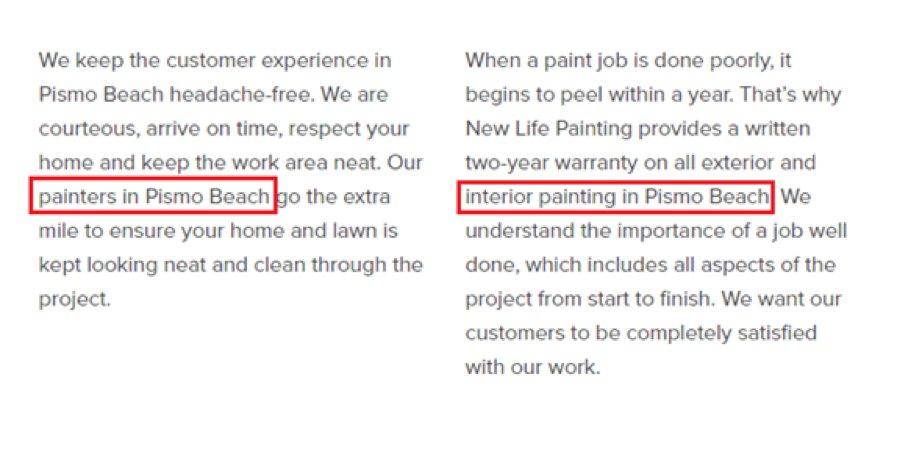 There's also the Google Pigeon update, which was first rolled out in 2014, and has probably been updated several more times since. The most significant aspect of this update is how Google switched to a local 3-pack as opposed to how they used to display 7-10 businesses in the local pack.
Since this update, Google also seems to favor local directories in which customers have contributed content such as Yelp, BBB, Home Advisor, and Thumbtack in local search results.
For example, here are the top organic search results for "pool cleaners in Grover Beach" that show up just below the local pack: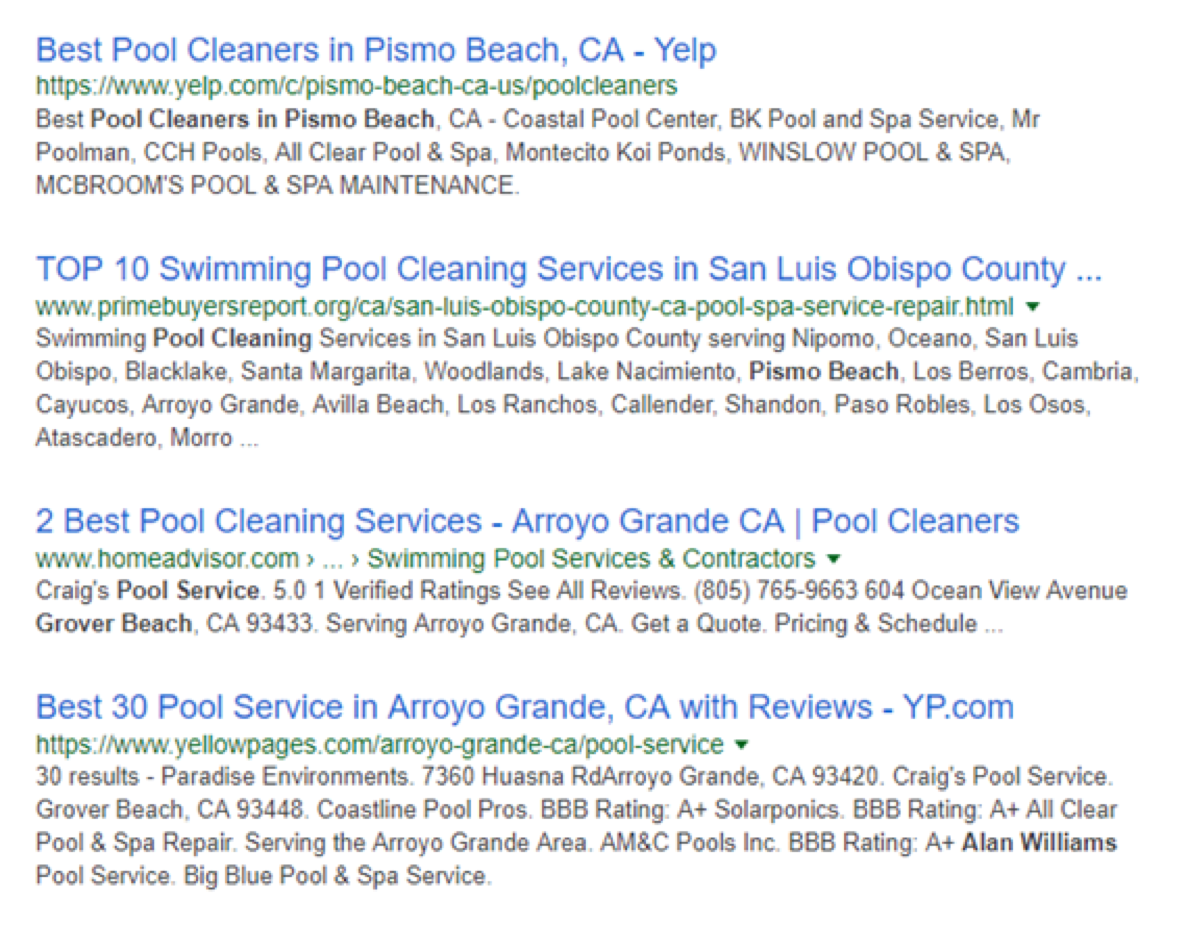 As you can see, these are all local directories as opposed to an actual business website.
In many cases, the local search results may not necessarily show local directories at the top.
However, it's clear that Google places importance on local directories, and makes an effort to display them prominently in local search results.
What You Need to Do
As a business owner or a marketer who wants to boost their local search ranking, it's crucial to adapt to these changes and keep your eyes peeled for any new updates that might affect your ranking.
Here are a few tips that will help you out:
1. Track Your Local Ranking
The most important step you need to take is to keep track of your local rankings and be aware of any changes in them.
Pro Rank Tracker is a highly useful tool for easily tracking how you rank in local search.
In addition to organic local rank tracking, the tool can provide you with updated ranking information on the Google local 3-pack, map listings, and mobile search results.
What's great about this tool is it also gives you local keyword search volume data. So you can use these insights to discover keyword ideas for optimizing your area-specific webpages.

Pro Rank Tracker also provides a user-friendly reporting and interface with multi-lingual support. Their organic local rank tracking can be even narrowed down to cities. So you can get more control over how you rank for local searches.
Pro Rank Tracker's algorithm even allows the discovery of keywords that your business ranks for, which you might not know.
2. Get Ranked in the Local Pack
Your goal is to rank among the local 3-pack, where you have a higher chance of being discovered.
However, you also know how difficult it is to achieve this goal.
Moz's local pack ranking factors might help boost your efforts. According to this list, you'd have to improve your Google My Business signals.
Make sure you categorize your business accurately and include the keyword in your business title. You'll also have to improve your link signals, on-page signals, and review signals for starters.
3. Get Listed in Online Directories
As mentioned earlier, Google has started to favor local directories among local search results.
So if you wish to improve your local search ranking, it would be wise to get listed on sites like Yelp, Citysearch, BBB, Merchant Circle, etc.
You can also look for directories specific to your city or state to get listed in. This will also improve your link signals as you'll be getting an inbound link from a reputable domain.
4. Collect More Reviews
Review signals not only improve your chances of featuring in the local 3-pack, they also play a role in your overall local search ranking.
You should make an active effort to try and collect reviews from your customers instead of expecting them to voluntarily review you.
Tools like Trustpilot and Vendasta are some excellent options for collecting and monitoring your reviews.
5. Optimize Your Title Tag
Google places a great importance on on-page signals. Make sure your name, address, and phone number are accurate on your website. Google will also look at relevant keywords used in the page content.
But in addition to this, the title tag is one of the first aspects Google will consider to rank your site in local search. So it's crucial that you use the location and keyword combination for optimizing your title tag.
Conclusion
These aren't all the changes Google has rolled out to improve local search results. But these changes alone are enough to help you focus your local SEO efforts.
Google will continue to roll out more updates and changes that have an impact on local search, in an attempt to enhance the search experience. In the meantime, make the most of the tips you've read in this post, and get your business to rank higher in local search results.
---
Image Credits
Featured Image: Pro Rank Tracker. Used with permission.
In-post Photo # 1: New Life Painting, Inc.
In-post Photos # 2-3: Google
In-post Photo # 4: Pro Rank Tracker. Used with permission.