This is a sponsored post written by SEMrush. The opinions expressed in this article are the sponsor's own.
Optimizing your ROI is an endless process when it comes to PPC. There's always room for testing, experimenting, and fine-tuning.
But sometimes you just can't see the forest for the trees. You run so many activities that they eventually start cannibalizing each other.
Three of the most frequent types of mistakes are:
Geotargeting mistakes.
Keyword grouping mistakes.
Organic vs. paid keyword mistakes.
Luckily SEMrush is here to help.
1. Geotargeting Overlap
Local PPC is an evergreen advertising technique.
Many advertisers think it's relevant only for local businesses, but it's not; you should keep the local data in mind even when you advertise online products and services not connected to any location.
Our recent study revealed that even in industries like online education, online banking, and digital marketing agencies, the average cost-per-click (CPC) may differ a lot across states.
Geotargeting should be smart. Otherwise, you are potentially pouring your budget down the drain.
This is what may happen when you run many location-bound campaigns:
Radius Intersection
The only way to avoid this intersection is to thoroughly explore the zones you're targeting. Or, in most cases, you can segment your audience by ZIP code rather than radius targeting.
City vs. Region Intersection
Let's say you set up a campaign for Austin, and then another one targeting all of Texas. This means your ads from these two campaigns start competing against each other, which can give rise to CPC growth.
One of the solutions we use is excluding all other locales (states or cities) when setting up a location-based campaign. This is how it works at country level:

It can seem time-consuming at first, but it will save you time (and money) afterwards.
2. Keyword Overlap
Unless you're an exact match type aficionado, you can have intersecting keywords popping up across different ad groups in any campaign.
It happens every time a search query gets matched to more than one keyword match type, and you can prevent it by adding negative keywords: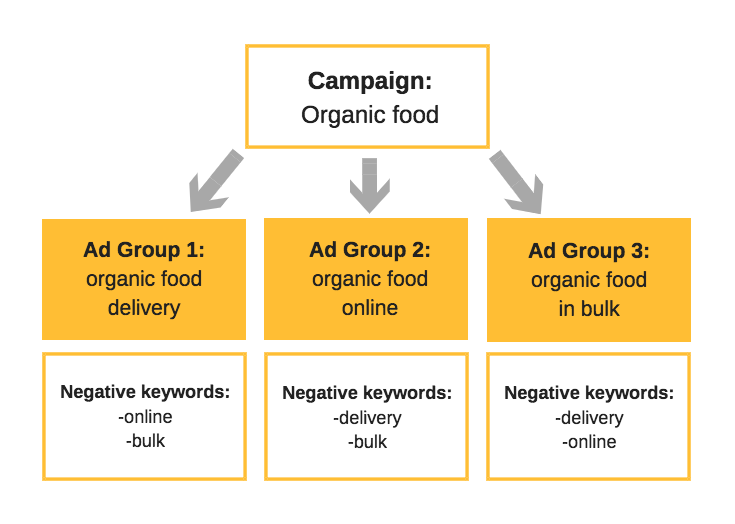 The problem is that these keywords are hard to find using the standard AdWords interface or Excel. And almost impossible if you run campaigns with hundreds of ad groups.
Identifying and removing these competing keywords can help decrease CPC by 10 to 15 percent.
That's why, when we started shaping our PPC Keyword tool, this was one of the first features on the list. And here's how it's done:
Upload your keywords (or just create the keyword list from scratch using multiple keyword sources inside SEMrush).
Hit the 'Cross-group negatives' button.
Choose which ad group you want to delete intersecting keywords from.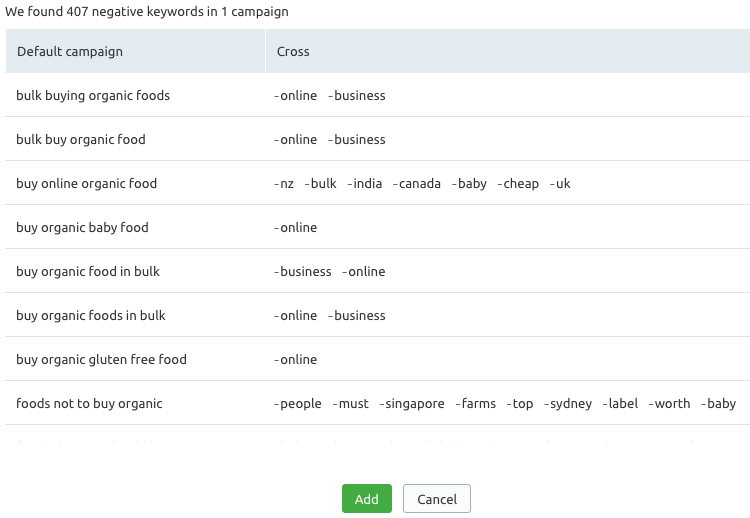 Along with reducing competition (and CPC) for your target keywords, this handy feature will literally save you hours.
3. Paid vs. Organic Overlap
Depending on how tight on budget you are, your answer to the eternal question "to bid or not to bid on keywords I'm already ranking for organically?" can be different.
However, even if you have enough budget for defending your above-the-fold positions, there's always room for optimization.
SEMrush's Keyword Ad History report will come in handy for this.
Note: first you should get the list of terms you're ranking for in Top 3 organically using Search Console.
To find out if you should pause bidding on a keyword, generate an Ad History report for it and see if it's really that popular among your rivals:
Based on this data, you can see if it's worth excluding the keyword from your PPC campaigns during certain months or seasons.
Tip: We recommend that you check branded search terms first. It may happen that you'll find just a few advertisers targeting your brand keywords.
When your brand is not yet well-established in the niche, it doesn't make sense to support it with PPC ads at any cost – you might try to relocate this budget to other experiments without losing a lot in clicks (and conversions).
---
Image Credits
Featured Image: Image by SEMrush. Used with permission.
In-Post Photos: Images by SEMrush. Used with permission.