Google is in the initial testing stages of a new app called Bulletin, which allows users to publish hyperlocal news stories that can be found in Google Search.
Bulletin is described as "an app for contributing hyperlocal stories about your community, for your community, right from your phone."
Pictures and videos stored on a user's phone can be published online via Bulletin. Content published with Bulletin lives on the web as a Google Post under the user's Google account.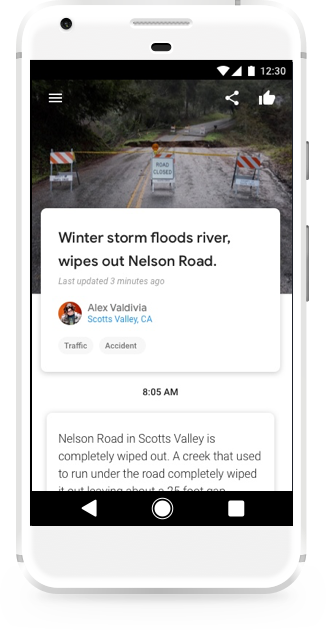 How Bulletin Works
Bulletin appears to be very uncomplicated to use. To sign up for Bulletin all you need is a Google account. There are no websites or profiles to set up, and publishing stories is as easy as texting.
Every story that's published via Bulletin gets its own URL beginning with "posts.google.com/bulletin/share/…" It can be easily linked to, shared, and discovered in Google Search.
Stories can contain anywhere from one piece of media to an entire gallery. Text-only stories can be created as well. Each story can contain multiple items, and individual items are all time stamped.
If sharing hyperlocal news is the purpose of Bulletin, then it looks like Google intends for users to treat it as sort of a live blog. If you're posting news about a local conference you might create a story at the beginning of the day, and continue to add content to the story as the day goes on.
That's my best interpretation of how Bulletin is supposed to be used based on what I've seen from those who have access to it. Unless you live in Nashville or Oakland, you will not be able to join the limited pilot at this time. If you do live in either of those cities you can request access here.
For those who have access to the app I would imagine there's some sort of community bulletin board, so to speak, where users can discover stories from other people.
Google says Bulletin is a place to "tell the stories that aren't being told." It certainly could prove to be a valuable outlet for sharing and discovering local stories that aren't being covered by traditional publishers.
There will no doubt be a lot more to learn about Bulletin as time goes on.