While search marketing has certainly seen its share of change over the last decade and half, there have always been some things that remain constant. One of these has been the Display URL—that friendly line of green text that shows you where your click will take you. But will the Display URL stick around forever? Some recent Yahoo SERPs suggest that the search engine is testing ads that have no Display URL at all.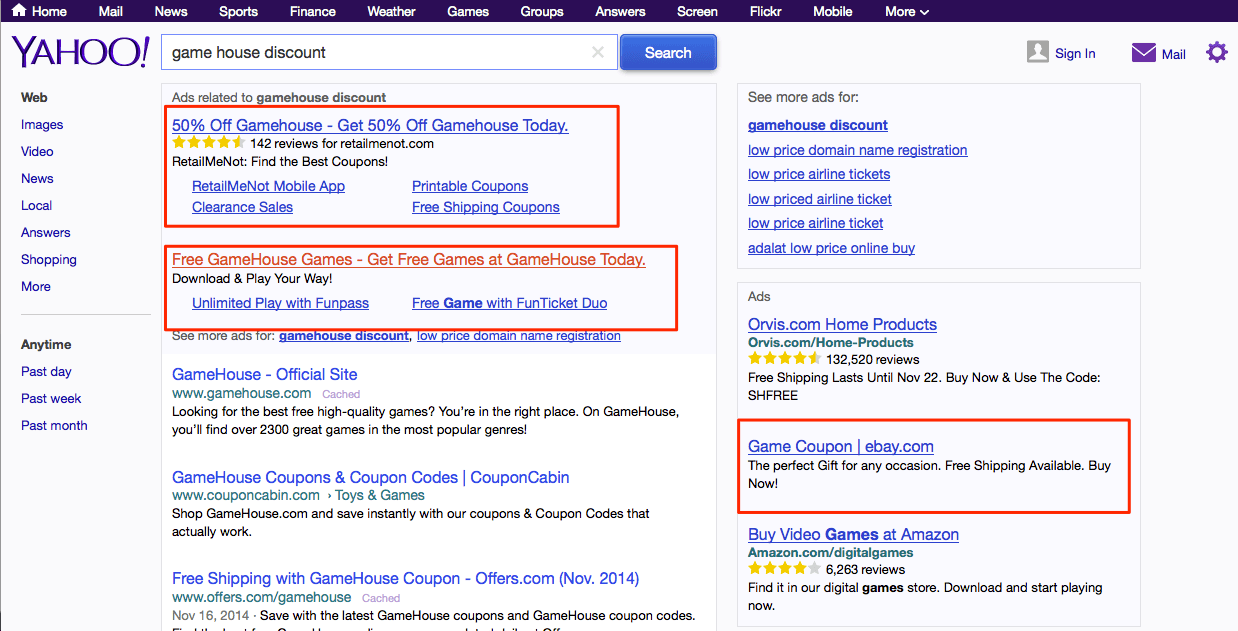 First spotted by BrandVerity, revealed several ads that were composed entirely of a headline and supporting ad text. Interestingly, from the screenshot you can see that while three of the ads (highlighted in red) had no Display URL, a couple others on the SERP still included them.
If this indeed is something that Yahoo is trying to test, it will be interesting to see how it affects advertisers' campaigns. In particular, it's worth considering the impact on brands. "Without a Display URL to explicitly demonstrate who an advertiser is, the distinction between a brand and its various partners, affiliates, and even competitors can be blurred," stated Jennie Scholick of BrandVerity, "It would be even harder to cut through the clutter if you can't show consumers who you are."
Yahoo experimenting with its SERPs would not be a surprising move, as it has often tested the bounds of paid search in the past. Formats such as Rich Ads in Search, which Yahoo pioneered, have provided advertisers with options to include logos, images, videos and other media in their ads. However, the removal of Display URLs would be a significant departure from those formats, which typically provide additional branding opportunities.
This is interesting timing to be testing this as Firefox just dumped Google to Yahoo as their default search engine.
It will be interesting to see what, if anything, comes of this on Yahoo and on other search engines. The search engines often test out new advertising ideas, but those generally don't end up becoming the new standard. I would certainly be surprised if Yahoo or anyone else decided to move away from Display URLs, but we'll see how this develops.
Have you seen this in Yahoo yet? Let me know what you think of this: is it ethical?
Screenshot Taken Nov 28, 2014 from Yahoo Search.