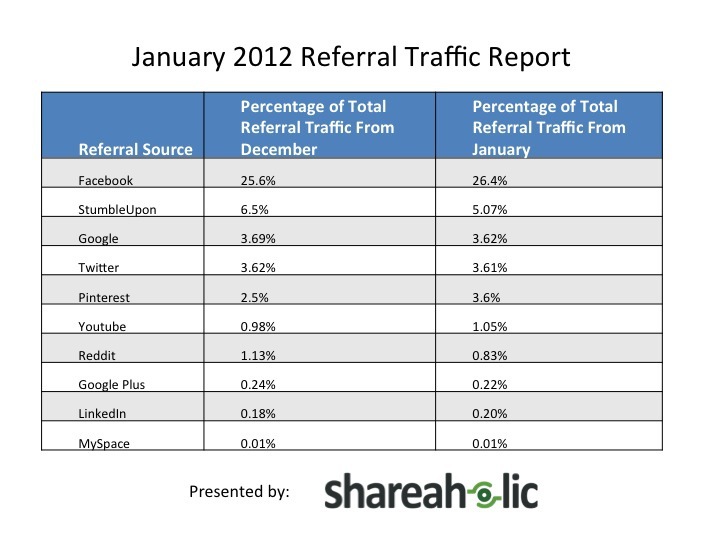 In addition to recently winning the Crunchie for Best New Startup of 2011, a new study by shareaholic is now indicating that Pinterest is driving more referral traffic than Google Plus, LinkedIn, and YouTube combined. The study, which examined aggregated data for over 200,000 web publishers with a reach of over 260 million unique monthly visitors, found that Pinterest was a top-five traffic referral site for the month of January.
Pinterest, which allows people to collect and "pin" photos to a "virtual pinboard," has rapidly grown from 400,000 users last year to over 4.9 million users today. Although Pinterest remains invitation only, Quantcast data is suggesting that the social network/blogging platform is now generating over 15 billion page views each month. Pinterest's explosive growth exponentially increased the traffic they refer from only 0.17% of referral traffic in July of last year to 3.6% of referral traffic in January.
Although the Shareaholic report only shows ten referral sources out of hundreds of thousands of sites, it provides valuable insight regarding the top referral sites and where marketing professionals should be investing time and resources.
If the combination of Pinterest's impressive referral data and incredible growth has you wanting to learn more, check out these great posts on maximizing your Pinterest efforts:
Pinterest: Link Building & SEO Strategies
Leveraging Pinterest: How "Pinnable" Is Your Content

[Sources Include: Shareaholic & Quantcast, Infographic by: Monetate]