Pinterest is one of the fastest growing and most user friendly social networking sites on the web today, but they're clearly not satisfied with maintaining the status quo. Over the past few months they have been aggressively adding new features to improve the experience and help users find more of what they want.

Their latest update is so obvious you'll wonder why it didn't already exist. The new Pinterest Interests feature analyzes the things you've already pinned and suggests other pins based on what you've expressed an interest in.
Best of all, Pinterest groups these personalized pins into categories so you can browse groups of pins suggested just for you, rather than the general list of categories you're used to looking through.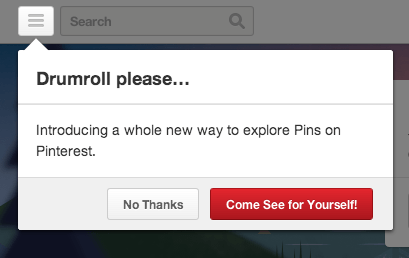 To activate Pinterest Interests, if you haven't already, simply login to Pinterest and you'll be prompted with this message on the home page.
Click on 'Come See for Yourself!' and you'll be taken on a short tour through the new interests page called Explore.
This feature is available only on the desktop site for now, but in the official announcement they state it will be rolled out to mobile and everywhere around the world soon.
In the announcement they also admit steps needed to be taken in order to make the ability to find pins more relevant to each user.
Before today, all the billions of Pins on Pinterest were organized into just a handful of broad categories… We're working hard to make Pinterest as relevant as possible for each person so it can be a place you can find and save all of the things you love, even if you didn't even know you were looking for them.
Speaking from experience as a male using Pinterest, it can be very difficult finding pins that pertain to my interests when browsing through the general categories. Pinterest Interests makes the experience much better. Here's a glimpse of my Interests page, which is filled with surprisingly accurate recommendations: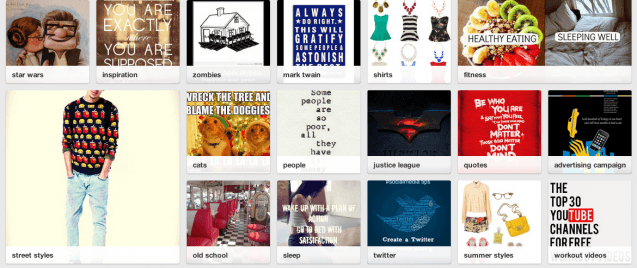 This is not only great for the average user, but if you use Pinterest for business it will help you find a more targeted audience of people to follow, and increases the chances of your pins being seen by them as well.
The Interests page will be constantly changing and promises to get even more accurate the more you use Pinterest. All the more reason to keep pinning!