Pinterest is unveiling a new look to business pages. The big update gives businesses a new way to showcase boards and buyable pins.
Here's a look at the big changes Pinterest is making to business pages.
Pinterest's Rotating Showcase
When customers land on your profile page, they will see the new rotating showcase. This space can be used to feature up to five of your boards and your buyable pins.
"You can use the new showcase space to highlight anything from seasonal content to your all-time best ideas – whatever helps tell the unique story of your business," according to Pinterest.
You can update your Pinterest showcase as often you want. Pinterest's showcase feature is on all platforms, but can only be edited on desktop, which means the boards and cover images for each of your boards will appear the same for everyone.
Here's an example of the new look Pinterest business page with the rotating showcase for kate spade new york: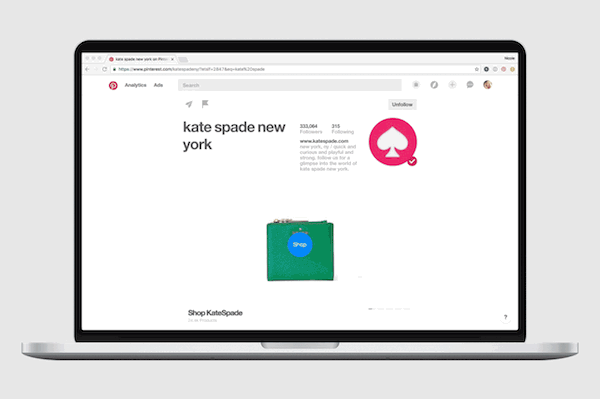 More Changes to Pinterest Business Pages
Pinterest also made a couple other cosmetic changes to business profile pages:
There are new tabs for your boards and your pins.
Pins you've liked are now only visible to you.
On mobile, your showcase will now appear in the spot formerly occupied by your most recent pins.
In addition, Pinterest said they have added a way to let you pick new board covers from your smartphone when you're on the go.
Pinterest said all these changes are now beginning to roll out on the web and to its apps.
What do you think of Pinterest's new showcase feature – or any of the other changes to business pages?
Image Credits: Pinterest