One of the social sharing sites experiencing great growth these days is Pinterest, an online bulletin board where users can submit their favourite images. It has been rocketing recently, and with its viral nature, no doubt that in the future, it will invite and attract spammers to take advantage of its features.
Before this comes to an issue, Pinterest has been clearly addressing this mounting problem. The company has been developing anti-spam measures to eradicate suspicious content and links to further resolve reported complaints and criticisms. Pinterest blog reads, "Fighting spam is a top priority as we continue to grow and we really appreciate the reports we've received so far. "
There have been marked anti-spam measures that you'll encounter while browsing Pinterest. Some of their methods are as follows:
Pinning Too Much? Pause for a Captcha Verification!
As I was trying to upload an image with a link (image souce) in the description, Pinterest required me to enter a captcha code.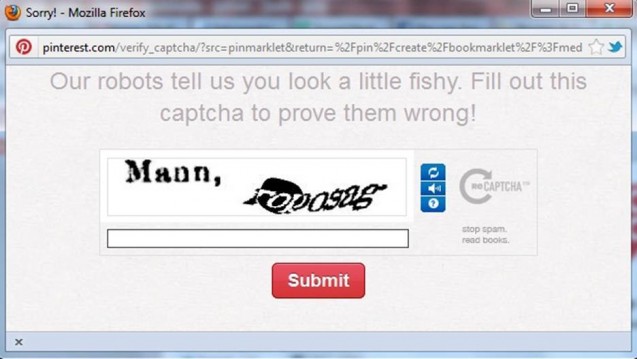 However, this measure hasn't been functioning really commendable at all. After I entered the code, description went all blank and basically just pointed me back to the pin box where I have to upload the pin again. As of this writing, some claims have reported that this glitch is already being addressed by Pinterest.
To add, one of the problems with Pinterest anti-spam measure is its accuracy to really recognize human users. For some reason, Pinterest verification program did not verify me as a human user right after entering the correct characters printed on the Captcha box. It happened twice and I'm quite sure that both my keyboard and common sense were working right on both instances.
No to "Suspicious Links "in the Description Box
As Pinterest can function both like a search engine and a social network, it is important to pay attention to adding a description to your pin, in order to increase the chances of your content getting found (only available to users who have set their Pinterest Profile visibility on).
Amazon Affiliate Links
Given this feature, some marketers find the description box as a paradise of affiliate links. Recently, it has been reported that Pinterest is temporarily blocking Amazon affiliate links as spam, not only in the description box, but also on the pin per se, also stripping out affiliate IDs so marketers won't get commissions. As Pinterest's spam measure, you will be prompted to this "spam page" notification once you clicked on a pin with an Amazon link.

Bit.ly Links
As Pinterest becomes aware of the Amazon affiliate links "spamming" around, it seems that Pinterest has also considered blocking some link shortener services like bit.ly. It is likely that since Pinterest is stripping out affiliate links, they assume that spammers will find their way to sneak out on this anti-spam measure by using redirects and cloacking links for all amazon affiliate links.
However, since blocking bit.ly links might raise an issue especially for users who are vulnerable and innocent pinning and adding bit ly links in their description box, it is likely that Pinterest shows a different spam page notification.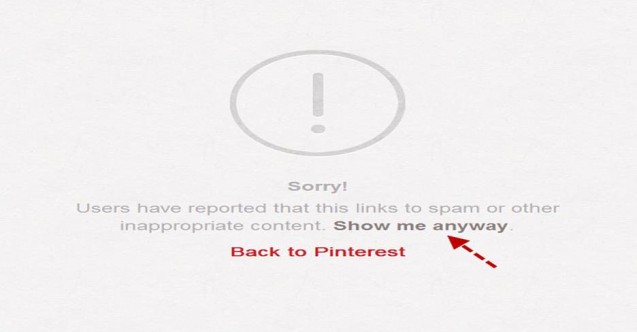 With this notification page, pinterest gives users the options to either continue visiting the pinned link or just go back to the main page of Pinterest.
Too Much Discussion in the Comments Section Can Lock You Out
Pinterest can be considered as a form of social sharing site and a blogging platform. However, doesn't this anti-spam measure defeat Pinterest's social purpose?
Recently, an administrator of a Pinterest Board for special needs services named Heidi blogged about how Pinterest locked her out of being able to comment for as much as 24 hours after actively trying to create a discussion on her pins. According to her, "Unfortunately, Pinterest is not happy with a single person making comments at once – even on their own boards – and if you even three in short order, you can be 'locked out' of being able to comment for as much as 24 hours."
Spam According to Pinterest Users: Report a Pin
This is by far the most obvious anti-spam measure that Pinterest has created. According to their blog, "You don't need to be concerned if a spam account follows you on Pinterest, but you should definitely feel empowered to let us know about it."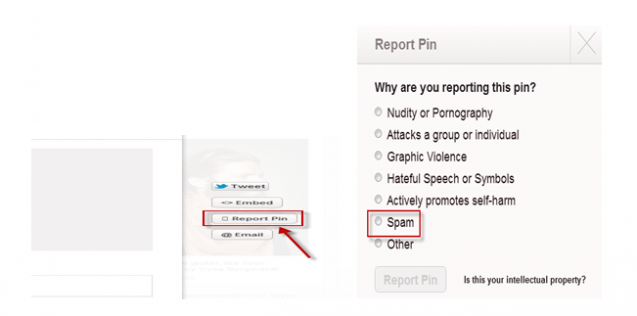 But of course, the final judgement still falls under Pinterest Management's discretion.
These are just some methods Pinterest formed to ensnare spammers. Just like some regular Pinterest users like me, I've always hope for a better blogging, social sharing, and social networking environment. Which of these measures have you experienced, by intention or not, so far?