I've shared a few ways to search for images for "link-bailty" posts earlier. And today I have one more tool for that: PicFog.
PicFog is a real-time image search powered by Twitpic, Yfrog, and Twitgoo. It worked really well for me in some cases when I needed "cool" post inspiration.
Here's how it works:
Provide your search term (you'd better go for some more general alternative / synonym);
The tool generates the list of related images which get updated instantly once they appear (get Twittered).
You can also do without searching it at all: just visit the home page, sit back, and watch the new images appear until you spot something interesting to click through.
Besides that, you can:
See when exactly each image was tweeted (in the top left corner of each thumbnail);
Hover over each image thumbnail to see the actual Tweet;
Click on each thumbnail to see it full-size together with the Tweet sharing the image;
See the images in a slide show;
See breaking Twitter trends (powered by WhatTheTrend).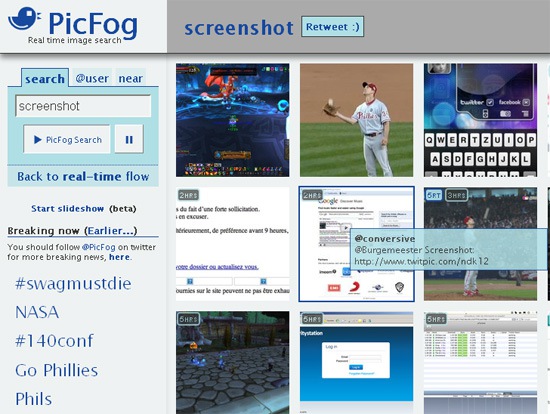 There's also one really useful option that allows you to see the most popular images (i.e. those tagged with hot hashtags) by date. For that you'll need to go to the "Breaking" section that is also searchable by the way: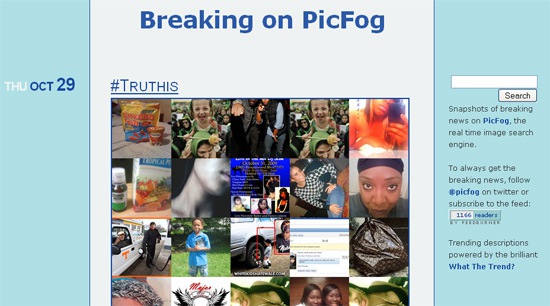 Now, I find the tool quite useful for spotting daily hot trends as well as brainstorming for post ideas (if not for killing an idle hour if you ever have one). Do you see any other possible uses of the tool?