Earlier today, Internet marketing veteran and former Pepperjam CEO Kris Jones announced the official launch of his latest start-up called LSEO.com.
LSEO.com is a do-it-yourself software platform that helps small business owners increase local search engine ranking and online visibility. Jones launched LSEO.com to provide small businesses with an affordable alternative to high-priced traditional SEO agencies, as well as to create greater accountability and simplify the process of effective online marketing.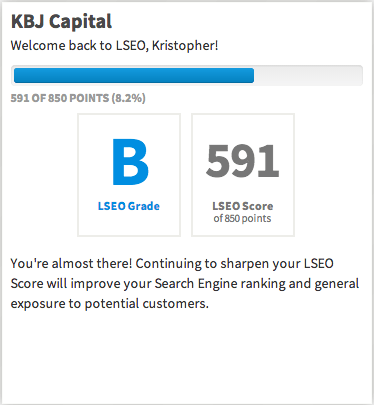 LSEO provides all users with an LSEO Score from 0 to 850 and a Grade from A to F. The scoring and grading system helps LSEO break down each of the necessary steps to improve the score and also provides small business owners with a quick and easy way to gauge how visible their business is on the web.
According to LSEO Founder Kris Jones, "Creation of the LSEO Score was a key breakthrough that enabled us to build a framework around the specific steps that a small business owners must take to increase their local search ranking and online visibility."
To make the process of Local SEO highly digestible by anyone regardless of Internet marketing skillset, Jones built the LSEO Score to function similar to a FICO credit score. An LSEO Score goes up and down over time, just like a credit score. This makes sense as Google changes its algorithm or Facebook offers new features to connect with potential customers the series of steps required to increase ones LSEO Score should also change.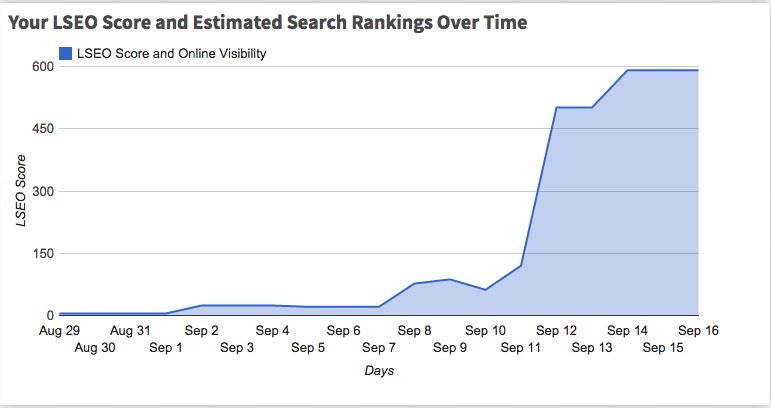 One of the cool features of LSEO is that it estimates search rankings and online visibility over time based on LSEO Score. The chart above demonstrates that with a little bit of work over time or a lot of work in short bursts any local business has the ability to increase search engine ranking and online visibility.
The real meat and potatoes of LSEO is not its scoring algorithm as much as it is the backend personal dashboard (configured based on your LSEO Score) that walks small business owners through the specific steps they need to take to improve their local SEO and online visibility.
The LSEO system is broken down by what it considers to be the most important ranking factors used by Google to place small businesses in local search results. To make the process actionable LSEO breaks each ranking factor into an interactive "scorecard." Each scorecard is broken down into specific steps the user must take to increase their score (see image above).
At each stage of the process, the user is able to communicate and create a feedback loop with a trained local SEO professional. Having trained professionals available to answer questions and provide feedback should be highly attractive to small business owners that might be intimidated by the stereotyped complexity often associated with online marketing.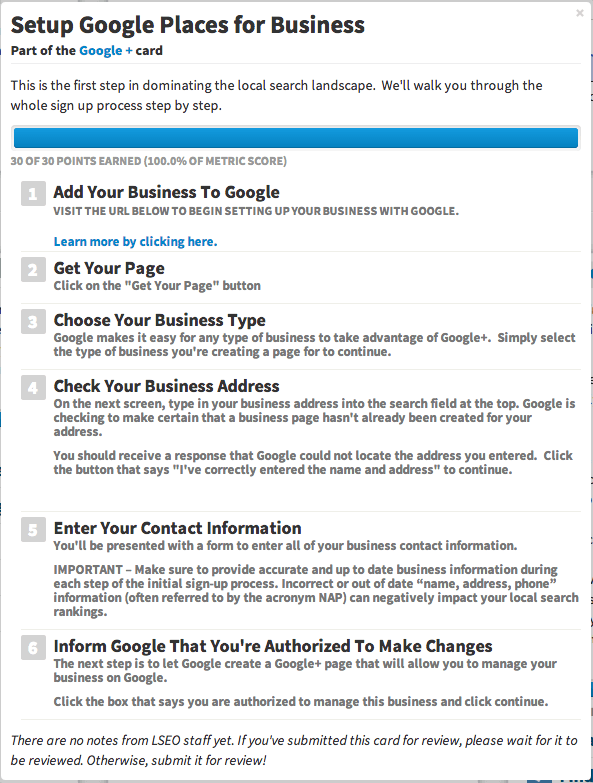 One of the standout features of LSEO is the fact that it includes a massive repository of educational tips and actionable steps to help any small business owner along the way to increase their score and improve online visibility. The image above shows off how clicking any step in the process reveals a playbook with specific instructions and action items the user must take. When one or more steps are achieved the user can submit the card for scoring and moves on to the next scorecard, which outlines a new ranking factor.
In addition to Google+ optimization, scorecards include playbooks for local reviews, website optimization, local link building, social media optimization, and more.
This new software by Kris Jones seems to be a step in the right direction for the local SEO industry.
Head over to LSEO for your FREE LSEO Score.
Editor note: We are not affiliated with LSEO and weren't paid or perked to cover this story.
Featured Image: Screenshot taken September 2014