Seeing search results before even searching is relatively a hot topic in SEO community. It first came up with the launch of Google browser – Chrome that turned the address bar into the search box with the advanced search suggestion feature: while you are typing, you are be able to see related search terms as well as:
the #1 ranking organic Google search result for the term you have typed;
relevant pages from your browsing history.
FireFox addon called Peers I stumbled across recently gets "the search results before search" feature a step further: you can see first search results while you are typing: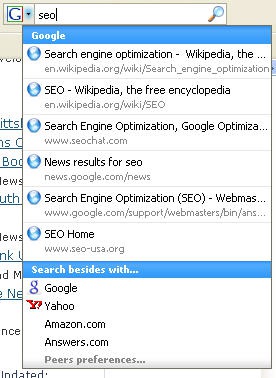 Why does the concept deserve so much attention?
Unlike Google that usually prompts us to use its SERPs as much as possible (both Chrome address-bar-search and search-within-search innovations testify for that), this addon actually guides the user past Google SERPs and brings him straight to the page;
If that idea could spread and get much exposure, only top results would really matter: the value of a #1 Google ranking goes up even more, as only top ranked sites will be clicked through.
Anyway, I strongly recommend to go ahead and give the tool a try. You are able to configure the tool in quite a number of ways: set the number of search results you want to see, include pages from your browsing history, set the search engine to see the results from (it can be not only Google!). You can even exclude directories, encyclopedias or price comparison sites from the search results.
When properly managed and promoted, the tool could be grow into something bigger as it does offer some unique searching experiences.