OVH Datacenter in France was engulfed in flames, taking down thousands of sites and businesses including popular plugins WP Rocket and Imagify. A multitude of businesses are tweeting updates to their clients.
Screenshot of OVH Data Center Fire Video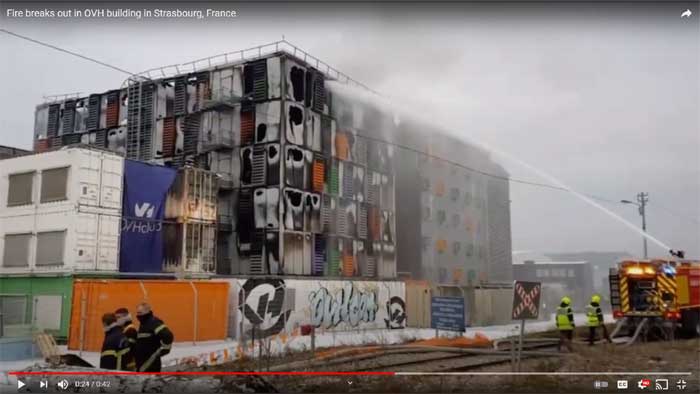 A fire engulfed an OVH cloud data center that is located in Strasbourg, France. The fire was initially reported to be uncontrolled but was subsequently controlled by firefighters, who remained on the scene to make sure the building cools down.
New: OVH Fire Outage May Last Until March 22
Update March 11, 2021
The cause of the fire has not been determined. OVH is reserving new servers at other data centers for affected customers, plus an additional 10,000 new servers in the coming weeks.
OVH announced that they are currently securing the site and working on a plan to relaunch two unaffected data centers (SBG3 and SBG4) and one partially affected data center (SBG1).
OVH issued a status announcement on their cloud server support page:
"We are currently facing a major incident in our DataCenter of Strasbourg with a fire declared in the building SBG2.
Firefighters were immediately on the scene but could not control the fire in SBG2.

The whole site has been isolated, which impacts all our services on SBG1, SBG2, SBG3 and SBG4. If your production is in Strasbourg, we recommend to activate your Disaster Recovery Plan. All our teams are fully mobilized along with the firefighters."
OVH tweeted that while the fire is over, firefighters remain on the scene cooling down the building. They also tweeted that many of the servers will not be restarted soon.
"Fire is over. Firefighters continue to cool the buildings with the water.
We don't have the access to the site. That is why SBG1, SBG3, SBG4 won't be restarted today."
Sites Affected by OVH Fire
WP Rocket Site is Down
Popular WordPress plugin WP Rocket tweeted that their website is down.
⚠️Our hosting provider faced a major incident a few hours ago: a fire was declared in one of their DataCenter. Our website is impacted and we're currently working on a solution. We'll keep you informed.

— WP Rocket ™ (@wp_rocket) March 10, 2021
Although the WP Rocket website is down, the plugin is mostly still working.
Following the incident at the DataCenter, our website is currently down but our plugin is NOT. 🎉
You can continue using WP Rocket ﹡nearly﹡ as usual.
CPCSS generation will not work: we're on it and the feature should be back up soon.🤞

— WP Rocket ™ (@wp_rocket) March 10, 2021
WordPress Image Optimization Site Imagify
Imagify, with over 400,000 users also experienced downtime because of the fire. Their website was down.
⚠️Our hosting provider faced a major incident a few hours ago: a fire was declared in one of their DataCenter. Unfortunately our Imagify servers were destroyed in the incident. We're currently working on a solution and will keep you informed.

— Imagify (@imagify) March 10, 2021
An Imagify plugin user tweeted that they had trouble connecting.
"No wonder I had a server timeout error…"
Images of OVH Fire
There were also images of the building on fire that were posted on Twitter:
We have a thought for you… 🙁 pic.twitter.com/hwYxCyXn55

— Info Trafic Alsace (@ITA6768) March 10, 2021
More Sites Taken down in the OVH Fire
Many sites are reporting having lost their web presence, with one gaming site anticipating major data loss:
"We're expecting a large amount of data loss across the affected servers."
Rust Multiplayer Video Game Site Down
Update:
25 of our EU servers remain offline due to a fire at OVH Datacenter in the early hours of this morning. Unfortunately, the fire destroyed SBG-2 building. We're expecting a large amount of data loss across the affected servers.

We'll share more news when we can.

— Rust (@playrust) March 10, 2021
Rust later confirmed that all data was lost and would not be able to be restored.
Update:
We've confirmed a total loss of the affected EU servers during the OVH data centre fire. We're now exploring replacing the affected servers.

Data will be unable to be restored.

— Rust (@playrust) March 10, 2021
Video Editor Site Down
The website for the popular open source video editing site Avidemux.org is down.
Truck Simulator site down
Due to a fire at our service provider our European servers are running at reduced capacity. You can follow the current status of the incident here: https://t.co/othIqFWKsv

— TruckersMP Support (@tmp_support) March 10, 2021
Digital Asset Management Library Piwigo.com down
[https://t.co/dJqoQnRH9Q] Our hosting provider OVH is facing a fire in a datacenter. One of our server has certainly burnt :-/ We're currently going in rescue mode.

— Piwigo (@piwigo) March 10, 2021
Backups and Emergency Site Restoration
Those who did not backup their data may find themselves in a difficult position. It's unclear at this time if OVH will be able to restore the data lost on the cloud servers.
Sites that do have a backup should be able to change their DNS to point at another server and upload a new site immediately. But it can take several days for the new DNS settings to propagate. So it's possible that some sites may take a few days to return.
Thankfully there were no injuries.
Citation
OVH Cloud Announcement
Major Incident Impacting Strasbourg DataCenter
Featured image is a screenshot from this publicly posted video.