In today's digital landscape, businesses, websites and analytics firms are inundated with data.
The good news is, data—the concrete reality of what's actually happening—is the key to moving your business forward. Data allows you to understand consumer behaviors, customer habits and client motivations.
The bad news is, data paralyzes. Sure, you might have data coming out of your ears, but what do you do with it?
You see, most of us have all the figures, statistics, and numbers we need sitting right in front of us, but understanding how to bring it all together for actionable insights—for real-world return on investment (ROI)—well, that's where we get stuck.
Nowhere is this truer than with email.
So, to connect your data—especially your email metrics and on-site ROI—to actionable and profitable insights, I've put together four tips:
Measure the email metrics that matter.
Optimize them for top performance.
Connect your email marketing to on-site ROI.
Bring it all together in one dashboard.
Measure the Email Metrics that Matter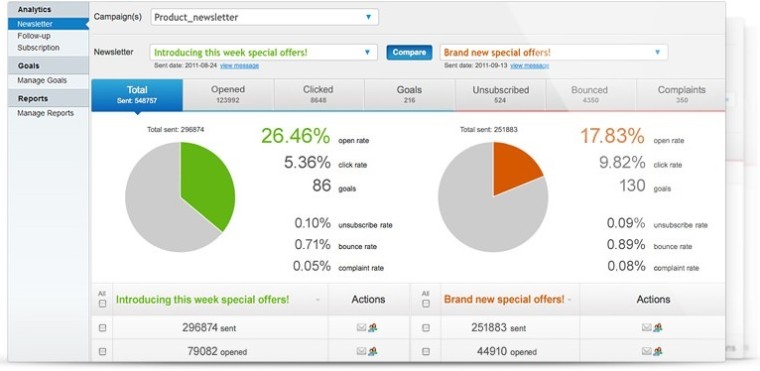 Before you send your next email, start by examining the four metrics that truly move the needle. Begin by asking yourself: what is my one goal? Singularity—just one goal—is paramount.
For instance, is your goal to grow your subscription base or to convert leads into sales? Questions like these can make understanding the data much simpler.
Here are four email metrics you should concentrate your attention on:
Open Rate: Open rate is exactly what it sounds like: what percentage of your email recipients even looked. Open rate is determined by three crucial elements of your email recipients can see before they go inside: (1) your subject line, (2) your first line of text, and (3) your "From" line, who you are.
Clickthrough Rate: CTR is by far the most popular metric. It's your go-to standard for measuring engagement. CTR allows you to monitor the performance of each email you send. Moreover, CTRs allow you to test calls-to-action and determine new methods to generate clicks.
Bounce Rate: This metric informs you as to the total number of emails sent that were undeliverable. There are two types of bounces: hard and soft. The former is the result of an invalid email address and the latter is a temporary issue with the email address.
Unsubscribe Rate: Unsubscribe rate is as self-explanatory as it is dreaded. No business wants their potential lead to opt out of future emails. As E-Consultancy explains: "The rate at which people opt out is impacted by the frequency, quality and relevance of email marketing, so it's important to track this metric to ensure your messages aren't repelling potential customers."
Optimize for Top Performance
Now that you have your metrics, it's imperative to take full advantage of them. You can do this not only through monitoring but also optimization.
A high open rate means your content is at least compelling enough to attract your prospect's eyes. If your open rate is low, then begin by running A/B Split Tests in your next campaign on your subject lines.
A simple test to get feel for your audience is to create (A) a content-focused subject line—one that highlights the information or topic of your email—as well as, (B) a personalized subject line—one that engages your audience directly with a conversational statement or a question. For your B subject line, be sure to include the word "you."
For example, if your topic is how to overcome lead generation with a small email list then your A/B test might look like this:
A: How to Generate More Leads with Fewer Prospects
B: Are you still suffering from "small list syndrome"? Here's how to beat it!
Second, optimize your click-through rate by focusing on your email's call to action. Again, test a content-focused CTA against a personalized CTA.
A: Download the Ultimate Guide to Lead Generation
B: Want to supercharge your lead generation? Get started today!
After testing your email itself, the next step is to move onto your landing page.
Effective marketing can't end with your emails. Maintaining an attractive and high converting landing page is a must. On a technical note, this means the page you send your clicks to should load quickly and the code should consist of HTML5 and CSS rather than Flash.
In addition, it's also crucial to think about mobility.
This means emails should be short, concise, and to the point. Someone on a smartphone or tablet doesn't want to scroll through scores of text because they're multi-tasking or on the go (hint: employ autoresponders at specific times to get your targets at the best time).
Effective email marketing maintains what's called "scent" between clicks. This means, as your prospects move from your email to your landing page, constancy is at a premium. Your landing page should build on the same emotion—pain or pleasure—that your email left off on. And—above all—it must deliver on the promise your email made.
Here are a few other tricks to consider integrating into your email marketing campaign:
Keep your subject lines short. Subject lines with six to ten words generate the highest open rate at 21%.
Use emotional triggers—especially fear—in your calls-to-action.
Connect your CTA from your email with the headline of your landing page. Make them unfold like a story.
Insert images that are easy to download in email and always test image emails against non-image emails.
Add social media links for easy sharing.
Always ensure your email messages are personalized. Speak directly to your audience by using their name the word "you".
Connect Your Email Marketing to Onsite ROI
Amazing! Your open and CTRs are ascending to new heights. Your audience is engaged and connecting with you. However, what happens when your email marketing isn't leading to a higher number of purchases?
Let's be honest, the only real metric that matters is ROI: that is, revenue. Clicks don't pay the bills. Only buyers do that. To remedy this disconnect, your email metrics must be merged with onsite performance.
Why? Three reasons.
First, connecting email metrics with onsite analytics reduces the time you spend hopping from one data point to the next. Second, by monitoring which emails lead to the highest actual onsite conversions, you'll be able to maximize your efforts and only focus on the segments of your audience who're most likely to buy. Third, this merger offers a look at the big picture, namely, what's actually working.
To do this, tag each email campaign you send separately in your email provider and create a funnel to monitor its end-goal performance, not just your open and CTR.
When analyzing on-site ROI in connection with your email marketing, it's vital to pay attention to three factors, all of which ask the question, "Who converted?"
Time – what time of day, time of the week, time of the month, or time of the year lead to the highest onsite conversions?
Audience – what segments of my audience actually bought?
Offer – what CTAs, products, services, discounts, and freebies brought buyers in?
Bring it All Together in One Dashboard
As previously noted, experiencing a vast influx of data is overwhelming. Being inundated with data hurts your business… if you don't understand how to utilize it.
This is why all of your marketing and onsite analytics must be brought together into one solitary dashboard. One dashboard makes the process easier to follow, understand, share and optimize. A simple solution to the problem of paralysis is Cyfe, a business dashboard that allows you to monitor all of your compiled data in one place.
For example, the following dashboard combines an overview of revenue (top left), your sales funnel (middle left), with your email metrics (bottom left), and email subscription rates (bottom right):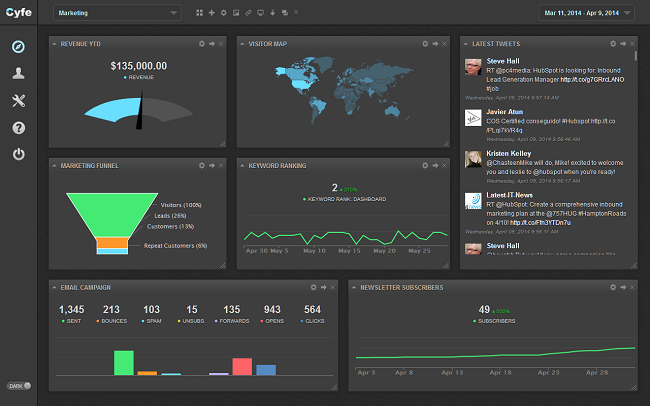 With an all-in-one dashboard, you can track your email performance, conversion rate, number of new sign ups, app downloads, subscriptions, and sales. Not only that, but having all your analytics in one place allows you to create custom reports on either historical or real-time data as well as combine your social media marketing with onsite performance and even project management.
Final Thoughts
As vital as data can be, overload can reduce your overall performance.
To dominate your data and ROI, put these four tips into practice today:
Measure the email metrics that matter.
Optimize them for top performance.
Connect your email marketing to on-site ROI.
Bring it all together in one dashboard.
What additional tips would you recommend to readers trying to optimize their email marketing campaigns?
Featured image created by author for SEJ