You set up what you thought was a great pay-per-click campaign targeting the right keywords, sending users to highly specialized landing pages, and even split testing your ads. Finally, after investing considerable time and budget you get to the point where users are no longer just clicking the ads—they are actually converting!
At first you are happy just to get these conversions until you realize these users who convert….they aren't buying.
Though the users fill out the forms and receive your whitepaper or e-book, something along the way throws them off. When you follow-up with them via email the trail goes cold, they don't pick up your return calls and they don't even seem interested in your product or service anymore.
If this were Tinder they would have swiped right on your business and then not responded to any of your messages.
This is the problem for many companies in this modern, mobile-first, cut throat PPC world. They spend money on PPC and even when they do get conversions, they don't get business results. Fortunately, there is a solution that can help turn your conversions into valuable customers, it is easy to implement and can help your business increase profitability.
Optimizing for Form Fills is Not the Right Conversion Metric
Traditionally, getting a user to fill out a form has been the conversion metric for PPC lead generation campaigns. Using a form as the conversion metric made business sense for a long time and offered a variety of benefits to the advertiser such as:
The user could be added to an email drip campaign

The advertiser could send a follow-up email

The user usually gets some sort of incentive which positions the advertiser as an educator and market leader and

The user can be automatically added to the advertisers CRM
However, as Bob Dylan said, "The times, they are-a-changing" and there are a variety of reasons to rethink form fills as your primary conversion metric for lead generation campaigns.
The first reason is users receive more and more commercial email messages. In fact, the average user receives 416 commercial email marketing messages per month, and that is on top of the personal emails they receive!
With so many email messages every day there is less chance that they will read yours and even if they do, the average reader only spends 15 -20 seconds actually reading the email. How effective can your marketing messages really be in that limited time frame?
The second reason that form fills may not be the ideal conversion metric for PPC campaigns is that users lose interest. At the moment, they fill out the form they are a hot lead and raring to go, but by the time they receive your follow-up email they are significantly less interested in your product or service. This has nothing to do with you, and everything to do with the cool down time from initial contact.
Finally, 80% of people don't leave their house without their smart phone and spend on average 15 hours per week researching businesses and services on their mobile devices. You need to be able to appropriately optimize for this massive mobile market and it is safe to say that filling out forms can be an enormous hassle on mobile devices.
For these reasons and more it is worth trying to optimize your pay-per-click campaigns for inbound phone calls.
Optimize Your PPPC Campaigns and Get 10x More Value From Conversions
Inbound phone calls produce a valuable return on ad spend because they put your business in touch with potential customers who are:
Interested in your product or service right now

Are excited to speak with you right now

Have the mindset of being open to being sold and

Are put in touch with a sales person who can handle their individual objections
These are valuable conversions.
In fact, according to a study in Marketing Land, inbound phone calls are 5 – 10 times more valuable to businesses than form fills.
Optimizing your pay-per-click campaign for inbound phone calls is not that difficult and I am including three tactics to help you do it.
Utilize Call Extensions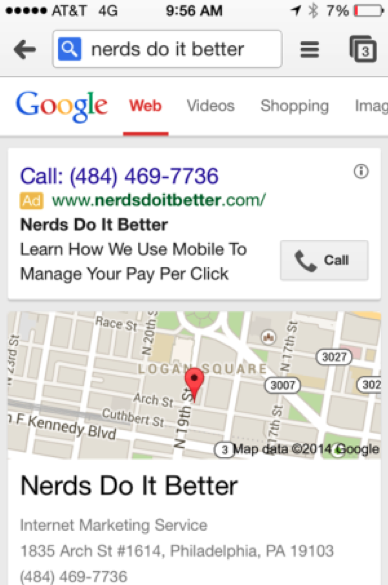 You want to make it as easy as possible for the user to call you, and there are few things easier for the user than calling directly from the Google search engine results page. It is easy because there are no numbers to remember or even to dial – the user simply presses the Call button and connects.
Fortunately, Google has made click to call directly from the search engine results page a reality for your business with call extensions.
Call extensions are a type of extension within AdWords which displays your phone number and enables the user to call your business directly from the search engine results page. These extensions are effective and in line with the experience mobile users desire and, for this reason, many businesses see an increase in click-through rates when they utilize them – in fact a study by PPC Hero showed a CTR increase of 221% just by utilizing call extensions!
You can even adjust the settings for the ad extension to only allow for calls (so there is no need to set up a mobile site) like the example above for my company.
Reference to learn more: How To Setup Click to Call Extensions Call
Make the Phone Number a Click to Call on the Landing Page

Depending on the business vertical your business competes in, as well as the stage of the buying funnel the user is in, the user may need some additional education about your product or service before they are ready to call.
In theses cases, it is not appropriate to utilize call extensions. The correct strategy would be to send users to your landing page, educate them via your marketing copy, and make it as easy as possible for them to call directly from the landing page. One of the most efficient ways to do this is to make the number on the landing page a click to call number. This is simply done through HTML coding and is like any other link which the user is familiar with clicking on.
This way instead of having to get a pen (remember those things?), jot down the number, and pick up and dial a phone, the user simply has to click on the link and is immediately connected to the business.
Resource: Learn the HTML behind how to make click to call in text links
Make Your Call to Action About Calling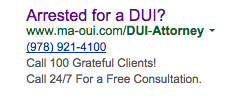 In your pay-per-click campaign, you need to inform the user what you want them to do. This is called a call to action. Typically, call to actions have been along the lines of find out more or buy now, but with calls as you primary conversion metric you need to use phrases that indicate that your business is open and ready to receive phone calls such as Call 24/7 For a Free Consultation (see the above example). A user who wants to call sees a business is open to being called and this aligns with user intent and should increase your click-through rate.
Obviously, if you are indicating you want calls, you need to include the phone number. Look at the example below and think how the frustrating that is to the user. How are they supposed to follow through on that call to action?

Additionally, on your landing page continue to include the phrases which indicate you are open and ready to receive calls. This lets users know that is how you would like to be contacted. The example below, with the call to action Call Now For Immediate Assistance is well optimized for this: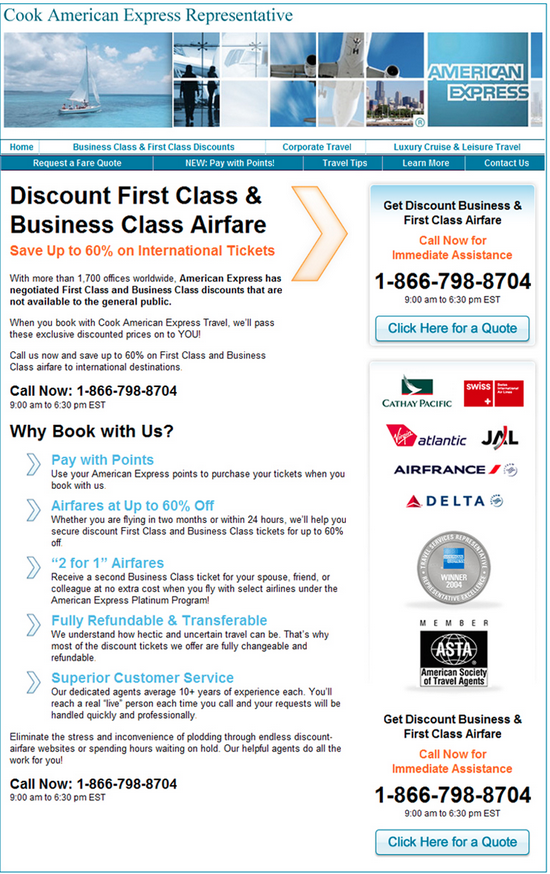 As a business, you have a limited amount of time and budget for your PPC campaigns, and if you can get conversions that are worth 5 – 10 times more than form fills, you should jump on that chance.
How have you optimized for phone calls in your PPC campaigns?
Image Credits
Featured Image: Image by Adam Lundquist
All screenshots by Adam Lundquist. Taken August 2015.