This is a sponsored post written by Ahrefs. The opinions expressed in this article are the sponsor's own.
A successful SEO campaign starts with effective keyword research. So how good are your keyword research skills?
Let's have a little test:
Assume you want to write an article about guest blogging. Well, "guest blogging" can also be called "guest posting", so which keyword would you target?
You could write two articles on the same topic, but they would be very similar, and this would not be good for your users.
So, what else might you do?
How about:
Checking search volumes for both keywords and picking the highest
Checking competition and targeting the less competitive phrase
These are both perfectly logical approaches. But actually, you don't have to choose either of them. Because in fact, your post on guest blogging can rank #1 for both keywords.
Below we can see a real world example of a post which is doing just that (screenshot from Ahrefs):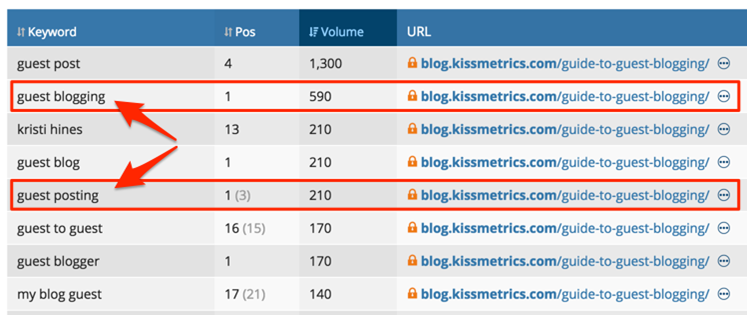 The post ranks #1 for "guest blogging" and "guest posting", even though the second term does not appear in:
The title
The H1 tag
The meta tags
So how is this possible?
Keywords as Part of Wider Topics
Conventional keyword research wisdom says we should pick one keyword for each page on our website. But as we can see a page can rank for multiple keywords, even when they are not included in the main tags. That's because Google is now able to group keywords into wider topics and associate them with quality content which targets those topics.
In our example, Google knows that guest blogging is a topic and that "'guest posting" and "guest blogging" are effectively the same thing. So content which satisfies a search for "guest blogging" will also satisfy a search for "guest posting".
So, what does this mean for you?
After Researching Keywords, Research Google.
Google is increasingly valuing topics over keywords.
Gone are the days when you could build a page around a longtail keyword and easily rank it on the first page, just because your page is the only one precisely optimized for it.
So the first thing you should do after picking a keyword to target is put it into Google and see if the articles that rank on the first page also rank for associated keywords.
Example:
The traffic potential for the keyword "blog promotion" is only 210 searches per month. So that keyword might seem too weak to target.
But let's take a look at what other keywords the article at #1 is ranking for (using Ahrefs):
Now it's clear that "blog promotion" is not just a keyword, but a broad topic with huge traffic potential.
And as it happens, the "main" keyword that you should target is not "blog promotion", but "how to promote your blog"—because it's the one with the highest search volume.
This research will also help you:
Make Google's job easier by including longtail phrases within the post body
Identify areas you can improve your post to make it the best available content on the topic
The Takeaway
As Google moves beyond simply analyzing keywords on a web page and becomes better at discerning meaning from content, the takeaway is clear:
Any content you produce should be the best available result on the web for your chosen keyword/topic.
Which means that with modern SEO, the first question you should ask is not "How can I rank my content at number 1 for my target keyword?" But instead "Does my content deserve to rank number 1 for my target keyword?"
Researching top ranking sites and identifying Google-associated keywords are the first steps toward answering yes to this question.
Want to find out important keywords that are relevant to your brand? Check out Ahrefs to track your keywords!
Image Credits
Featured Image: Image by Ahrefs. Used with permission.
In-post Image #1: Image by Ahrefs. Used with permission.
In-post Image #2: Image by Ahrefs. Used with permission.