TL;DR: Mention other people.
It's that simple. People spend hours slaving over fantastic content but forget to consider how they are going to promote it when it's finished. Then when it's ready they tweet/share/pin it into the ether and it's gone forever.
You're left thinking it was no good, doubting your own ability and crying into your Weetos (just me?) when in fact you just didn't give anyone a reason to read it.

There are two ways to reach out to people:
Ask them for something.
Give them something.
Which do you think is most likely to catch someone's attention and then get shared? That's right, people are pretty stingy with their sharing favors, but they love it when you stroke their ego, so you need to be the one doing the giving.
The easy way to do this? Think about outreach when you first start your post. Every time you are writing a piece of content that you want to promote and gain some form of traction on social (or heaven forbid a few links), consider how you can build other people and resources into your content.
If you're one of the cynical folks out there (like me) this might sound a touch manipulative, but the idea is that you build resources into your content that truly are incredibly useful. If you constantly reference low quality, useless resources purely for outreach reasons then readers will catch on quickly and likely lose respect for you and stop reading your future posts.

I put this approach into action for my recent post here on SEJ which brought together my favorite marketing posts of 2016. The result? More than 1k shares, including those from influencers like Sujan Patel, Aleyda Solis, and Jason Acidre.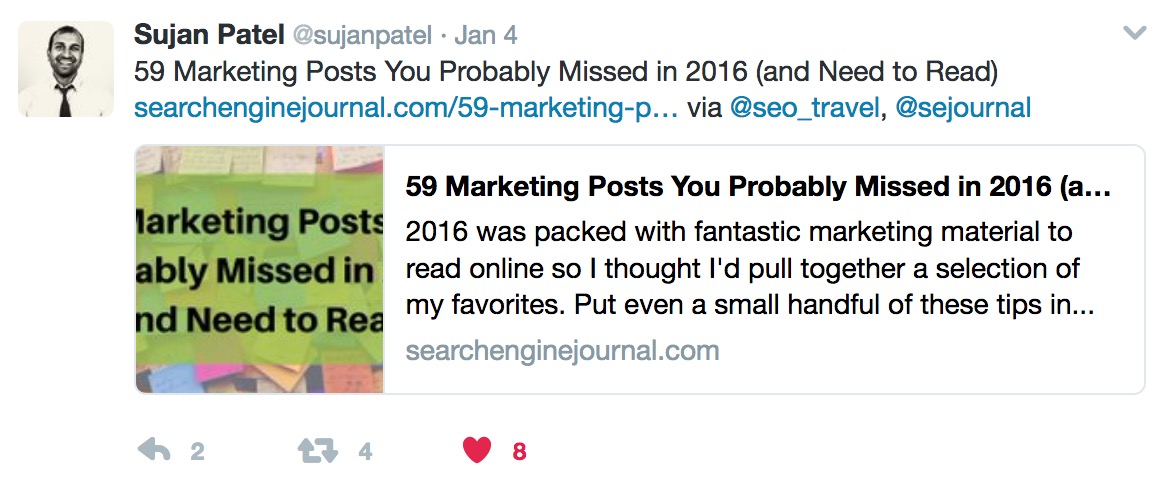 These were really great resources that I'd accumulated through the year, many of which I continue to refer back to, and with some genuine outreach telling the people I'd featured, they were more than happy to share the post.

There are many different ways to mention people in your content. It doesn't have to be in a list style like my example above. Here are a few of my favorites:
List Posts
List posts are great as you can include a lot of people which gives yourself lots of opportunities to get shares. However, it's important that your lists are worthwhile and are packed with great resources.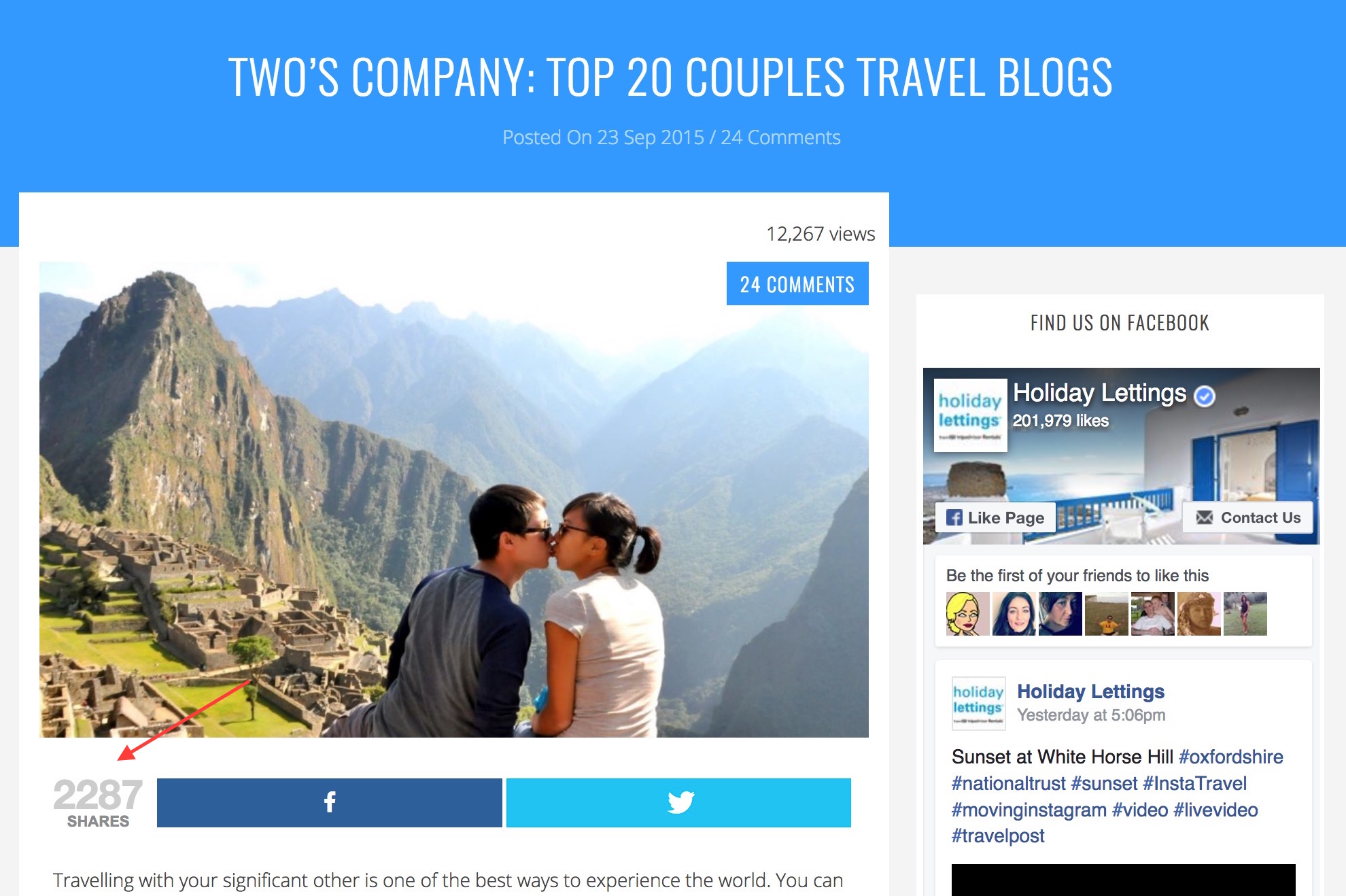 Quotes
Most of the better known experts out there will have written lots of content themselves and already been quoted in lots of different places. While doing research for your post, try and find quotes you can take from other pieces of content and include those in your piece. You can then get in touch and tell them you featured their quote or tip, and thank them for the advice! This has the added benefit of not having to hassle sources to put a post together.
Hat Tips
If you're writing a post with advice on a topic then include a hat tip to someone who has given you advice. This is slightly different from a quote as it's more of an acknowledgment for an overall idea, rather than a direct quote or reference.
I did this with Brian Dean in a case study I wrote for Moz because he had given me the idea through one of his emails or Twitter (I can't remember which), so there wasn't a page on Backlinko that I could link to as the source. I did want to acknowledge him as the source, so a hat tip worked perfectly.
Sources
If you're writing a good quality, in-depth piece of content then it's highly likely you're going to include links to relevant sources for things you're saying. This is good editorial practice, but there's nothing to stop you contacting the people who've acted as your source to thank them for their useful post and let them know the URL of the post you've written which referenced it.
Create a Post From a Collection of Expert Opinions
How better to get people interested in a post than to involve them from the start? Writing a post based around a selection of people's opinions on a particular topic can create something incredibly interesting and informative, and gives you a ready made list of people who will share it when it's live.
This is getting used a lot at the moment and I know some of the more prominent people in the industry are getting sick of being asked to contribute to them, so coming up with a relevant list of people to include and a fantastic idea for them to comment on is crucial, as well as making it very quick and easy for them to respond. Do it right and the results can be exceptional:


Do a Follow Up Post
Follow up posts are a great way to tap into an audience that already exists and is engaged with your topic. If someone has written a piece of content which you have more information to add to, or a counter-argument to throw into the mix, then a follow-up post is perfect.
Reference the initial post at the start of your post, then explain what you can add or why you disagree. It's best to avoid being too dismissive of the original post, but put your point across in a constructive way and then let the author of the original post know you've written a follow-up. You can also use tools like Buzzsumo and Open Site Explorer to see who shared and linked to the original and contact them too!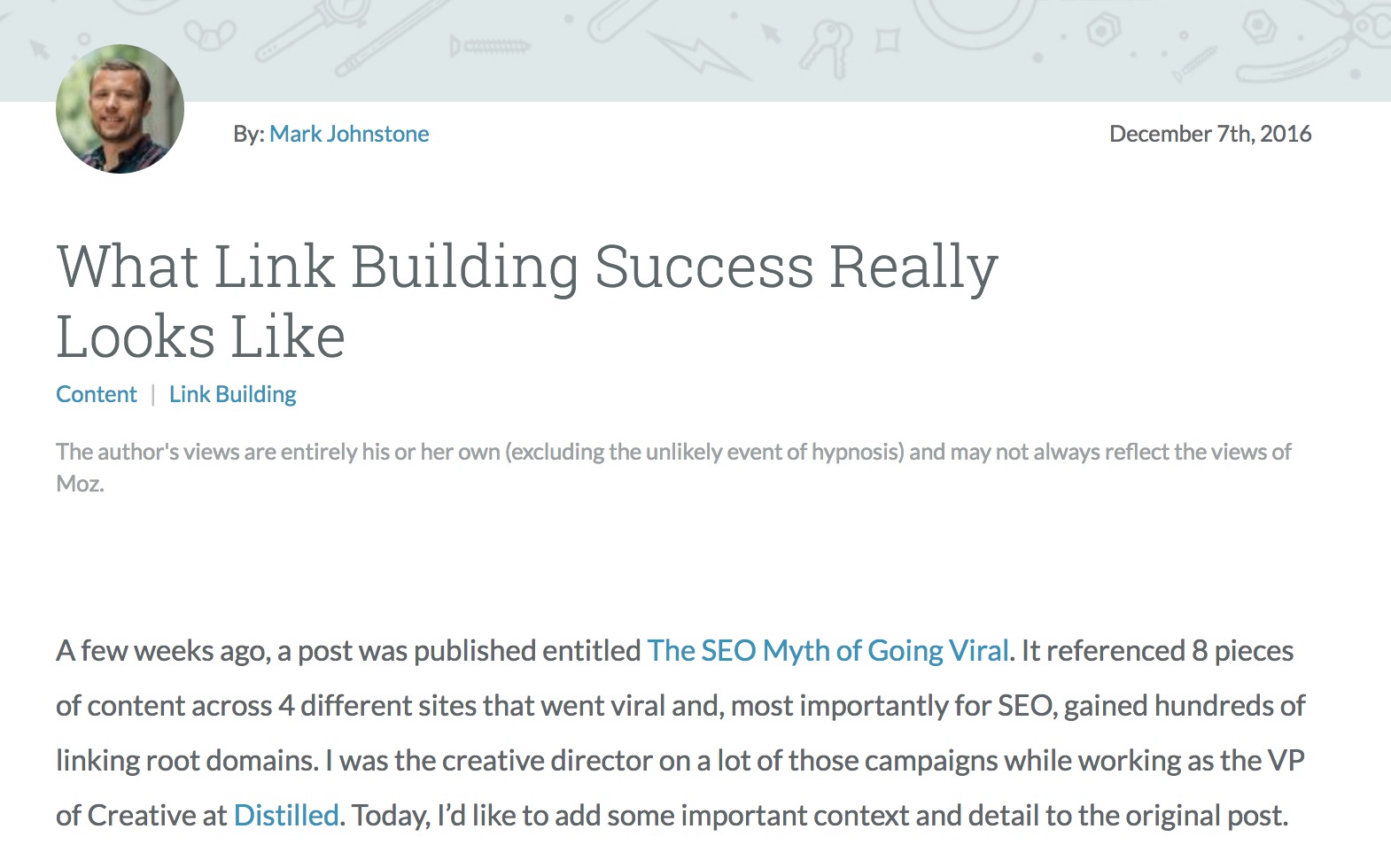 Extra Resources
Even if you've written a truly interesting post on a topic that is super useful, it's unlikely you'll have covered every angle that people need to know about. Adding extra resources at the end of your post for follow-up reading is a great way of including people in your post and sending them some traffic, while giving the reader great places to build on the knowledge you've given them. It's a win-win!
Once you've completed your post, all that's left to do is contact the people you've mentioned or referenced. I always prefer to send a personal email wherever possible (no templates please!), but if you can't find contact details then mentioning some people in tweets or Facebook posts is another option to make people aware of it.

A big contributor to doing this successfully is varying the people you include in your posts. Don't just choose the five most famous people in the industry and constantly mention them and contact them. This will probably start annoying them pretty quickly, as well as look increasingly manipulative and not like you're actually recommending good quality resources but just finding any old rubbish from people with big followings.
Do the work to find great resources to include, and let those people know when you include them. If you end up with a range of people, from the big fish to the smaller, lesser known folks, you'll likely end up with some great shares and the start of many great relationships.
And that's another great benefit of using this tactic properly — meeting great people and starting conversations with other people in the industry. If nurtured correctly, that could lead to some very fruitful relationships down the line.

As I said earlier in the post, the success of this approach is based on you using it correctly and authentically, not as a spammy way to contact hundreds of people because you referenced them in any way possible.
This also isn't an excuse to churn out posts that are complete garbage and expect to see fantastic results on social because you included people within it. If you want people to share your content, it still needs to be fantastic and share-worthy. The mentions are just giving you a means of getting the word out. Share word of crappy content and it's unlikely to make much impact.
So next time you sit down to write your next post think promotion straight away, and you might well see those shares we all crave…
Image Credits
Featured Image: Created by author using Canva
Screenshots by Tom Mcloughlin. Taken February 2016.