Google announced a new update to Google Analytics that will allow users to delete properties within their own accounts.
To bring everyone up to speed on what this means, the data collected by Google Analytics is stored in properties. An account can have multiple properties and a property can have multiple views (which allow for transformation of the data through filters).
Google has long given users to ability to delete accounts and views, but users did not have the ability to directly delete individual properties.
What happens now when you delete a property is that all the views underneath that property will be deleted with it. Google says that this new feature follows their standard data deletion practices.
If you want to delete a property, make sure you're in the admin view and then go to property settings. Click on the delete link at the bottom right: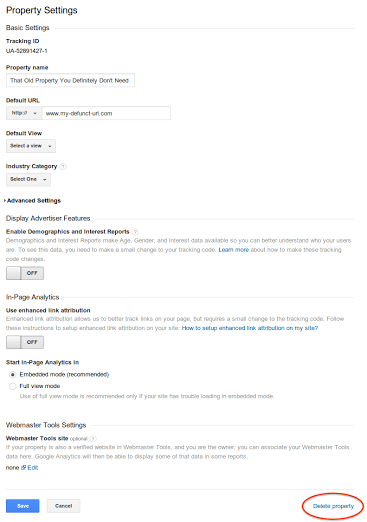 Along with being able to choose which properties are deleted, you can now see which properties that have no views in the UI. This will help prevent you from accidentally deleting something important. Google carefully points this out in some places so you know if an account has zero properties or a property has zero views and you can delete them if you so choose.
Google says this is the first in a series of improvements to managing deletions in Google Analytics.