I am not sure when Facebook started this, I just saw it today. I understand Facebook wanting to come up with new options and ideas for Facebook, but this idea is just another way for people to easily see more about me than perhaps I want them to know. Right now, the information is minimal, but what could it turn into? When will a privacy setting be developed for this?
I have local friends and I have SEO friends. I don't want my local friends understanding and knowing everything about my SEO friends. Quite frankly, they don't get our humor and misunderstand things. Right now there is a separation of info that I am comfortable with. This is now changing.
See Friendship
I was speaking with Michael Gray and saw "See Friendship" above our discussion. I clicked on it and was able to see the last image we took together, events we have attended and some past interactions.

To the right I saw the following: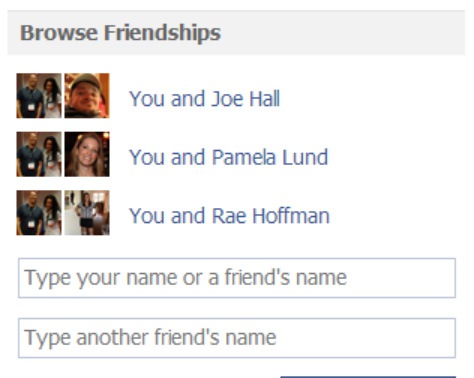 Next – See My Friend's Friends…
I clicked around a bit and realized I can see information on my friends and detailed information on the relationships they have with their friends. Example: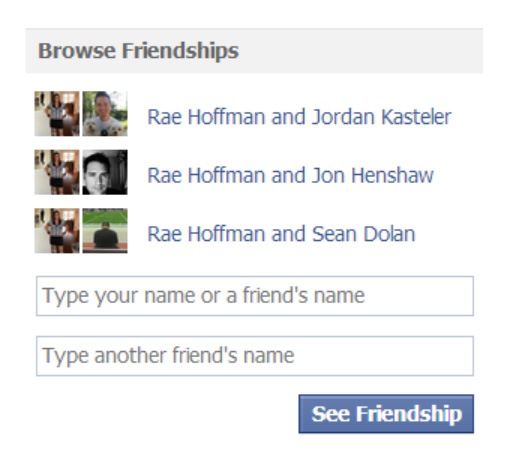 Thoughts
Again, right now the information is minimal, but I still don't like it. I don't like the the idea of what it could turn into either and I don't like people knowing details about my friendships with others. It just isn't their business. Typically you might have friends that dig through your friend list, but how deep do they really go? How much can they really find out? I know they can gather info, but do they take the time? Typically not. Now, with browse friendships, Facebook has handed everything over on a silver platter.
What are your thoughts?