Klout just became many times more useful with the launch of an entirely new version of their service that features tools to help you curate content and share it with your audience.
The announcement was made yesterday that Klout, a company that used to be all about scoring your social influence and rewarding you with "perks", will now be stepping into the content discovery realm and offering tools to help you improve your social influence.
Today I'm proud to announce a new version of Klout that takes the first step towards our vision of helping people be known for what they love. Leveraging our massive trove of social data and years of experience developing the topic graph, our new content platform helps Klout users be better content creators.
That all sounds great, but how well does it work? I'm happy to report after checking it out for myself that the suggested content is almost exactly the type of content I would manually share with my followers if I came across it on the web, with only a few exceptions. I realize this may vary from user to user, but I found it to be quite good and something I may actually end up using quite a bit.
How The New Klout Works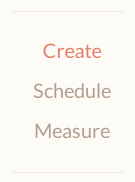 Next time you log in to Klout you'll see these options on the sidebar.
Clicking on the Create tab shows you a list selection of curated articles that Klout has found to be suitable for your audience based on who you're connected to.
To improve content suggestions you can give a thumbs up or thumbs down, as well as add more topics to curate content about. Clicking on 'Share' gives you the option to share it immediately on Facebook or Twitter, or schedule it for later.
You can then measure the impact based on your Klout score, which Klout has stated will use the same algorithm as before. Over the coming weeks, Klout says they will launch more new tools to help you create original content and give you a deeper insight into your impact on social media.
Do you see yourself using these new features? I'm pretty excited to play around with them a bit more, but I'm very loyal to Buffer and it would take a lot for me to regularly start using a different service. One thing is for sure though, I will definitely be logging in to Klout more often, which is probably what they're hoping for.