BrightEdge, providers of an enterprise level SEO platform, examined the analytics of eCommerce clients across a range of industries and created a report of online shopping that suggests an unprecedented 2020 holiday online shopping season. The report provides insights on search category winners and emphasizes the importance of SEO.

How Shopping Has Changed
BrightEdge discovered that shoppers were doing more online buying when compared year over year, 2019 versus 2020. However, the revenue per order remained relatively stable.
The report discovers that shoppers are buying more online and that online spending continues at a higher rate with little signs of diminishing.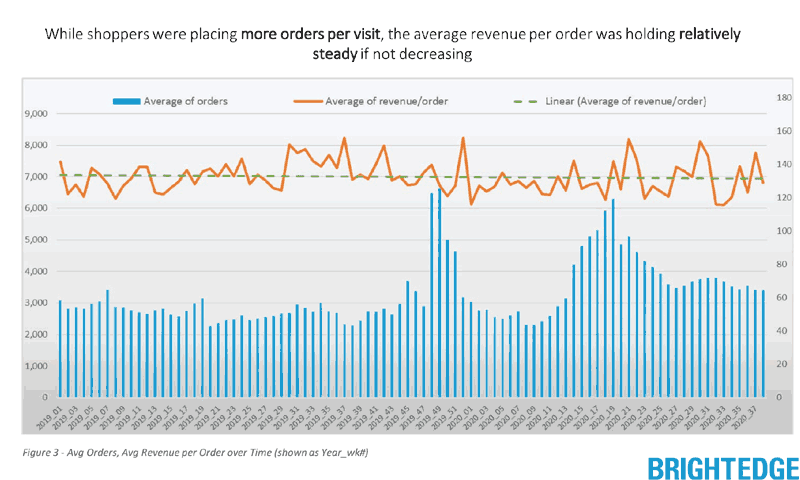 According to the report:
"Here are our hypotheses:
1. Shoppers shifted purchasing behaviors online during the first few weeks of the COVID-19 pandemic and are more keenly aware of their budgets – refraining from placing big-ticket purchases online, while stocking up on more essential goods or affordable luxuries.

2. Shoppers started buying more frequently online after COVID-19, supplanting offline purchases. This would include the buy-online, pickup-curbside behavior that may include cheaper items that were previously always purchased in-store."
Holiday Shopping Trending Online in a Big Way
BrightEdge noted that major retailers announced they would not be holding Black Friday in-store events in 2020. BrightEdge suggests that this may mean that retailers will be going all-in for online sales.
They predict that smaller stores will be moving sales efforts to online sales channels in order to be present where consumers will be shopping.
While in-store Black Friday events may largely be gone this year, it may evolve to an online event. Cyber Monday may become increasingly important as well.
BrightEdge suggests increasing SEO efforts to capitalize on what may be one of the biggest Black Monday event and increased online spending.
This is their suggestion:
"An impressive 60% of consumers have been shopping online more often since COVID-19, and of that group, 73% plan to continue after the pandemic. What digital marketers and SEOs have long known is finally coming to fruition: online shopping is convenient and easy. Now the trick is to make SEO important within your organization."
Search Trends by Categories
There are a large number of search categories that are experiencing phenomenal increases
Here are the online search categories that are doing well, in descending order of the biggest winners first:
Collaboration and Teams
Telehealth
Online Learning
Pet Adoption
Garden and Patio
Photography
Consumer Electronics
Gaming
Streaming
Video
UI/UX
Digital Transformation
Document Management
Online University
Baby and Maternity
Beauty
Sports
Apparel and Footwear
Customer Experience and CRM
IT Management
2020 Online Search Categories in Decline
These are the search categories that are experiencing a decline:
Things to Do
Restaurants
Health Topics
Sporting Goods
Hotels
Flights
Concerts
Key Holiday Shopping Insights
According to the report there is more search interest across most industries. The holiday shopping season is going to experience a major shift to online. That means a good online experience and optimization for search is more important now than ever before in history.
Here is what BrightEdge concluded:
"The research suggests that shoppers browse more frequently, leading to more purchases and overall revenue, though these purchases are smaller in value.
This could be because shoppers are becoming more aware of their budgets – refraining from placing big-ticket purchases online while stocking up on more essential goods or affordable luxuries.
As we enter Q4 and the holiday shopping season, search is helping reveal radical changes in real-time.
The traditional customer journey is being radically altered in many industry sectors of the economy. As a result, it has never been more important to truly understand how consumer behavior and use this understanding to drive engaging experiences."
The full results of BrightEdge's holiday shopping guide can be accessed from their site.