Visit our Marketing Nerds archive to listen to other Marketing Nerds podcasts!
In this week's episode of the Marketing Nerds podcast, Moriah Scoble from RingCentral speaks to us about all she has learned about effectively managing international teams abroad, as well as foreign employees locally.
A very important topic, we discussed some of the main issues companies deal with in regards to managing international teams, how in many cases it is our improper use of English that can cause some of the issues, how to mirror employees, and how beneficial face to face meetings can be for everyone.
Here are a few of transcribed excerpts from our discussion, but make sure to listen to the Podcast to hear everything:
Biggest Issues Companies Deal With When Managing International Teams
I think people who are not working in the main office often feel disconnected and that results in all kinds of different things. Also, people were offended. They took things personally that were not an issue, they weren't a big deal.
Then also, sometimes because somebody was working in a different country or from a different country … I noticed this more with Americans, that they would really simplify their language and dumb down what they were saying when that wasn't really solving the problem at all.
What would solve the problem is to…speak more formally, especially with, for example, the Russian people that I work with. They speak English very well, and they don't need me to dumb down what I'm saying. They need me to speak more formally. The English that they learned is much more formal than the English that I would normally speak. That was the solution, definitely not to dumb it down.
The funny thing is, I learned this with one of my Russian friends. We had this big argument when we were in college about … He had his own business and he had a website and he wanted to put something about his fax number on his website. He said that he was going to use the word "transmit" your fax with this number, and I'm like, "No, just say fax this number." He said, "No, that's incorrect." We had this big argument.
That was kind of the first time that I realized that the problem is not that his English is not good. The problem is that we just have … Americans often have a much more casual way of speaking.
The Biggest Touch Points for International Team Members
I've noticed a couple of different things. I think feeling disconnected, again, is one of those issues, feeling like they're not part of the team because they're abroad. That's definitely an important thing to address.
Another thing that some people who don't speak English as their first language and it's their second or third language, they have talked to me about how they wish people spoke more slowly. Again, it's not because they're not intelligent; it's just because they need to take the time to translate English into their native language.
Making International Employees Feel a Part of the Team
I'd say, first of all, to communicate regularly, communicate face-to-face, have online meetings with video so that you can look at these people that you work with, and meet in person as often as you can. I'd recommend about twice a year to meet in person.
Another thing that I think is really important is to not refer to the people that you work with in your office as "us" and "we" and the other office as "them." Instead, if you're talking about your whole team, no matter where they are, talk about "we" and "us." I think just using that language, everybody feels much more included in the company, in whatever you're doing.
Meeting International Teams in Person, Locally or Abroad
I think it's really important. I think it really shows that you value the relationship. Spending physical time with people, whether it's your friends or your family or your colleagues, it says something when you want to really spend time with them, with a message.
The Use of Mirroring
When I'm going to have a meeting with somebody from another country, I would often first start with research. I would research as much as I can about the business etiquette from that country. Then I would look for common themes and try to get the essence of what all of that advice is saying.
Then when I'm in the meeting with them, I try those things, but ultimately I usually fall back on mirroring them and following their lead, however they're communicating with me to communicate with them.
Again, keeping it polite and respectful and not doing it in any kind of mocking way, especially if they're suggesting that you do something in particular, like you should sit down or they decide to start with small talk or something, I'll just follow their lead and do it the way that they're doing it.
Generally, we all communicate the way that we want to be communicated with. It's just something that we all do, so to take advantage of how most people do that, to do whatever is comfortable to them.
First Steps for Companies to Improve
I'd say make it really clear that your company values your international teams and values diversity overall. I would also put more of an emphasis on communication and maybe management workshops and make sure that everybody's really trying hard to communicate well with each other.
Beyond that, there are programs that companies have instilled. I know Yahoo has an excellent program about how to work with international teams that they've rolled out.
Doing research, possibly a training person would do some research about how to work with the various teams that they have all over the world and make sure that everyone's educated on how to work with those teams if they have to.
It's not rocket science, but I think there does need to be a deep-seated value of respecting each other and having excellent communication with each other, and that'll go a long way.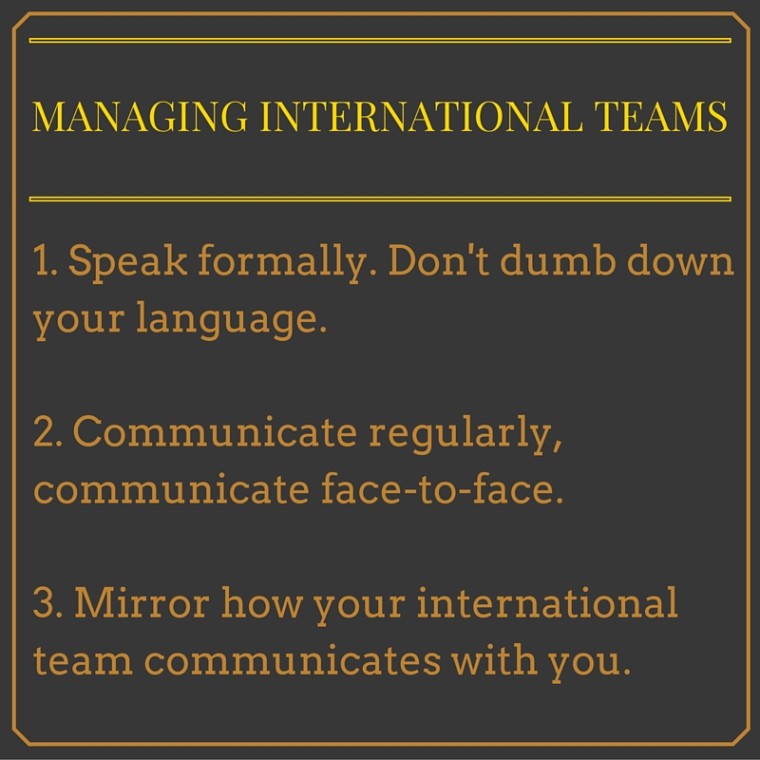 To listen to this Marketing Nerds podcast with Moriah Scoble and Brent Csutoras:
Download and listen to the full episode at the bottom of this post
Sign up on IFTTT to receive an email whenever the Marketing Nerds podcast RSS feed has a new episode
Think you have what it takes to be a Marketing Nerd? If so, message Kelsey Jones on Twitter, or email her at kelsey [at] searchenginejournal.com.
Visit our Marketing Nerds archive to listen to other Marketing Nerds podcasts!
Image Credits
Featured Image: Image by Paulo Bobita
In-post Photo #1: Konstantin Chagin/Shutterstock.com
In-post Photo #2: Image by Search Engine Journal