Ontolo guys we have interviewed once at SEJ always bring in some cool news and tools. This time they have partnered with Darren Shaw of Whitespark to launch a great local link building tool: Local Citation Finder
First, about the process which is automated through that tool: here's a post by Garrett that details the steps taken to find local citations, in a word:
Identify your local competitors (by probably just searching for your main keyword + territory)
Identify local "footprints" (say, local phone numbers as it is demonstrated in the post);
Search Google using each of the footprints;
Identify "co-citation" (unique domains that have listed several of those footprints);
Check the unique results as well (those that only mentioned one of the footprint).
Basically the tool is based on the same process: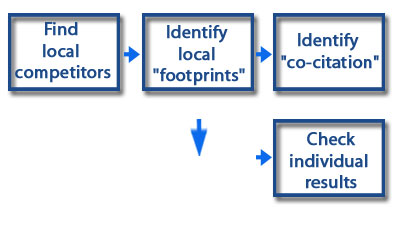 Now the tool is pretty easy to use. Register first and then search it using your main keyword and your territory, e.g.
[edmonton plumbers]
The tool will send you local citation prospects via email.
So what will you find in that email? Lots of useful information actually:
First, it will list the actual local results for your search: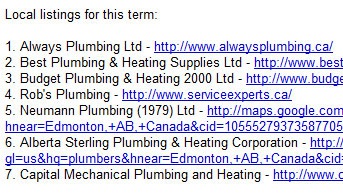 Secondly, it will identify unique domains mentioning your local competitors (mind that the number in brackets represents co-citation, i.e. how many of local results is listed within each hostname):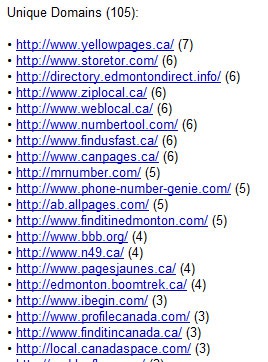 Lastly, it will list all the individual URLs found for all the searches (for you to check out and click through):
Looks like an invaluable time saver and productivity booster! What are your thoughts?