Mozilla, the non-profit that developed Firefox browser announced the acquisition of an AI-based software company that identifies fake reviews for consumers through browser extensions and an online review analyzer.
Mozilla
Mozilla is a non-profit organization that offers free software and has founded an open source AI community focused on creating trustworthy and useful products.
Fakespot is a company focused on helping consumers choose products from trustworthy merchants through their fake reviews detection technology.
Their AI powered browser extensions scans reviews and is able to catch fake reviews.
Consumers can also access their Fakespot Analyzer technology from the Fakespot website where a user interface accepts URLs and detects fake reviews.
The technology comes at a good time as shady sellers have begun using ChatGPT to generate fake reviews.
Numerous fake reviews were detecting by searching Amazon for words commonly created by ChatGPT, like "As an AI language model," as reported by CNBC.
Those are the reviews that are caught but no doubt other merchants are smart enough to remove the ChatGPT signatures.
Screenshot of Fakespot Analyzer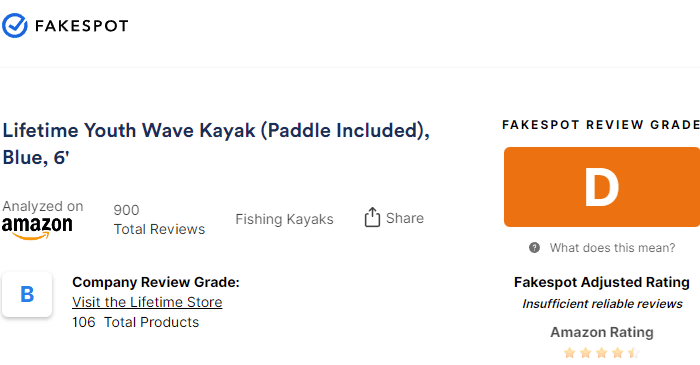 Fakespot uses artificial intelligence and machine learning systems to detect statistical patterns that are indicative of fake reviews.
The product provides a better picture of what a product's true standing is in reviews.
Fakespot for Chrome lists these features:
"Instant Fakespot Guard seller ratings while shopping. Never buy a bad product from a bad seller again.
Instant Fakespot Grades. Never be deceived by fake reviews while shopping.
Search Result Sorter and Filter will allow you to sort and filter by best grades.
Highlights will let you know at a glance what the reviews are about using our proprietary artificial intelligence analysis."
The end result, according to Mozilla, are sales that leave more customers satisfied and less returns to merchants, a win-win for consumers and honest merchants.
Steve Teixeira, Chief Product Officer at Mozilla commented to Search Engine Journal:
"We couldn't be happier to welcome the Fakespot team to Mozilla.

Everything we do with Firefox is about making the internet better for people – more fun, more trustworthy, more rewarding.

Fakespot is a perfect fit with that, a product that significantly improves the experience of buying products online, improving trust, and delivering a better experience while preserving privacy for everyone that uses it."
Fakespot Integration with Firefox
Mozilla's announcement noted that they will invest in growing the company and eventually integrating the functionality of Fakespot directly into the Firefox browser.
Users of the browser extensions will continue to enjoy the functionality as they have before.
Read the announcement by Mozilla:
Fakespot becomes part of Mozilla, bringing trustworthy shopping tools to Firefox
Featured image by Shutterstock/Asier Romero