Do you want to be the first to know when your site goes down? Or once your page goes off Digg front page? Here's one handy Google desktop gadget for you to use when you are running some solid social media promotion: Website Monitor (by Random Geek).
Here's what it can do:
(1) Monitor the availability of a URLs;
(2) Check your web servers are up and running; and responding;
(3) Confirm the contents of the webpage, looking for specified text in the body of the page;
(4) Check the performance of the page, by setting a response time threshold.
To try it, you need Google desktop installed. Now, download the tool and open it with Google Desktop. You will instantly be offered to add URLs to monitor, or you can add/edit URLs to track from the tool "Options" menu:
Provide the name of the project;
Provide the URL to track;
Set the frequency of checks;
Set the response time threshold;
(Optionally) Provide the term to track on-page.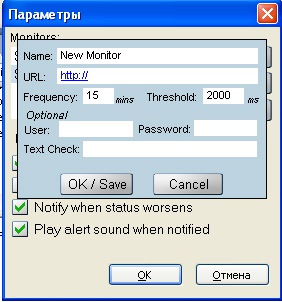 Like I said, the tool turned useful to me to monitor my submission progress on Digg:
First, once your URL hits Digg front page, you might want to monitor if your servers will handle the traffic spike;
Secondly, the tool will let you know once your URL is off the front page (set digg home page tracking for your domain name as the key word).
The tool visualizes the URL status by using three colors: red (error), yellow (warning), green (all is fine).