ComScore reports that, for the first time ever, the amount users who use the internet exclusively on mobile devices has exceeded the amount of users who exclusively use desktop devices.
However, it's important to note that this does not mean the the internet is being accessed more frequently on mobile overall. This data only tracks users who exclusively use one type of device. The report indicates that there is quite a bit of crossover from people who use both types of devices.
Even with that being the case, this is still a significant milestone and represents how far mobile has come, and paints a picture of how it will continue to grow in the future.
Compared to one year ago, the amount of desktop-only users was nearly double the amount of mobile-only users. These latest numbers are more a representation of desktop's decline in popularity, rather than a meteoric rise in mobile usage.
Last year, the amount of desktop-only users was 19.1%, compared to just 10.6% this year. Last year, the amount of mobile-only users was 10.8%, compared to 11.3% this year. You see, the desktop-only population is declining faster than the mobile-only population is gaining.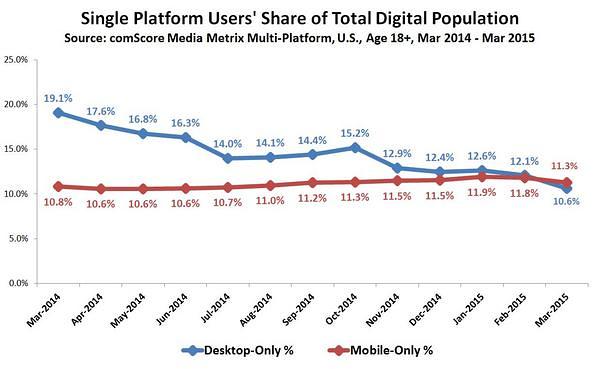 This is still a significant statistic though, because it proves mobile devices are becoming more peoples' go-to device for accessing the internet.
Although that's not to underscore the importance that desktop computing still plays in today's world:
"All that said, desktops still play an important role in digital, and they don't look to be phased out of our lives anytime soon… Additionally, consumers still prefer desktops when making online retail purchases, with 87 percent of total digital commerce coming from the platform, despite mobile accounting for 60 percent of total time spent shopping online."
Undoubtedly, the desktop computer is not going anywhere, but significantly fewer people are relying on desktops as their primary internet-connected device.