It's official: Americans are ditching desktops and viewing marketing emails on their smartphones and tablets more than ever, according to new research from Movable Ink.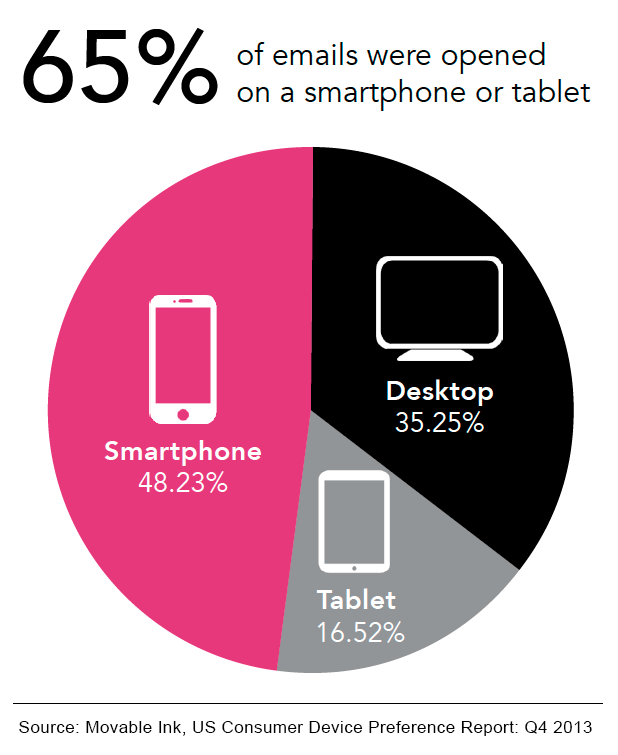 The US Consumer Device Preference Report: Q4 2013 reveals that 65% of marketing emails were opened on a smartphone or tablet in Q4 of 2013 (up from 61% in the previous quarter), while desktop opens slowed to a new low of 35% (down from 39% in the previous quarter).
Additional key findings include:
iPhone users spend more time viewing emails. 38% of iPhone users spent 15 seconds or more viewing each email. Coming in at a close second were Android smartphone users, with 35% spending 15 seconds or more viewing an email.
Popularity of tablets continues to grow. Over 16% of emails were opened on a tablet (up from 15% in Q3 2013). Although Android tablets comprise only 1.8% of total email opens, this figure was twice as high as the previous quarter when they accounted for .9% of total email opens.
Android gained market share. Apple smartphones and tablets accounted for 50% of total email opens, a figure that was exactly the same in Q3. But Android smartphones and tablets represented 14% of all email opens (up from 10% in the previous quarter).
Thanksgiving was the biggest day for smartphone use over the holiday season; Cyber Monday biggest for desktops. On Thanksgiving, nearly 60% of marketing email opens occurred on smartphones. Cyber Monday showed the strongest showing for desktops, with 40% of all marketing email opens, but was still beat by smartphone opens at 45.5%.
Based on these findings it's clear that a mobile marketing strategy is not just something that's nice to have, it's a necessity. If your business regularly sends out emails they need to be optimized for mobile. But even more important than that, if you link back to your site in the e-mail you better be linking back to mobile friendly pages so you're not turning away customers.