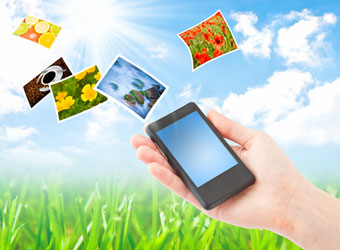 A Recent infographic from Nielsen that focuses on Social Local and Mobile (SoLoMo) had a few interesting sound bites. One of that jumped out at me is that of smartphone users two-thirds of these users time is spent in apps. It doesn't say how much of this is spent on Angry Birds, but it does illustrate how important apps are to mobile users today, and if apps are where the action is in mobile, it is likely where search will start to take place.
As a search strategist this tells me there is likely an opportunity for many companies to tap into a greater user base through apps, and in app optimziation. Further it tells me that over time we will likely see different types of SEOs. There will be the traditional optimizations for Google and Bing, but we will likely see the rise of SEO app optimizers as well.
This will come in 3 forms:
Optimizing apps to be discovered in market places to try and maximize installs.
Optimize in app content to capitalize on valued apps in particular segments
Web content optimization for apps that operate as a view through to the traditional web.
App Optimization
If two-thirds of mobile users spend time on apps then it makes sense to want to optimize apps to increase downloads. Hopefully your app has value and gets used frequently as well, and then it gets rated. From some top level investigation there seems to be a couple factors at play in how the iTunes store works for search. They look at:
1) App name
2) Company name
3) Volume of downloads
4) App quality ratings
5) Number of ratings for the app
6) App description
An example I ran is "analytics" The fact that "Snake & Ladder" shows up on this search can only be explained based on a combination of the company name "Travancore Analytics Pvt.Ltd" and the volume of downloads/ratings.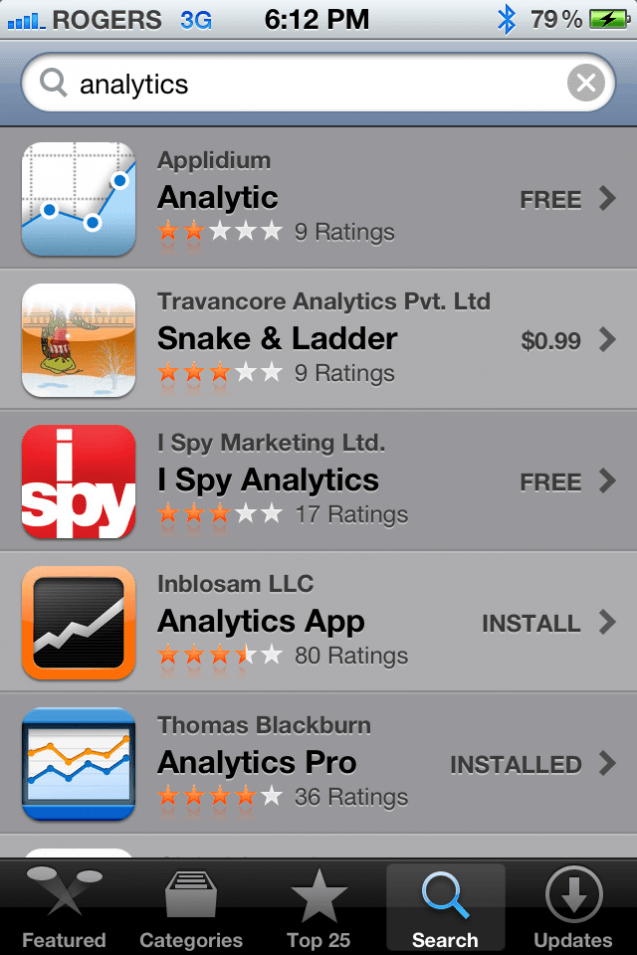 Over time I can see the value directly to app installs as there is a correlation to revenue for most companies. More importantly apps that lead the space can become deeper windows to search.
Optimizing in App Content
Some apps have propriety data sources or have created unique ways to interact with content that the traditional web has not allowed for. Mobile devices provide so many different ways to search besides limited text. And the type of content we can search for from apps and perhaps the web will change. The multiple ways mobile devices provide to search include: audio sensory (Shazam, Siri, etc.), optical (Google Goggles, SnapTell, etc.), geo location/time awareness (Movie apps, Yelp, etc.). Each of these search types will have new and different ways to optimize. Does your site provide geo-specific data as micro formats? Are your product images registered and identifiable in image search engines? Audio search means having text that is clear and concise as users learn to navigate with voice.
Apps typically provide very specific services and allow a user to complete a very specific and specialized task. When we say content is king for the web today, for mobile apps it will be usefulness will reign supreme (ok maybe that doesn't have the same ring), but apps that enable users to successfully and quickly complete tasks will be apps that are used the most frequently.
Web Content Optimization
Some apps pull data through RSS or other feeds. Think about apps for product comparison. Think about apps for real-estate or movies. Many of these apps lease or pull content from specific sources. Optimizing content in apps can again impact the opportunity and revenue value to a company or individual. Because this is still such a niche place identifying a couple data sources used across multiple apps can make a big impact across a lot of smaller apps.
Further targeting a couple key apps that use common data and understanding how they interpret that common data can also be another strategic approach to optimizing content. Different niches will likely have different approaches and it can be either shot gun data or sniper like accuracy to a specific app.
The Very Near Future
Each of these spaces is new, unevolved, and ripe for opportunity. I can see a great potential for spam across each space, and how this is dealt with will likely determine the success of different forms of mobile search and more likely the success or failure of some or many apps, but more importantly in the mobile space I suspect we will see a variety of verticals within it where SEOs can focus and provide added value and opportunity.
Sources:
http://blog.nielsen.com/nielsenwire/online_mobile/infographic-the-most-valuable-digital-consumers/