Microsoft is previewing a newly redesigned MSN portal starting tomorrow. The new MSN.com will now have a simpler, cleaner and sleeker look. And as if taking a cue from Yahoo.com, MSN is also tapping on various social networks including live updates from Twitter, Facebook and Windows Live which will displayed on the right side of the MSN home page.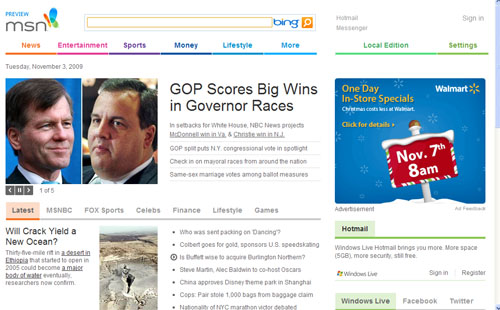 Microsoft is hoping to revitalize user interest on the MSN Portal which might lead more users to use the site as a gateway to the Internet. The new MSN portal design has been streamlined making it easier to navigate through the various information and services provided by the site.
Of course the highlight of the redesigned site is the prominent integration of Bing search. Bing has been fully integrated in all the portal's subsites. Microsoft is hoping to get more Bing users coming from the 400 million monthly MSN.com visitors.
The new site design will be rolled out to all U.S. users starting in 2010. But you can preview it right now at http://www.msn.com/preview.aspx.
Indeed the redesigned site looks cool and a big improvement to the previous blue-themed site design. I like it more than the recently redesigned Yahoo.com portal although Google.com is still the cleanest and simplest among the three portals.