Who are the cool kids in social media? Big brands, rights?

Coca-Cola, Katy Perry and Rihanna all have huge social media followings that continue to grow exponentially every month.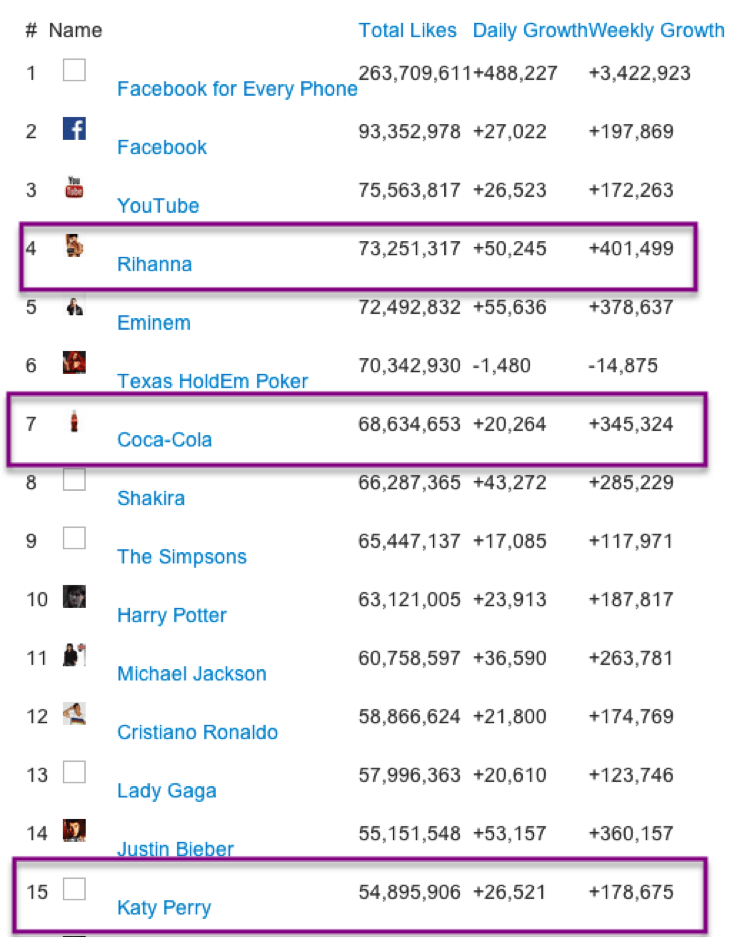 You know who else tends to have a large and super loyal audience?
Professional sports teams.
Their social communities tend to be smaller than national or international brands due to their localized nature, but their followings are large for a local business.
For example, I searched Yelp for the top business in Green Bay, WI.
The top result (besides Lambeau Field) is Kavama Coffeehouse. Kavama has just over 5,000 likes on Facebook.

The Green Bay Packers? Well, they have over 3 million likes on Facebook.

Think that's a fluke?
Let's look at NYC.
The top listing for NYC on Yelp (besides the Metropolitan Museum of Art and Central Park which I discounted because they are internationally renowned) is The Cinnamon Snail.
The Cinnamon Snail has almost 18,000 likes on Facebook.
The NY Giants have over 77,000 likes, the Yankees have over 40,000 likes and Knicks have over 3.8 million likes.

Sports teams, much like student athletes in high school, are definitely the cool kids on social media.
Everyone around wants to be a part of their story.
The thing is, just like any other local business, if a sports team doesn't put out a good product even their social media large followings won't help them generate sales- even if they follow social media marketing best practices!
Case in point: the Miami Marlins.
The Marlins have fallen on some rough times lately, but they're still a professional sports team in a pretty big market.
The Marlins have over 300,000 likes on Facebook and almost 100,000 followers on Twitter.
For a local business that's really good. Really, really good actually.

The Marlins recently decided to run a social media promotion for their online communities and offered game tickets for only $1.00!
The campaign is run in conjunction with the hashtag #DiehardFish for diehard Marlins fans.
Since the social media promotion went live on August 9th (at the time of writing that was 4 days ago), Yahoo! Sports is reporting that "a simple Twitter search shows the #Diehardfish hashtag used 13 times since the Marlins introduced this offer."
The Yahoo! Sports article goes on to say:
Seven of those [mentions] were either by the Marlins or retweets of the Marlins
One of the mentions made fun of the Marlins
One was by a person who had "diehard Yankee fan" in her Twitter bio
One is from a blog that focuses on the "eccentricities of Marlins fandom"
One was by someone in Chicago
One is in Spanish but says something about, "Long live Jeffrey Loria."
The 13th mention seems to be from a legitimate fan happy about a victory.
Their Facebook post got a little more action: 298 likes, 45 shares and 36 comments.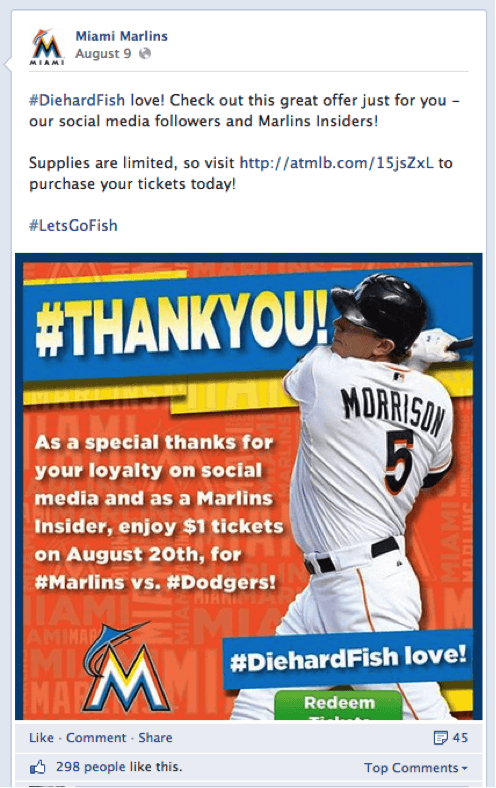 Still, it doesn't look like fans are exactly rushing in droves to take advantage of the $1 ticket sale despite the fact that you can't really do anything else in Miami for such a low price!
So what does this tell us?
You can be popular on social media but that popularity won't translate into sales unless you put out a good product.
Your most loyal fans on Facebook and Twitter may be willing to stick around to see if you can fix your issues, but you're not getting a single dollar until you put out a product worthy of an open wallet.