This is a sponsored post written by Mageworx. The opinions expressed in this article are the sponsor's own.
Out of the box, Magento is equipped with a bunch of SEO features that let store owners configure page URLs, optimize meta data, generate sitemaps.
But as we all know, search engine optimization is an ever-changing entity.
To stay in line with the latest changes in the SEO environment, one needs to implement a complex set of measures — some of them easily done in the backend, while others require getting an advanced ready-to-apply solution.
MageWorx.Com, a certified Magento developer, presents SEO Suite Ultimate — all-in-one Magento SEO toolkit.
MageWorx Magento SEO extensions are developed according to the latest industry trends and maximize the SEO potential of the eCommerce platform.
This is what SEO Suite Ultimate is capable of:
Managing Vast Amounts of Meta Data
Managing meta data for Magento product pages can be a challenge. With thousands of products one has to manually fill in titles, meta descriptions and keywords.
Our extension fully automates this time-consuming process. Using Meta Data templates you can use any available attributes to create meta data for product, category or blog page elements.
Optimizing Category and Product Reviews Pages
The module extends the default Magento SEO functionality letting you optimize paginated category pages, URLs for categories and sub-categories, and create SEO-friendly URLs for product review pages.
Optimizing Structured Data Markup for Rich Snippets
The Magento Rich Snippets features let you add markup tags to help Google deliver more descriptive and detailed results. Your results may include a product preview image, price, availability, user rating, etc.
Also, the extension supports Facebook Open Graph protocol and Twitter Cards.
Generating Advanced HTML and XML Sitemaps
SEO Suite Ultimate empowers the default Magento sitemap functionality.
In an HTML sitemap you can use canonical URLs, crop/ add a trailing slash, hide out-of-stock products and more.
In an Xml the extension lets you add product images, product tags and custom links. Also, the extension lets you exclude any unwanted pages and run a versatile XML sitemap validity check.
Managing Hreflang Tags
Running a multi-lingual Magento store, you need to set Hreflang tags to help Google display the localized stores in search results.
SEO Suite Ultimate lets you set alternate URLs for category/ product/ CMS pages, so that the language and regional stores appear in the search results (and you could avoid duplicate content issues).
Setting up Internal and External Cross Links
This Magento SEO extension lets you automatically replace the targeted keywords with any internal or external URLs.
Thus, you channel more link juice to the promoted pages, and distribute ranking authority among all the important ones.
SEO Reports
The comprehensive SEO reports let you spot onpage issues that may be hindering your SEO progress.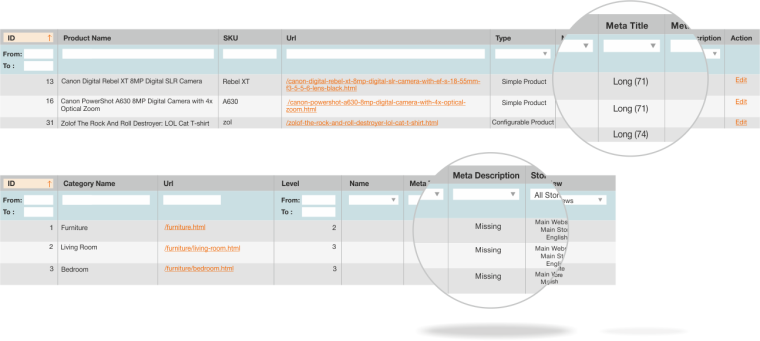 … and more.
On top of that, the SEO module lets you get rid of duplicate content and optimize the process of site indexation. Check these and other features on our SEO extension page.
Image Credits
Featured Image: Image by Mageworx. Used with permission.
In-post Photos: Images by Mageworx. Used with permission.