Are you looking for ways to drive revenue to your business?
Meet today's digital consumer: Kat. The web, social media, email, and other digital channels provide instant information at her fingertips.
She came across your awesome posts on social media and decided to check out your site. She loved your content and wanted more so she subscribed to your email newsletter.
You can't win her only with old and traditional marketing tactics. These strategies have become less effective in this digital age.
If you want to convert Kat into a customer, you need to understand her needs and make your marketing more personalized. But as a marketer, you don't have time to interact with each and every customer that comes your way.
Or can you? Enter marketing automation.
Why Marketing Automation Is Important
Marketing automation allows you to automate and measure your marketing tasks. It helps create a real-time and relationship-oriented approach to marketing campaigns. It improves your efficiency, productivity, lead generation, and revenue.
Here's a concise definition from Marketo:
"Marketing automation is a category of technology that allows companies to streamline, automate, and measure marketing tasks and workflows, so they can increase operational efficiency and grow revenue faster."
So why should you opt for marketing automation? Check out these stats:
Still not convinced? See what John McTigue, EVP of Kuno Creative, has to say:
Without marketing automation, you are just guessing – just hoping that people will take the bait and be ready to buy your products. Statistics show that buyers don't do that. They want to learn at their own pace and be reached when they need more information or are ready to buy. A well-constructed marketing automation strategy makes that a reality.
Now that you've understood the importance of marketing automation, let's explore how to automate your email campaigns to drive more revenue for your business.
How to Use Marketing Automation for Email Conversions
1. Welcome Series
Let's get back to your customer, Kat. She subscribed to your email list. What's the next step?
Send her a welcome email immediately. A welcome email isn't about welcoming a new subscriber. It's a first friendly conversation between you and your new subscriber.
A welcome email series will help create a positive impression of your business.
Meera Kothand, an email marketing specialist, shares her take on the welcome email series:
Every online marketer should have a welcome email sequence – a series of 3-5 emails that are sent out to a subscriber when they first join your email list. This is the most overlooked aspect of email marketing. A welcome email is good but what you want to do is 'roll out the red carpet' for your subscribers when they first sign up.

According to a study by Ciceron, the first 48 hours are when email subscribers are most engaged. You want to build a great first impression of you and your brand in this short period of time. A dedicated welcome email series will not only help you do that, but build trust as well.
Your welcome email should include something valuable for a new subscriber that lets them know what to do next. A welcome email series can then further educate your subscribers about your products or services.
Here's an example of a welcome email series from SEMrush. In the first welcome email, they give a primer on next steps: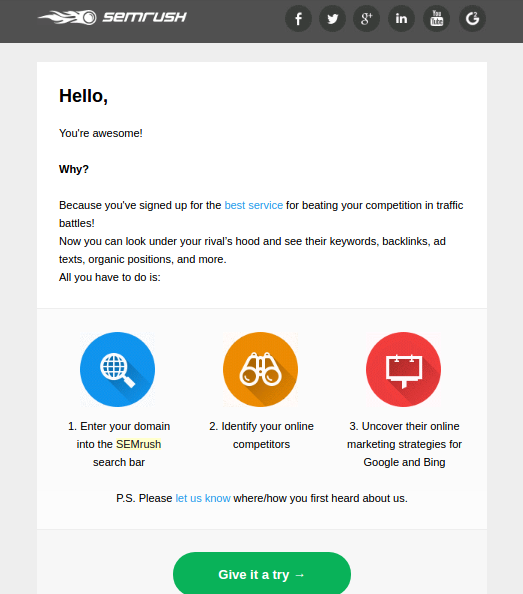 In the second email, they introduce some advanced features: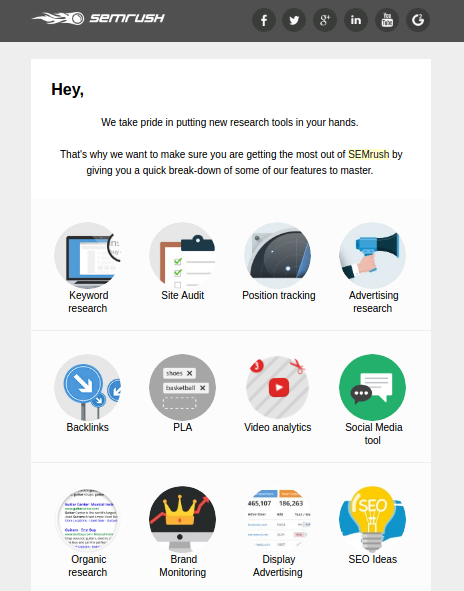 In the third email, they offer a free demo: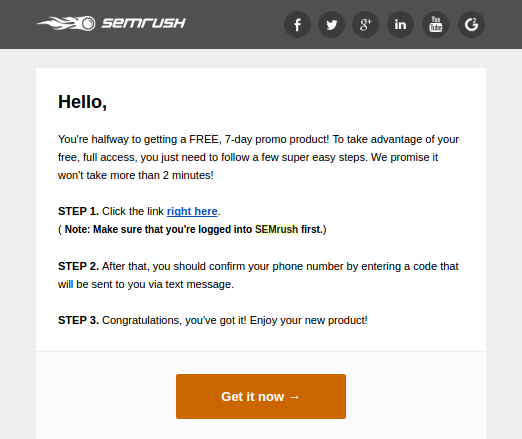 2. Automated Follow-ups
Automation helps you send personalized follow-up emails to encourage customers to finish what they started.
Automated follow-ups help bring prospects back to your site, allowing you to build relationships with them which can lead to more numbers for you.
See how HubSpot Academy sent an automated follow-up email to one of my friends: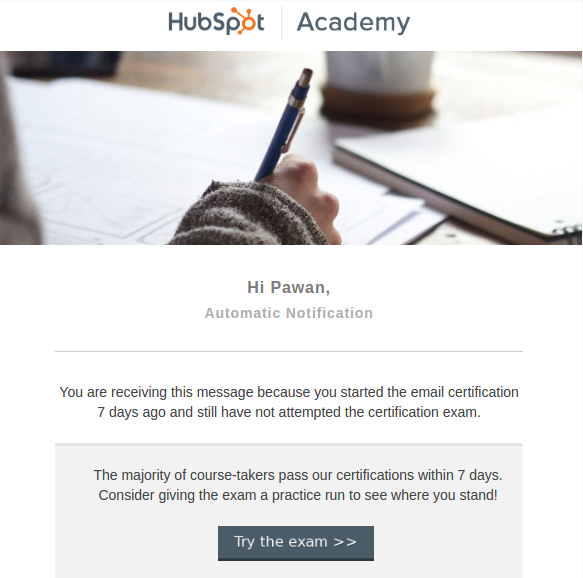 3. Abandoned Carts
According to Baymard Institute, an average of 69.23 percent of online shopping carts are abandoned.
As marketers, we have to deal with the dreaded abandoned cart situation. People save products in their cart and abandon them before purchasing. They just aren't ready to buy at that moment.
Automation will help you send a targeted email to these potential buyers (based on where they are in the customer purchasing journey) and ask them to complete their order. You can send an email series (up to three emails) with unique and creative subject lines.
4. Birthday or Anniversary Email
When you wish someone "Happy Birthday," it makes them feel special. That's why birthday emails have a 481 percent higher transaction rate than promotional emails.
We all expect gifts and presents on our birthday. So give your customers a special gift, free shipping, or incentives on their birthday. They will appreciate it.
Wondering how to remember their birthdays? You don't have to. Automation will take care of it for you. It keeps track of every customer's birthday and sends them a special offer email.
Check out this example: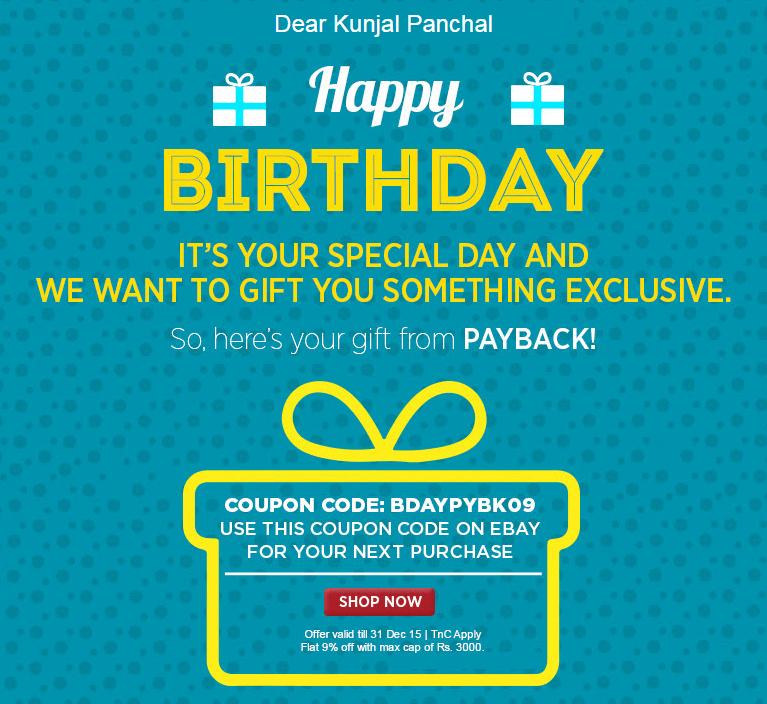 5. Product Suggestion
Use the power of personalized product suggestion emails to drive conversions. Write a creative subject line and create a sense of urgency in your email.
You can also gather all the data and information about a customer by doing surveys, as well as tracking customers' website activity, recent purchase history, shopping cart, and more. Automation can then help you use these behavioral data to create personalized and targeted recommendations which your customers will find interesting.
Conclusion
Automation can be a game changer for your business. It can play a key role in converting a lead into a paying customer so start sending automated campaigns today.
---
Image Credits
Featured Image: a-image/Shutterstock.com
Screenshots taken by Author, July 2017.