Remember those four tips I gave you today about Google Shopping? Well, forget them. Yes, forget all of them because Google has decided to wipe the slate clean and change the product search landscape completely.
What's going on?
Google announced today that it is transitioning the free Google Shopping program into a fully commercialized one to offer what it's calling a better shopping experience for searchers.
What Does This Mean for Web Site Owners?
Since its inception Google Shopping (or Froogle, or Google Product Search, or Google Base) has been free to participate in. All an advertiser had to do get their products listed was to submit a data feed with accurate inventory, product, and pricing information and they could sit back and watch the traffic roll in. Beginning in June, these free listings will be phased out as ads from the Product Listing Ads Program are phased in.
Google plans to complete the transition from free to paid listings some time in Fall. During the transition period advertisers that use the Product Listings Ads program to advertise their products will be given a 10% discount on purchased traffic . This discount will be in effect until August 15th giving us an idea of the timeline Google is working to complete the transition.
What Does This Mean from a Search Experience Standpoint?
The search result pages are going to get a lot more crowded, especially above the fold. The old free Google Shopping placements took up a significant portion real estate for product related search queries in the middle of organic search results, driving highly qualified traffic to merchant websites.
Click image to expand.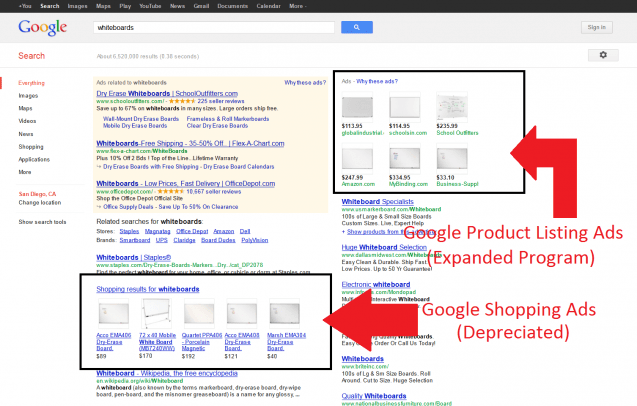 The new paid program will place these image rich product ads at the top of search result pages, pushing down organic listings for search queries that Google deems are product related. Google will be doing a lot of testing and optimization of these new ad blocks so expect some of variation in terms of how products are shown in these ads units.
My Take
Outside of losing a free traffic source, it's the change in the algorithm that should be of concern to up and coming retailers. Google Shopping has always had a bit of a bias towards larger retailers due to the domain authority that large brands have. Introducing significant ad budgets to the mix is likely to skew the equation further in that direction, especially since the traffic that advertisers will be bidding is some of the most qualified available on the web.
It should also be interesting to see the impact this change will have on alternative paid comparison shopping channels like Nextag, Shopping.com and score of others. These guys rely on Google for a significant portion of their incoming traffic, both organic and paid, so it's unlikely that they will sit quietly as Google modifies its search result pages to direct paid traffic directly to retailers storefonts, essentially cutting them out of the click path.
The Big G has already run aground into anti-trust trouble due to 'favoring their own services' on search result pages. Now that Google Shopping will no longer be free, it is almost guarantee that we're going see another round of anti-competitive/monopoly chatter from parties that have been impacted by this latest Google decision.