[pullquote]Hello![/pullquote]
The latest social media site sounds like it is greeting you: but it's Ello without an H, and it's more than just a friendly greeting. It is a social site that is making some major promises and churning up major interest. Just what is this social site, and why are people starting to use it? Is it worth your time and effort? Let's take an in-depth look.
The What, Whos and Hows of Ello
Ello is the latest social media site to create a massive stir. We first heard of them this September, and from the stats it looks like they are set to take over the next phase of social media. I'm just amazed how so suddenly they were here–literally, it seemed, from nowhere. How did this happen?
Apparently, it was started a year ago, says a little birdie. And, they got $435,000 in funding back then from a Vermont venture capital firm. The Ello founder hasn't just popped out of nowhere, either. Paul Budnitz is his name, and he's a brilliant guy behind a unique city bicycle design and limited art toys. Can you say unique niches?
Here's a brief timeline of Ello's short journey to viral fame:
In July, Ello first started offering signups to the public.
A sudden media blitz hit, which was the reason for Ello's viral craze.
On September 24, they were getting 4,000 signups per hour.
48 hours later, on September 26, they were at 38,000 signups per hour.
In their last report, they were getting 44,000 requests every hour for invites for the beta stage.
There are over 1 million individuals on the current waiting list. Those who have joined have five invites to use–they can invite five additional friends to join the site.
What Happened When I Signed Up for Ello
So, we know the stats are amazing. Let's check out just how Ello looks like for the individual.
I went and created an account. I liked the signup screen immediately. Just six boxes for name, email, password, and a fun little game to verify I was a human.
I was greeted by this short, professional, friendly message: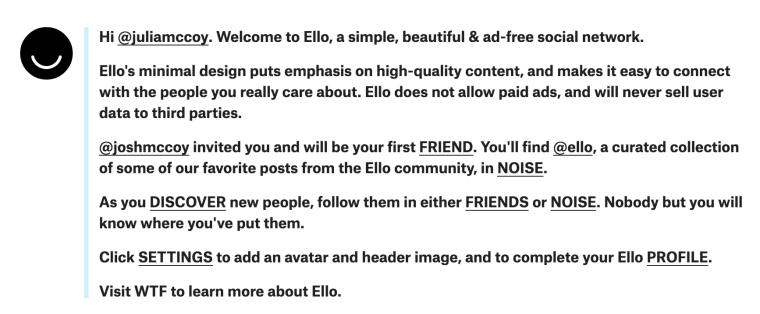 "High-quality content" – ding! You've got me weak-kneed, Ello. I'm a lover and creator of all things high quality content. It's probably the most over-used phrase in my vocabulary. And what are these new adjectives? Instead of notifications, noise? I like it.
I get an @account, a feature image, a bio image, a short bio field, links (like my website), and privacy settings. It's all on one page, and one scroll gets me to the bottom. Pretty simple. However, the @name has thrown me off a bit. It's identical to what Twitter's already doing. So is the bio field. But the design is so different from Twitter. I'll go with it.
My profile is looking rather spiffy in just a few minutes: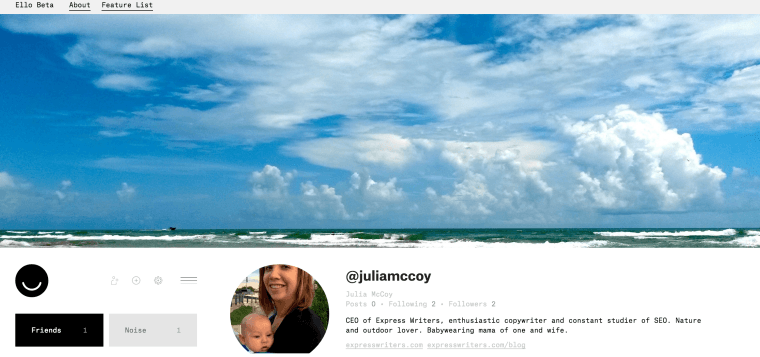 I can now type statuses, upload boxes, and post.
The Pros and Cons of Ello
While we can't create an extensive list just yet, since Ello is still in its beta stage, we can tell you a few. Ello obviously has a lot of great perks for people who are tired of all of the promoted ads on Facebook and Twitter, but what about for businesses? Can you still advertise on a site that doesn't have ads? The awesome answer, according to Marketing Land, is, yes you can.
Pro: It Could Be Part of the New SEO (Content Marketing).
Ello is a place for people to get away from the craziness of Facebook, but it is also a great opportunity for businesses to make more content-driven campaigns. Get this: your fans ONLY follow you if they LIKE you. You can't sell to them. They only see you if they're personally watching your page. Remember, it is a great idea to invest more in content than in pay-per-click ads, and Ello gives you a chance to do just this. You won't be charged to have your content campaigns on there, and you have a chance to reach a completely different crowd from Facebook or Twitter.
Pro: It's Ad Free.
On top of being the latest social site, it is also one that promises to be ad-free, giving people a more content-driven experience. Ello aims to make sure people will not be bothered by pesky ads, memes, political posts, and other posts many are becoming annoyed with on Facebook or Twitter. How are they doing this?

By giving people the option to file people under friends or noise with friends being the place to put people you want to see updates from and noise being where you file away those who you aren't interested in.
Many social media users find it annoying to see promoted tweets and Facebook posts every time they log onto their social sites. Which means many would like a place without ads where they can enjoy content. This is exactly what Ello promises; just take a look at their manifesto: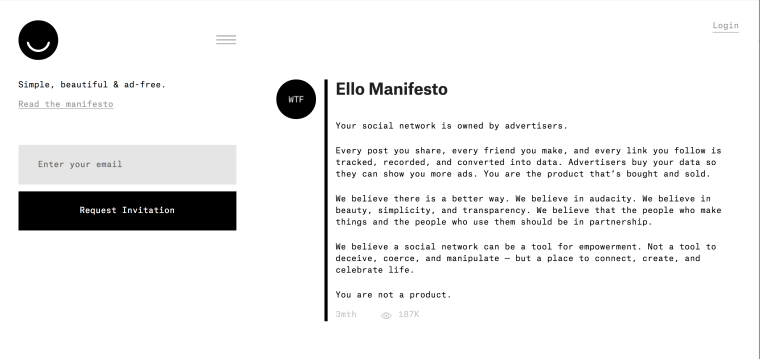 As you can see, they also promise never to collect your data without your permission. You can always opt in to allow it, but, unlike Facebook and Twitter, Ello promises never to take your information sneakily and without permission. This is another major draw to people because many are not fans of sites taking their information to tailor advertisements for them, especially if they don't have the option to allow or stop it.
Con: Parental Guidance Suggested.
Anyone over 13 can join and sexually explicit content is allowed. Budnitz is allowing porn and says if you don't want to see it, simply don't follow that user. It's said that drag queens are leaving Facebook for Ello because it allows their screen names. (This was actually the reason for Facebook's recent apology to the LGBT community, apologizing for making users use real names not screen names.) However, Ello says a NSFW (Not Safe For Work) content flagging is on the works, which will in some way control the flow of adult content on the site.
Con: Will It Go Bad?
Many people wonder if this site will eventually start going the way of Facebook like so many other "Facebook Killers" have. However, the creator says he isn't trying to vie with Facebook at all. Also, there are some rumors of potential costs: $1 per feature, or $20/month. People will unlikely move from Facebook, which is free, if that happens.
Con: If You're a Business, You Might Go Unheard.
Businesses run the risk of being filed away as noise by those who do start to follow you. (Shh, no noise.) This could be detrimental for your campaigns, but no one is entirely sure how likely people are to file you away under that noise section. If you aim for more content-driven pieces, instead of "Buy our amazing product!" pitches, you likely have a higher chance of not being filed away under that section. It will take time to see whether or not Ello will be a good option for businesses.
If you happen to be one of the lucky ones to get an invite from a friend, take a chance to look through the site and see how you can tweak your campaigns to fit this social site. You might find pros and cons of your own.
So What's Ahead for Ello?
I think it's interesting it wasn't some SEO guru that came up with the newest and greatest social media site. Instead, it was a guy behind cool bicycles and toys. He created stuff for the general public that was unique and individualized. SEO has been heading in such a non-technical direction lately that I can see a brain like Paul's succeeding with the fundamentals of a great new social media, where it's all about the people, not technicalities, pleasing buyers, selling, and other unimportant details when the real end goal is a great social world where people feel safe and ready to share their private lives with their friends. We all want to look good, and Ello does just that for their users.
They're not even trying to be the next Facebook. Paul Budnitz said it himself. Perhaps that's just the right attitude to have to take it over: let it happen by itself. If people love Ello enough, it will happen.
I'm going to go out on a limb here and say that I think Facebook could be the newspaper, and Ello, the Kindle–or the tablet. It's the new, smart way to do social. Remember when Twitter came out in 2010? It was the new thing, and everyone made fun of "tweets". Not so funny now. It's now at 500 million tweets PER DAY from over 270 million users.
Yeah, I'm seeing big things for Ello. Time will tell.
All screenshots of https://ello.co taken October 2014