This is a sponsored post written by Pixel Road Designs. The opinions expressed in this article are the sponsor's own.
Over the years, our creative team at Pixel Road Designs has worked on hundreds of infographic projects for clients in a variety of different industries. One thing we have noticed across the board is, when beginning an infographic project, clients are often hyper-focused on the design elements like fonts, layouts, graphics/icons, etc.
This is a mistake.
Although these are very important elements of a successful infographic, focusing too much on the visual components can cause other crucial elements to fall by the wayside.
The overall design may be visually appealing and enticing, but expert marketers and designers know that a successful infographic is much more than just a pretty exterior.
The real power of an infographic lies in the flow of the content, the visual story, and, most importantly, the call-to-action.
If you're looking to create an infographic that actually performs for your business and accomplishes your marketing goals, always adhere to these four principles.
1) Make Sure You're Speaking to Your Target Audience
When you're trying to identify your target audience for an infographic (or any visual marketing piece), first consider your central message, then ask yourself two questions:
Who are you speaking to?
What is the best way to speak to them?
An infographic is one of the most effective ways to visually communicate a compelling core message, so ask yourself these two questions every step of the way.
For example, take a look at this infographic Pixel Road Designs recently created to promote Jay Baer's book Hug Your Haters.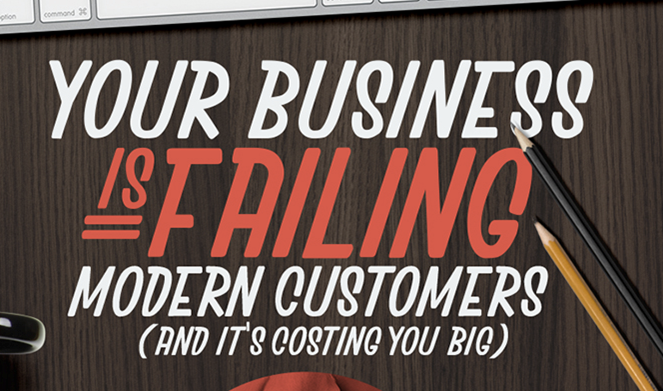 The core message is so obvious that it smacks you in the face: businesses are losing money because they aren't serving customers properly. It speaks directly to business owners who want to understand how to do customer service the right way in the age of social media.
2) Share Fascinating or Helpful Content
Even the best graphic designer in the world can't compensate for dull or obvious facts in an infographic. The visuals are only as strong as the story they tell.
Your infographic content should serve one of two purposes:
It makes the reader see the subject matter in a new or different way
It helps your target audience solve their problems
Your content can also do both—but it's important to identify your goals, and then craft the infographic content around that goal.
Take, for example, this chart from the infographic "Which CEOs Are Most Social", which was produced for ceo.com. It compares the social network usage of Fortune 500 CEOs, Inc. 500 CEOs, and the US population.

The data reveals that regular people are much more socially active than big-time CEOs, with one crucial exception: LinkedIn.
This infographic tells a fascinating story about how corporate leadership uses social media. But it also provides helpful information to people who want to connect with CEOs—and people who aspire to become high-level CEOs themselves.
3) Set Performance-Based Strategies and Goals
An infographic should be designed with the ultimate end goal in mind. You need to understand where it fits into your overall marketing and business strategy and identify the goals before the infographic is created, and then measure KPIs after it's launched.
Do you want to establish your authority? Build links? Expand your reach on social media? Build relationships with influencers and bloggers? Some combination of multiple goals? All content and design decisions should be made in light of your stated goals.
For example, if you're trying to build authority and establish your brand as an authoritative voice in your industry, then it's best to use hard data, well-researched case studies, quotes from well-known industry experts, statistics, etc.
If your goal is to build inbound links, then it's a great idea to craft an infographic full of evergreen content that can act as a resource for many months (or years) to come. Timely or current event-based infographics can be great for link building as well, but their relevance often has an expiration date. So once the content within the infographic is "old news", then it's value as a linkable resource diminishes significantly.
4) Shareable Design
One of the most important elements of a successful infographic is whether it's easily shareable across different platforms.
If you're promoting your infographic on social media, it must be appropriately sized for the platform. For example, major social media sites like Facebook, Twitter, Pinterest, etc. all have different size requirements for images to display correctly.
Another excellent way to promote social sharing is to break your infographic into smaller, bite-sized graphics focusing on important data or points made throughout the content.
For example, we created this great infographic for Search Engine Journal about "The Continued Growth of Social Media", and in order to make the content more shareable, we broke it up into "cards" focused on each social platform.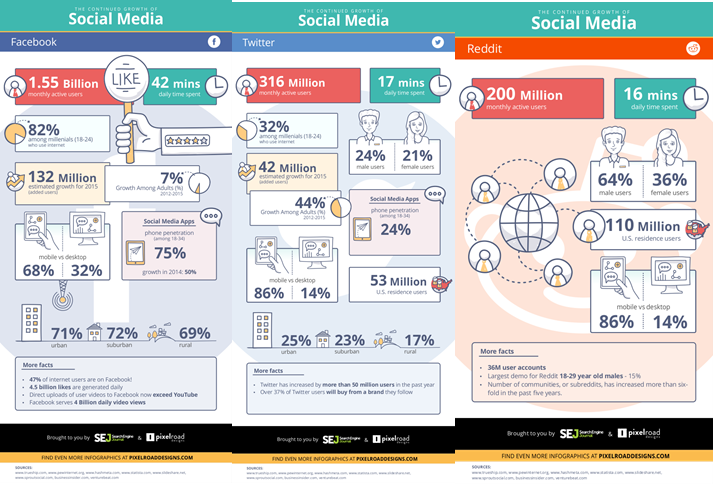 The cards allowed us to cater to readers who may be more enthusiastic about one social network or another and made it easier for them to share based on their preferences.
Create Infographics That Actually Perform for You
Are you ready to harness the power of visual marketing? Pixel Road Designs creates infographics from both a design and marketing perspective. Tell us your marketing goals and we'll create graphics that help reach them. Contact us today and we'll show you how smart design can boost your business.
Image Credits
Featured Image: Image by Paulo Bobita.
In-post Photo #1: Image by Pixel Road Designs. Used with permission.
In-post Photo #2: Image by Pixel Road Designs. Used with permission.
In-post Photo #3: Image by Pixel Road Designs. Used with permission.